Occupy Empathy: We're All In It Together 100% – No More 'Us Versus Them'
Join us in building a true revolution of values beginning in downtown Berkeley. Come by for; a visit, free empathic listening, empathy circles, circle facilitation training, conflict mediation, mediation training and empathic design (human-centered design) project team building. Offer your skills and connection building expertise. Invite your friends for an opportunity to listen, connect, hear and be heard, see and be seen, share and much, much more.
Links
'"A true revolution of values will soon cause us to question the fairness and justice of many of our past and present policies. True compassion is more than flinging a coin to a beggar; it is not haphazard and superficial. It comes to see that an edifice which produces beggars needs restructuring." Martin Luther King
To Get Involved Fill Out This Form.
joining, supporting and collaborating with Occupy Empathy

requesting empathic listening (no judgments, diagnosing, advice, analysis, detachment, sympathy or pity)

offering empathic listening to others

taking part in an empathy circle

taking empathy circle facilitation training

requesting conflict mediation

taking conflict mediation facilitation training

joining the Occupy Empathy leadership design team

taking Empathic Design (human-centered design) training

donating financial support

requesting an empathy talk, movie showing, workshop, training for your organization.

offering your empathy building methods & ideas:
Photos and Reports from Past Deployments
April 4, 2015 - Berkeley Plaza

Mar 14, 2015 - Berkeley Plaza

Oct 12, 2014 - Berkeley - First setup of the 'Occupy Empathy Tent
Empathy Movement - Scenes from the Empathy Tent, in Berkeley (March 7, 2015)
"I want us to organize, to tell the personal stories that create empathy,
which is the most revolutionary emotion."
Gloria Steinem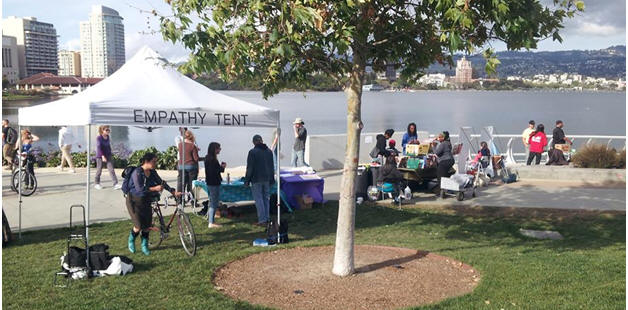 At Bless the Lake, Lake Merritt, Oakland

"Occupy Empathy is helping to create the great revolution of our time - an empathy revolution where we step into the shoes of others to overcome prejudice and bridge social divides. It's starting in Berkeley and my hope is that it will spread around the world."
Roman Krznaric, Empathy: Why It Matters, and How to Get It

"Empathy, I have learned, is revolutionary."
Jane Fonda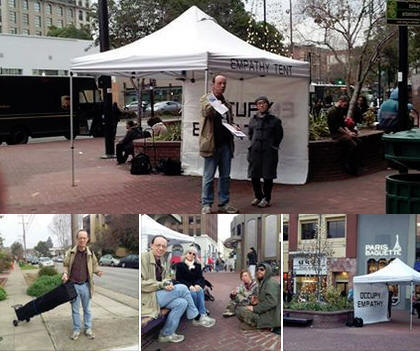 Jan 15 - Downtown Berkeley Plaza
"By peace we mean the capacity to transform conflicts with empathy,
without violence, and creatively — a never-ending process"
Johan Galtung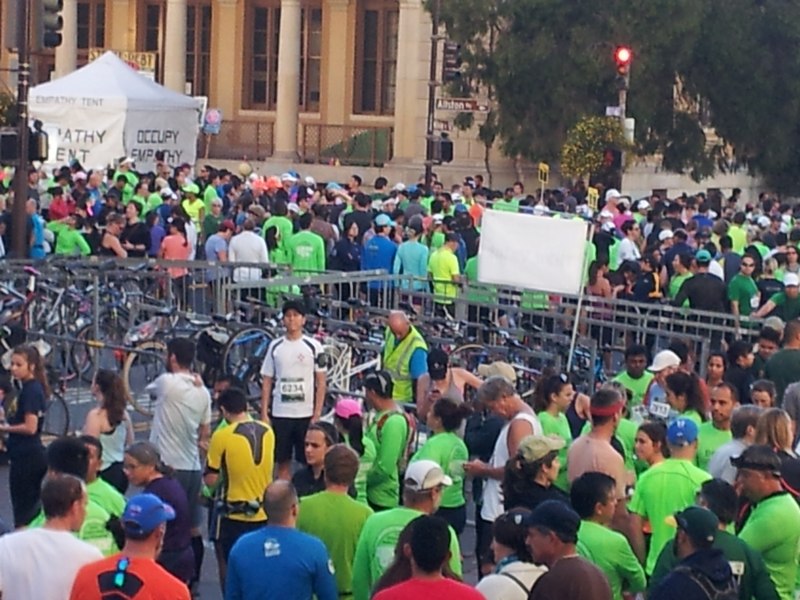 (Berkeley Post Office and Marathon - Nov 9, 2014)
"The biggest deficit that we have in our society and in the world right now
is an empathy deficit."
Barack Obama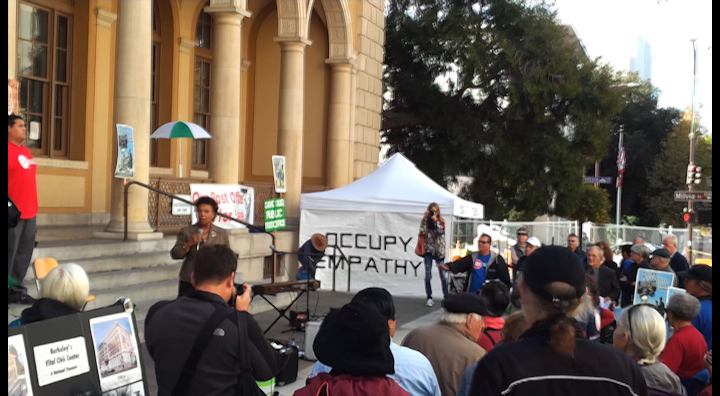 (Berkeley Post Office - Congress woman Barbara Lee speaking)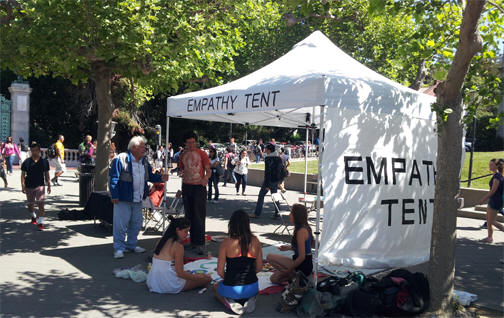 (Sproul Plaza - @ UC Berkeley Empathy Tent - 2013)


Occupy Berkeley MLK Park - 2011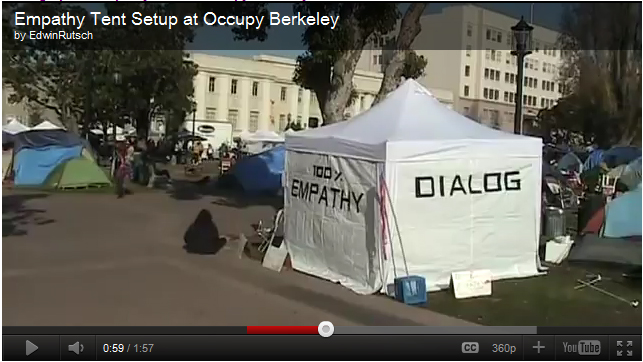 Contact Edwin Rutsch at EdwinRutsch@gmail.com for more information