Empathy Tent
EmpathyTent.com

Building a Culture of Empathy.
Transforming 'Us Versus Them' to 'We're All In It Together 100%'
Volunteer



Join us in building a true revolution of values. Free empathic listening, dialogue, empathy circles, circle facilitation training, conflict mediation, mediation training, de-escalation, arts and empathic design (human-centered design) project team building. Offer your skills and connection building expertise. Invite your friends for an opportunity to listen, connect, hear and be heard, see and be seen, share and much, much more.
Empathy Tent Pop-Ups

201

7

Sat-Sun
Aug 26-27
Empathy Tent Pop-Up: Right-Left Event (26th SF and 27th Berkeley)
Weds, 7pm
Weekly Team Meetings (Wednesdays, 7 pm in Berkeley)
Thurs, 9am
Weekly Team Meetings (Thursdays. 9am on Zoom)
TBD
Empathy Circle: with Congressman DeSaulnier and Constituents
TBD

Past

July 29, Sat
Empathy Tent: Congressman DeSaulnier Resistance Fair
July 19, Wed
Empathy Tent Team Movie Night. All Welcome 'Accidental Courtesy: Daryl Davis, Race & America'
July 8, Sun
Empathy Tent: Sacramento Capital Park
July 2, Sun
Empathy Tent: Anti v Pro Trump Rallies in Los Angles
June 10, Sat
Empathy Tent: Roseville - Anti Sharia v Unity Rallies
May 24, Wed
Empathy Team Building: Harvard Resistance School Process
May 20, Sat
Berkeley Listens Civic Center Park: Transforming Left-Right Violence
May 21, Sun
Empathy Tent: at The Rootcamp
May 17, Wed
Empathy Team Building: Harvard Resistance School Process
May 13,
Berkeley Listens: Civic Center Park, Transforming Left-Right Violence
May 03,
Sproul Plaza UC Berkeley
April 27,
Right Free Speech Rally - Civic Center Park. Berkeley
April 15,
Left v Right Rallies - Civic Center Park, Berkeley
Mar 17,
UC Berkeley Sproul Plaza (Empathy Tent and Sidewalk Talk)
Mar 12,
Berkeley Healthcare Town Hall (Empathy Tent and Sidewalk Talk)
Jan 21,
Woman's March, Oakland (Empathy Tent and Sidewalk Talk)

2016

Nov 14, 2016

Hands Around Lake Merritt, Oakland (Empathy Tent and Sidewalk Talk) (Photo Album)

2015

May 07, 2015

Apr 19, 2015

Berkeley Plaza

Apri15, 2015

UCB: Berkeley, Sproul Plaza

Apr 09, 2015

Berkeley Plaza

Apr 04, 2015

Berkeley Plaza

Mar 28, 2015

Berkeley Plaza

Mar 21 & 25

Berkeley Plaza & Lake Merritt, Oakland
Mar 14, 2015
Berkeley Plaza

Mar 07, 2015

Mar 04, 2015

Berkeley Plaza

Feb 24, 2015

Berkeley Plaza

Feb 04, 2015

Berkeley Plaza

Feb 03, 2015

Berkeley Plaza

Jan 15, 2015

Berkeley Plaza

2014

Dec 02, 2014

Nov 16, 2014

Berkeley Plaza

Nov 09, 2014

Berkeley Post Office

Nov 01, 2014

Berkeley Post Office

Oct 12, 2014

Berkeley - First setup of the 'Occupy Empathy Tent

2013

UCB: Berkeley Empathy Tent
Apr 27, 2013

UCB: Sproul Plaza Tent Setup

Apr 27, 2013
Apr 23, 2013
UCB: Sproul Plaza First Day of the Empathy Tent

Apr 18, 2013
May 09, 2013
UCB: Empathic Listening and Circle Practice

2011

Nov 8, 2011

Edwin Rutsch at the Empathy Circle at Occupy Oakland

Dec , 2011

Second Empathy Circle in Oakland's Frank Ogawa Plaza

Dec , 2011

Overview Empathy Tent:

Occupy Berkeley MLK Park

Dec 17, 2011

Empathy Tent: Setting up at Occupy Berkeley

Dec , 2011

Empathy Tent: Day 2 at Occupy Berkeley - Christmas Caroling & Drawing our Values, etc

Dec 21, 2011

Empathy Tent: Occupy Berkeley Eviction - Thoughts on moving forward.

Dec 21, 2011

Empathy Tent: Occupy Berkeley Eviction - LiveStream interview with Edwin Rutsch
Sproul Plaza UC Berkeley (May 03, 2017)

Empathy Tent at the Oakland Woman's March (Jan 21, 2017)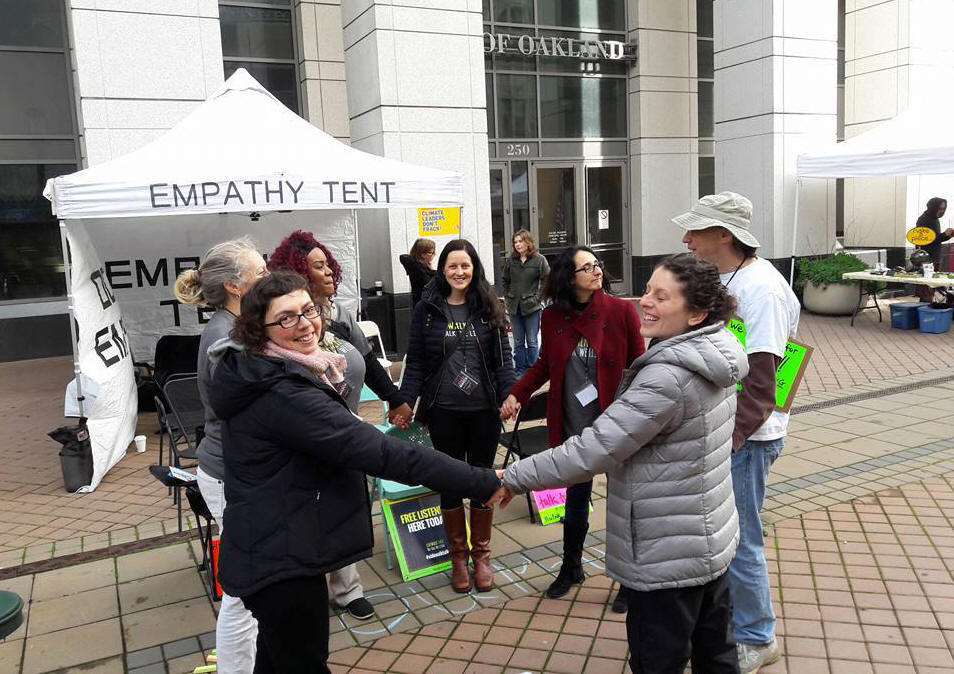 "I want us to organize, to tell the personal stories that create empathy,
which is the most revolutionary emotion."
Gloria Steinem


'Hands Around Lake Merritt', Oakland. Empathy Center and Sidewalk Talk (Nov 14, 2016)


"Occupy Empathy is helping to create the great revolution of our time - an empathy revolution where we step into the shoes of others to overcome prejudice and bridge social divides. It's starting in Berkeley and my hope is that it will spread around the world."
Roman Krznaric, Empathy: Why It Matters, and How to Get It

Empathy Movement - Scenes from the Empathy Tent, in Berkeley (March 7, 2015)
"By peace we mean the capacity to transform conflicts with empathy,
without violence, and creatively — a never-ending process"
Johan Galtung
(Berkeley Post Office and Marathon - Nov 9, 2014)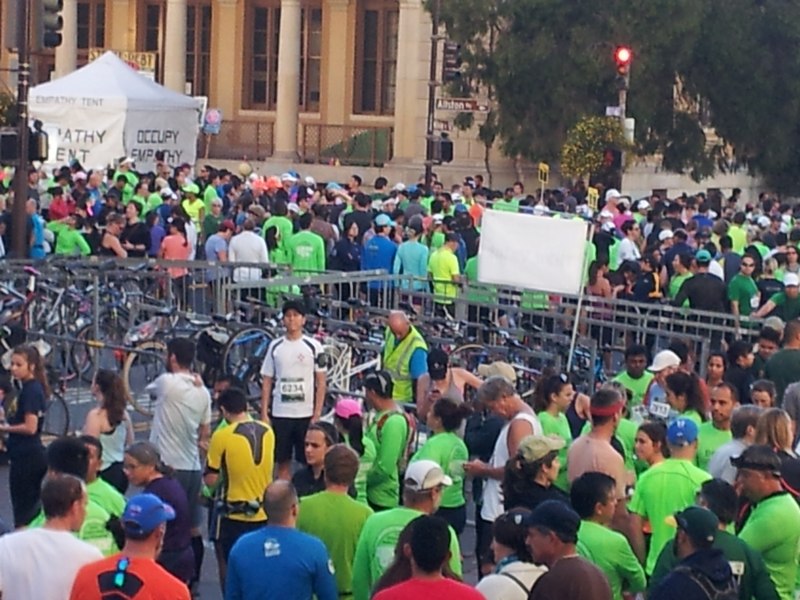 "The biggest deficit that we have in our society and in the world right now is an empathy deficit."
Barack Obama



Berkeley Post Office - Congress woman Barbara Lee speaking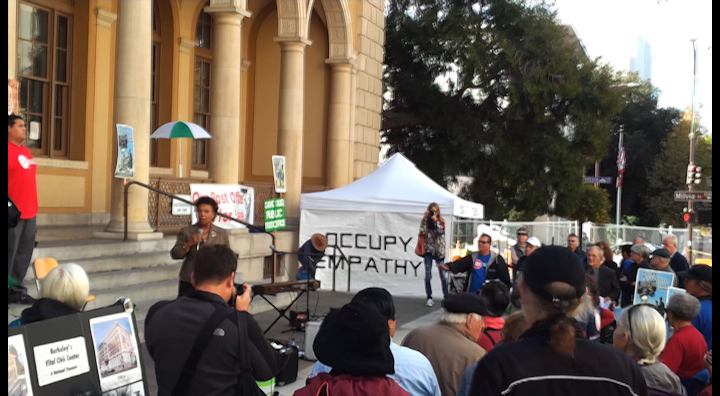 Sproul Plaza - @ UC Berkeley Empathy Tent - 2013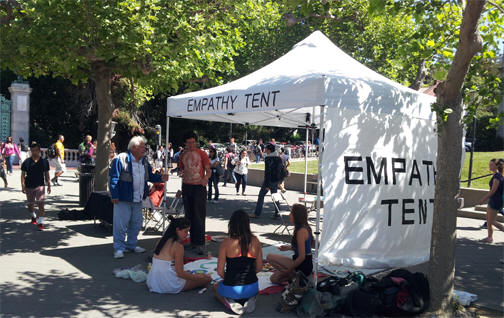 Contact Edwin Rutsch at EdwinRutsch@gmail.com for more information