Culture of Empathy Builder: Roman Krznaric
http://bit.ly/yogvQs

Empathy: A Handbook for Revolution
Roman Krznaric and Edwin Rutsch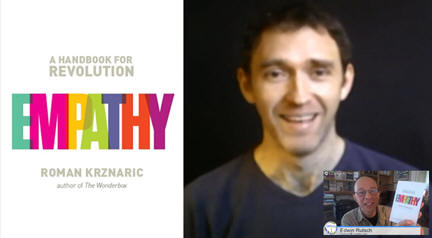 Roman Krznaric is a cultural thinker and writer on the art of living. He is a founding faculty member of The School of Life in London, which offers instruction and inspiration on the important questions of everyday life, and advises organisations including Oxfam and the United Nations on using empathy and conversation to create social change. He has been named by The Observer as one of Britain's leading lifestyle philosophers. Roman is author of Empathy: A Handbook for Revolution.


"I believe that empathy – the imaginative act of
stepping into another person's shoes and
viewing the world from their perspective –
is a radical tool for social change and
should be a guiding light for
the art of living."
From the book description; "Through encounters with actors, activists, groundbreaking designers, undercover journalists, nurses, bankers and neuroscientists, Krznaric defines a new breed of adventurer. He sets out the six life-enhancing habits of highly empathetic people, whose skills enable them to connect with others in extraordinary ways. Empathy has the power to transform relationships, from the personal to the political. Krznaric contends that, as we move on from an age of introspection, empathy will be key to fundamental social change - making this book a manifesto for revolution."

Sub conference:
| | | |
| --- | --- | --- |
| | | Links |
(Video Transcriptions: If you would like to take empathic action and create a transcription of this video,
check the volunteers page. The transcriptions will make it easier for other viewers to quickly see
the content of this video.)

Roman Krznaric and Edwin Rutsch: Dialogs on Building a Culture of Empathy

(Video Transcriptions: If you would like to take empathic action and create a transcription of this video, check the volunteers page. The transcriptions will make it easier for other viewers to quickly see the content of this video.)
Empathy: A Handbook for Revolution
Roman Krznaric argues our brains are wired for social connection: empathy is at the heart of who we are. It's an essential, transforming quality we must develop for the 21st Century.

Through encounters with actors, activists, groundbreaking designers, undercover journalists, nurses, bankers and neuroscientists, Krznaric defines a new breed of adventurer. He sets out the six life-enhancing habits of highly empathic people, whose skills enable them to connect with others in extraordinary ways.

Empathy has the power to transform relationships, from the personal to the political. In this way it will be key to fundamental social change – making this book a manifesto for revolution.

Contents
The Radical Power of Empathy

The Revolution of human relationships

The Six Habits of Highly Empathic People

Tackling the empathy deficit

From introspection to outrospection

The Empathic Challenge

Habit 1. Switch on Your Empathic Brain

Science fictions or science fact?

It's human nature, isn't it?

Child psychology and the discovery of homo empathicus

Get in touch with your inner ape

Dissecting the empathic brain

Can we learn to e more empathic

Re-framing your mind

Habit 2. Make the imaginative Leap

If empathy is so good, why don't we do it more?

Authority

Distance

Humanize the Other

Discover what you share and what you don't

Empathies with the enemy

What is it like to be a bat?


Habit 3. Seek Experiential Adventures

Being Daniel Day-Lewis

Immersion or how to be an undercover empathist

Exploration, or how empathy journeys can change you

Cooperation, or why it may be time to join local choir

Learning the Language of empathy


Habit 4. Practice the Craft of Conversation

The crisis of conversation

Curiosity about strangers

Radical Listening

Take off your mask

Concern for others

Creative spirit

Sheer courage

Empathy with yourself


Habit 5.Travel in Your Armchair

Can you change the world fro your living room?

Theatre and film: war through enemy eyes

Photography: the political power of empathic images

Literature: can we learn empathy from novels?

Online culture: from digital revolution to empathy revolution?

In praise of ektasis


Habit 6. Inspire A Revolution

Empathists of the World Unite!

The greatest meeting of strangers in history

The First Wave: the rise of humanitarianism in the eighteenth century

The Second Wave: the expansion of rights after the Second World War

The Third Wave: deepening personal relationships in the age of neuroscience

The prospects fro bioempathy

Riding the revolutionary wave


The Future of Empathy

From early on I have suspected that so important-sounding task "Know Thyself" is a ruse of cabal priests. They are trying to seduce man from activity in the outside world, to distract him with impossible demands; they seek to draw him into false inner contemplation. Man only knows himself insofar as he knows the world. Johann Wolfgang Goethe

Empathy Conversations

Empathy Library

The Empathy Museum
Empathy in Australia Presented by The School of Life
"The School of Life is holding a special symposium called, Empathy in Australia. It will cover key issues facing modern-Australian society and discuss how we might turn our empathic potential into a powerful tool for positive change."
How empathy can change our lives - Audio Interview
"Can empathy really transform out lives? Philosopher Roman Krznaric, founder of the Empathy Museum is in Perth, and he spoke with Gillian O'Shaughnessy."


Empathy: Why It Matters, and How to Get It and founder of the world's first Empathy Museum.
February 17, 2016,
It's comforting to know popular philosopher and empathy expert Roman Krznaric is not, in his own words, "some sort of empathy superhero"."I'm struggling the same way as anybody else to try to see the world through others' eyes," says Krznaric, the author of Empathy: Why It Matters, and How to Get It and founder of the world's first Empathy Museum. On the line from his Oxford home ahead of his first visit to Perth for the 2016 Perth Writers Festival, where he'll give the opening address, the Sydney- born "cultural thinker and writer on the art of living and social change" tells of the childhood trauma which for a time left him bereft of empathy.
The empathy revolution: fighting crime with compassion
"There is a quiet revolution going on in the criminal justice system. In courtrooms and in prisons, the latest crime-fighting weapon is empathy.Sydney-born Roman Krznaric​ has conducted empathy training for some of Britain's top judges as well as the violent offenders they sentence. He believes that developing the ability to put ourselves in another's shoes is the key to a fairer, more productive and harmonious society."

Empathy in Australia
"Learn how to use and expand your empathy to transform your life and the lives of others
When we as a society and as individuals face up to world crises, human rights abuse and issues happening in our own country, one concept often comes to mind: empathy. Sometimes we're baffled at how people in positions of power seem to suffer from a lack of empathy; occasionally, we might recognise when we need to show more towards others. Empathy is what brings us to show compassion, which means that it's a powerful tool for positive change."
Introspection is Out, Outrospection is In
"What is your capacity for empathy? Is it just reserved for the down and out? How about empathizing with those in power? Can empathy travel across great distances and through time? This informative animation challenges how we tend to view empathy and advocates for the transformative power that can bring about change for individuals as well as entire societies."
2015-11-30 - Is empathy the hidden motor of human history? | New Humanist – by Roman Krznaric
"Often depicted as a feel-good emotion and "soft" skill, empathy can be a powerful secular force for social and political transformation"
29 June 2015 - Welcome to the empathy wars - Roman Krznaric
"Stepping into other people's shoes has been a catalytic force for social change throughout human history. You can always tell when a good idea has come of age: people start criticising it. That's certainly the case when it comes to empathy.

Empathy is a more popular concept today than at any time since the eighteenth century, when Adam Smith argued that the basis of morality was our imaginative capacity for "changing places in fancy with the sufferer." Neuroscientists, happiness gurus, education policy-makers and mediation experts have all been singing its praises."
29 June 2015 - Can you teach people to have empathy? - BBC News - Roman Krznaric
"Empathy is a quality that is integral to most people's lives - and yet the modern world makes it easy to lose sight of the feelings of others. But almost everyone can learn to develop this crucial personality trait, says Roman Krznaric.

Open Harper Lee's classic novel To Kill A Mockingbird and one line will jump out at you: "You never really understand another person until you consider things from his point of view - until you climb inside of his skin and walk around in it."..
Make a habit of "radical listening"...
Look for the human behind everything...
Become curious about strangers...


Renegade Ink:
Roman Krznaric, author of 'Empathy: Why it matters and how to get it",
talks to us about empathy in the age of self interest.
The Empathy Effect
How Empathy Drives Common Values, Social Justice and Environmental Action (pdf)_
By Roman Krznaric
"This paper has been written for Friends of the Earth's Big Ideas project as a contribution to the topic of 'Identity and Consumerism'"
1.Introduction: From Self-Interest to Common Interest

2.The Scientific Foundations of Empathy

2.1 The Two Types of Empathy

2.2 How Empathy Develops and Impacts on Behaviour

2.3 The Social Distribution of Empathy

3.Empathy as a Force for Social Change

3.1 Collective Empathy in Human History

3.2 Harnessing Empathy as a Campaigning Tool

4.Using Empathy to Shift Identities from 'Me' to 'We'

5.Challenges for Empathy Campaigning

5.1 Empathy Across Distance, with Future Generations and Out-Groups

5.2 Empathy with the Natural World

5.3 Power, Inequality and Institutions

6.Conclusion: A 21st Century Empathy Agenda

Roman Krznaric: Empathy Why It Matters & How to Get It Talks At Google

Empathy with Roman Krznaric - Action for Happiness Conference
Empathy and how it relates to happiness

Why interested in empathy - mother died

2 discoveries

good for you - cornerstone of happiness

empathy is fiery and can create a social revolution

Good to think about happiness

Empathy is the heart of good relationships

good for creativity

good for human bonds

Problem - hyper individualism

US has big drop in empathy

How to expand empathy - 6 ways to increase it

Definitions

Effective - shared mirrored response

Cognitive - perspective taking

Confused with golden rule

You may be Skeptical about empathy

self-interested model of humanity

empathy model of humanity

6 habits - how to support empathy?

(1) 10:00 - understand you are wired for empathy

mirror neurons

empathy can be taught

roots of empathy

(2) make imaginative leap

Role playing

Dan Batson - facts vr imagination

Barriers to empathy - judgments

Example of good empathy - Gandhi

Empathize with your enemies - KKK member and black woman

Discussion with partners

(3) Cultivate Craft of Conversation

empathic listening - NVC - Marshal Rosenberg

reflective listening

Brene Brown - Vulnerability

be curious about others and use conversation

Human library events

(4) 30:30 - seek experiential adventures

Occupy the life of another

George Orwell

Patricia Moore - industrial designers

Dialog in the dark - experience being blind

Live below the line

(5) travel in your armchair

travel in your armchair - reading, films, etc

more dialog about book, film

(6) 40:30 - inspire a revolution

empathy -> reason and rights -> social justice

how to expand empathy at this level?

empathy museum

introspection - outrospection
Q and A
How do we measure empathy?

Empathy careers?

social work

social entrepreneurs

57:00 - Difference between empathy and compassion?

compassion has many definition?

empathy is cornerstone of compassionate action

59:45 - Is it possible to be too empathic?

yes, empathic over arousal - overload

it can be too much or paralyzed

human overload, nurses

society has empathy deficit

1:02 - Empathy relationship to resources - changes over life.?

1:05 - Can empathy inspire violence?

ingroup empathy - step out of your ingroup

[we need a universal transformative empathy]

1:09 - Counselor - how to maintain empathy in daily life?

1:13 - Autism and empathy. can we teach people with these problems empathy?

1:15 - Live your values.

1:19 - Your personal development in empathy?
Is Empathy Possible in the Digital Age?
Philosopher Roman Krznaric interviewed about his new book Empathy: A Handbook for Revolution on Chanel 4's SundayBrunch
Roman Krznaric: How do we increase empathy?
9 May 2014: Why The Empathy Critics Are Wrong: Empathy Doesn't Break Democracy, It Makes It
"You can always tell when a new idea is becoming popular – people start critiquing it. That's certainly the case when it comes to empathy, a concept that is getting more public attention today than at any point in its history (the frequency of Google searches for the word 'empathy' has more than doubled in the past decade)."
Does Empathy Make or Break Democracy?
lots of people talking about

definition of empathy

we don't use our full empathy

critics of empathy, it's

Parochial

Partial

Unclear

their conclusion - be skeptical of empathy use reason instead.

but empathy and reason work together

Lynne Hunt, starts with empathy, then use rights,

Examples

Anti-slavery

woman's suffrage

gay rights, etc

Empathy is the foundation - empathy makes us care

Empathy and reason work together

Response to criticisms

Parochial - proximity is not guarantee for care

Partial - expand empathy beyond ingroup

Unclear - no system has all the answers - no simple cases

How to create more empathy

educate young people

social movements
The School of Life's Sunday Sermon series: Roman Krznaric On Empathy
"In this talk from The School of Life's acclaimed Sunday Sermon series, philosopher Roman Krznaric draws on his new book, Empathy: A Handbook for Revolution, to show how empathy - the art of stepping into the shoes of another person and seeing the world from their perspective - can enrich our own lives and create radical social change."
Other writings and Selected journalism

Empathy: A Handbook for Revolution
February 19, 2014 · by randomhouseindia ·
"I don't think it's ever a good idea to write a book about the art of living if you think you've got all the answers. It's almost certain to be too preachy and too self-confident. My new book, Empathy: A Handbook for Revolution (published by Rider Books), is about how empathy – the ability to step imaginatively into the shoes of other people and look at the world from their perspective – can transform our everyday lives and the society we live. And I can safely say that it is still something I struggle with in my daily life"

Audio: Five steps to boost your empathy from philosopher Roman Krznaric
9 February 2014 - Roman Krznaric
Are you empathetic? Do you have the imaginative ability to step into the shoes of another to try and understand what they are feeling or perceiving? It's an ability that is quite different from feeling sympathetic or sorry for another person. Philosopher and author Roman Krznaric argues that empathy is in decline but, he says, we need it in abundance if societies are to flourish.
The Power of Outrospection - Empathy
Here is a fun RSA animation of a talk given by Roman Krznaric at the Royal Society for the encouragement of Arts in the UK. Roman talks about empathy as a revolutionary force.
How to start an Empathy Revolution: Roman Krznaric at TEDxAthens 2013
TEDxAthens is a world-class conference about Innovation, Creativity and Ideas based in Athens, Greece. TEDxAthens is one of the first TEDx events worldwide and the first ever TEDx event in Greece - started in May 2009. Its main goal is to develop and leverage the TED experience at a regional level, uniting innovators, thinkers, inspirational speakers, shakers, makers and breakers. TEDxAthens is curated by Dimitris Kalavros-Gousiou and organized by a team of 40 volunteers.
Age of hyper individualisms

Need antidote - Empathy

Understanding them - thoughts, feelings

empathy can create radical social change

revolution of social change

empathy for social glue to hold us together

Problem of the World

use empathy for social transformation - 8 ideas for empathy revolution

Train the next generation - Roots of Empathy program

develop imagination

Spark curiosity

Learn from history - empathy at collective level

Create Encounters

British story during ww2 - met each other.

Israeli - Palestinian call

Create experiential adventures

Harness technology

Become Empathic leaders

Cultivate outrospection

Many searches on empathy

Turn empathy into social and political change

a revolution of human relationships
Empathy: Handbook for Revolution - My children became my greatest teachers
"Childhood trauma left Roman Krznaric emotionally withdrawn. Since then, he has tried to repair the damage and his own children have taught him how to step into someone else's shoes

Growing up, I knew this was the reason why I rarely felt other people's joys and found it equally hard to connect with their sorrows. But it was only a few years ago that I realised it was also the spur to my obsessive research into empathy: I was driven by an unconscious desire to recover the empathic self I had lost as a child. This realisation launched me on a personal quest to explore – and tackle – my empathy deficit through my family life."

Mahatma Gandhi was one of the great empathetic adventurers of the twentieth century, a master in the
art of looking at the world from another's perspective. His philosophy was embodied in what is known as "Gandhi's talisman", a moral code which calls on us to consider the
viewpoint of those living on the social margins..
2013-02-25 - Empathy is the invisible force that holds society together
"For four centuries, we have embraced a narrow view of human nature. Roman Krznaric has set out to widen our perspective. He talked with Martin Eiermann about human empathy, self-absorbed psychologists, and the importance of a little bit of madness."
...Empathy isn't a nice and fluffy concept, it's fiery and dangerous and radical. It's ultimately a revolutionary force – not in the sense of overthrowing institutions, but by revolutionizing human relationships."

2013-02-01 - In Search of Empathy: Interviews by Jules Evans
Jules Evans investigates the elusive notion of empathy through a series of interviews with Roman Krznaric and Aeon contributors Maria Konnikova and Tobias Jones.

Sherlock Holmes and the lost history of empathy By Roman Krznaric
" Here's a new podcast from the rather wonderful Aeon Magazine, in which philosopher Jules Evans explores the theme of empathy. I kick off by talking about the history of empathy, tracing the concept from Adam Smith's ideas in the 18th century and through developments in child psychology over the past hundred years.
Then comes Maria Konnikova, who makes the case that Sherlock Holmes was a master of the art of empathy, based on her new bookMastermind: How to Think Like Sherlock Holmes. Finally there is novelist Tobias Jones, who discusses his attempts to create an empathic community at his home in Somerset."

2012-11-27 - Six Habits of Highly Empathic People
"We can cultivate empathy throughout our lives, says Roman Krznaric—and use it as a radical force for social transformation.
If you think you're hearing the word "empathy" everywhere, you're right. It's now on the lips of scientists and business leaders, education experts and political activists. But there is a vital question that few people ask: How can I expand my own empathic potential? Empathy is not just as a way to extend the boundaries of your moral universe. According to new research, it's a habit we can cultivate to improve the quality of our own lives."
2012-10-16 - Ready for a vulnerability hangover? Five ideas from Brené Brown
"4. Empathy is the antidote to shame
But if shame is such a burden, what are we supposed to do about it? The answer is developing 'shame resilience', and it is empathy that is the 'real antidote to shame'. What does she mean? 'If we can share our story with someone who responds with empathy and understanding, shame can't survive.' So we can't really get over shame without other people. We can't keep shutting it out by keeping ourselves busy (or distracted). We can't wish it away by denying our feelings. What we really need to do is seek connection with someone who is going to lend us an empathic ear, someone who is able to listen to us and endeavour to understand our fears, anxieties and uncertainties."
The Six Habits of Highly Empathic People - RSA
Feb 16, 2012
'At lunchtime I chaired an event with Roman Krznaric that will soon be available to download from our website. In light of the event's intriguing title, and my current oppressive workload, I wanted just to list the six habits...
The Six Habits of Highly Empathic People
"Drawing on his new book, The Wonderbox: Curious Histories of How to Live, cultural thinker Roman Krznaric reveals how empathy - the art of stepping into the shoes of another person and seeing the world from their perspective - can not only enrich your own life but also help create social change by helping us challenge prejudices and overcome social divides. Drawing on everything from the empathy experiments of George Orwell to developments in neuroscience and industrial design, from the struggle against slavery in the eighteenth century to the Middle East crisis today, Roman explores six different ways we can expand our empathic potential."
00:00 - 20th century, era of introspection

21st century - need to shift to outrospection

step out side yourself

ultimate art form for this is empathy

empathy doesn't just expand your moral universe - it's good for you

Culture told us we are self interested beings

New Science - homo empathicus

Frans De Waal

Mirror neurons

Child development

Set habits of empathy

16:00 - Q and A

In London - blocking out others it's overwhelming?

empathic over arousal - only a few have this

we're not doing empathy enough

17:4 - not really empathizing but projecting assumptions?
2012-03-12 - The greatest meeting of strangers in history
I am in the midst of a long-term project to document instances when empathy has flowered on a mass scale and shifted the course of human history. While empathy has periodically collapsed on a collective scale – just think of colonialism in Latin America or the Holocaust – there have also been moments when it has emerged as a force for positive and radical social change.

12 February 2012 - Why George Orwell is my empathy hero
"Tell us more about the crucial role of empathy, which I know is a great interest of yours. What should we all keep in mind about empathy?

I think we've been too obsessed with self-interest over the last century, and that's limited the way that we pursue the good life. I think that empathy – the ability to try to imagine yourself into someone else's life, to look through their eyes – can expand our lives enormously. Of course, if you see somebody begging under a bridge you might feel sorry for them or toss them a coin, but that's not empathy, it's sympathy or pity. Empathy is when you have a conversation with them, try to understand how they feel about life, what it's like sleeping outside on a cold winter's night – try to make a real human connection and see their individuality."
00:00 Empathy is the art of stepping in the shoes of another person and seeing the world from their perspective.

Where is the person coming from? values, experiences, hopes, fears that shape their view of the world

0:35 Obama says we have an empathy deficit,

why important?

can change your life

empathy with lover can repair relationship

connect with stranger

can change society

empathy can create revolution

1:00 antidote to narcissism - individualism cult of self help

empathy can create revolution, not of laws but of human relationships.
Future Ethics 2: Roman Krznaric - empathy building projects
I'm a writer and teacher and run workshops for how to generate empathy to bring about social change.

how to create social bonds and overcome social barriers with empathy.

we need to find ways of generating empathy through time and space

it has been ignored by policy makers

there was empathy to end slavery

create new conversations

empathy reduces violence
2007 EMPATHY and the Art of Living Roman Krznaric
"What exactly is empathy? The concept was invented over a century ago by German psychologists and now has two main meanings. The traditional approach is to think about empathy as an emotional connection between individuals. A different approach, and the one I consider essential for the art of living, is empathy as an imaginative leap in which you endeavour to understand the world from the perspective of another person.

If you open a psychology textbook you will usually encounter the first approach, in which empathy is defined as the capacity to share or partake in the emotional life of others. That is, being able to feel what another person feels, such as when you feel anguish upon seeing the tearful anguish on the face of a child. Every time you wince when you see someone in pain, you are displaying empathy. someone who is feeling bereft after the death of a family member. "