Empathy Tent @ Occupy Berkeley (Dec 2011)
Building a Culture of Empathy and Compassion.
Home: http://j.mp/1rUkZ1J

The Empathy Tent is an open and eclectic space for people to foster the values of empathy, compassion, connection, caring, community, freedom, peace, nonviolence, justice, empathic action, etc. Our intention is to build a culture of empathy where everyone is included, feels fully heard and accepted and we take empathic action together to transform our society.

"By peace we mean the capacity to transform conflicts with empathy, without violence,
and creatively - a never-ending process;" Johan Galtung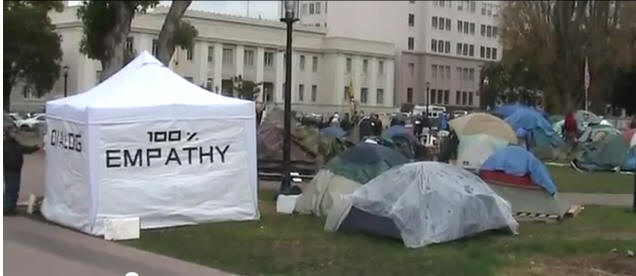 Setting up the Empathy Tent at Occupy Berkeley Dec 17, 2011
We have set up the Empathy Tent at Occupy Berkeley in Martin Luther King Civic Center Park on MLK Way and Center. We're also organizing to set up 'Empathy Tents' at the Occupy events around the country to support building a culture of empathy and compassion. The Empathy Tent is an open and eclectic space for people that value empathy, compassion, caring, community, peace, nonviolence, justice, etc. Here are some project Resource Links.
"I want us to organize, to tell the personal stories that create empathy,
which is the most revolutionary emotion." Gloria Steinem,


Transforming hearts and all institutions (government, justice, education, health, corporations, commerce, media, police, military, etc.) from being cultures of fear, greed, alienation, suffering and violence, to active cultures of empathy and compassion.

We can build a culture of empathy through connecting to our common humanity, listening, dialog, conflict resolution and empathic action! In order to empower citizens to take action, make sure everyone is heard, create connection that is heart-to-heart, face-to-face, and create an abundance of time and space for conversation and dialog to occur. Encourage listening and empathy skills. Build the common story of what's valued.
Contribute to building a culture of empathy and compassion. For individuals or organizations to be a sponsor, donate, volunteer or to add your services and workshops to the event calendar, visit the website or email. EdwinRutsch@gmail.com

The tent is a a space for empathy based processes like;
Empathic Listening

Free Empathy

Free Listening

Here to Listen

Free Hugs

Conflict Resolution

Mediation

De-escalation

Dialog

Circle Process - Restorative Processes

Empathy Circles

Restorative Circles

Restorative Justice

Values based discussions. Self Empathy, Empathy, Compassion, Caring, Connection, Community, Peace, Love, Justice, Respect, Nonviolence, Freedom, Responsibility, Action.....

Education

Mindfulness Practices,

Creativity,

your ideas here???
Donations
--------------
Send financial Empathy Tent donations to Paypal account EmpathyTent@CultureOfEmpathy.com
Empathy Tent Day 2 at Occupy Berkeley - Christmas Caroling & Drawing our Values, etc



Leadership is about empathy. It is about having the ability to relate to and
connect with people for the purpose of inspiring
and empowering their lives.– Oprah Winfrey

Where to deploy?
To Do
Paint Signs

Create a flyer hand out.

Create an Empathy Circle Process flyer

Line up Sponsors

Create a Staffing Schedule
More ideas
how to mediate my group - be the compassion point person in my group

work with people who are upset

Get along with people in stressful situations.

Triggers: Help people learn and practice strategies for when they are stimulated, how to come back to a peaceful place.

Connecting w/ Police: Give empathy to the police. work the police
2011-12-21 - Empathy Tent at the Occupy Berkeley Eviction - Thoughts on moving forward.
Phoebe and I talk about our final thoughts about the results and effectiveness of the empathy tent and ideas for moving forward. This was the evening of the eviction (Dec 21) of the Occupy encampment in the Berkeley, Martin Luther King Civic Center Park.



2011-12-21 - Empathy Tent at Occupy Berkeley Eviction - LiveStream interview with Edwin Rutsch
Here's a video I just reposted from a guy that was going around the Occupy Berkeley encampment the night of the eviction taping Livestream video. He did an interview with me and I told him about what we had been doing in the tent. The video is not very good quality since it was dark and was shot on a cell phone camera, however, it will give you a sense of what we were doing there.

Empathy T-shirt - Printed Front and back - I ordered 5 of these. David Hazen ordered around 20
Here's the t-shirts we just ordered. David models the new t-shirt
Other Related Oakland and Empathy Links

Our Second Empathy Circle in Oakland's Frank Ogawa Plaza
We held our Second Empathy Circle in Oakland's Frank Ogawa Plaza with the vision of building a culture of empathy in Oakland and beyond.

Edwin Rutsch at the Empathy Circle at Occupy Oakland - Nov 8, 2011
I just got back from a Empathy Circle @ Occupy Oakland. There were 4 or 5 officials from the Oakland City mayors office and 15 to 25 community members. Meeting was facilitated by Mutima Imani. Some people didn't want it video taped but I taped some pre and post Empathy Circle video.

One of the people from the administration said it was the first time they had been in dialog with people there at Occupy Oakland. Hope it's the beginning of a series of Empathy Circles.



Occupying 100% Empathy for All @ Occupy Oakland General Strike
"Self-absorption in all its forms kills empathy, let alone compassion.
When we focus on ourselves, our world contracts as our problems and
preoccupations loom large. But when we focus on others, our world expands.
Our own problems drift to the periphery of the mind and so seem smaller,
and we increase our capacity for connection-or compassionate action."
Daniel Goleman


Oakland Mayor Jean Quan - Seeking Empathy at Oscar Grant-Mehserle Oakland Verdict Protest
Oakland Mayor Jean Quan on How to Build a Culture of Empathy