Empathic Listening Circles
This page is for developing Empathic Listening Circles.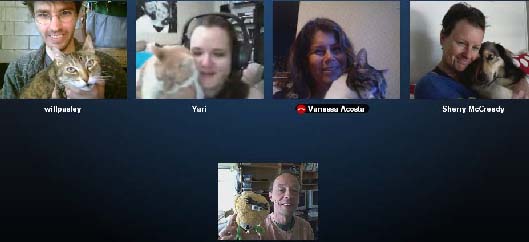 The goal is to develop a 'form' or process for empathic listening in small groups online using video conferencing software like Skype or in-person meetings. I already do this listening process with various people and groups that I work with online. The overall goal of the groups is to build a culture of empathy. It's to create the empathic lifestyle or way of being in the world.
To build a culture of empathy, we need to fill ourselves with empathy so that we have it to give. When we ourselves have not felt heard or listened to, it's difficult to be present, hear and listen to others. We need to have some format for creating an environment where we are each heard. A place were we each have a chance to speak about what is important to us. To have others empathize with our deeper feelings and for ourselves to be there to empathize with them.
Ideas
People feel better once they have been heard

Have the vision to Build a Culture of Empathy and these circles are for supporting that vision.

Action - there's needs to be an empathic action component. People are heard but they do something

be heard about how you are doing with deepening your empathic connection with yourself and others.

how to create the culture of empathy?

What are actual problems and experiences you are coming across and share those.

How to structure the meetings so that there's a step of going out into the world and actualizing empathy? When each person comes back to the meeting they can report on their experience with spreading empathy.

Need an outline and training video for how the groups work.

reflective listening - on what was heard

rephrasing - what was heard

reframing - what was heard

summarizing - what was heard

For the NVC based groups they add 'needs' (values) guessing

What are prerequisites for attending group?

What is length of a meeting?

What is best number of people? 5 max on Skype I would think.

What are peoples stories of taking part in a group like this?

My story about taking a workshop with Dominic Barter and then having the deep empathy to take into my dance.

my story of the NVC fun Fest and empathy circle.

using shared Google doc for documenting the conversation.

The question? How can we build a culture of empathy?
Notes:
Confidentiality check

Call experience

Sample Call recording
Existing Groups
NVC does these groups

Ray Taylor - holds these groups on Skype

My Experience with NVC Santa Cruz

Compassionate Listening Process - Practice Groups

Darci would like to develop process

Empathy Curriculum Team would like to develop process
Outline of Listening Groups
Check-in: (How are you right now in relation to deepen empathy in the world?)

Empathy for those who request it

Debriefing session - how did the session go
Other Links and Resources

T-group
Carl Rogers has reportedly described the T-group as "the most significant social invention of the century".
Empathic Listening Circles zlmc.org
Empathic listening circles use a very simple form of feedback that is used in Focusing and Non-violent Communication. We will teach you this and then help you practice and apply it through various kinds of role plays and experiential exercises in the Empathic Listening Circles.

Empathy Circle cnvc.org
The Empathy Circle is not a training, but rather an occasion to experience Presence, synergised with that of others. The content of the Circle is not structured; it emerges from an inner movement within the people in the Circle. This movement takes root in a profound self-connection and connection to others. This allows for self-inquiry from a space of stillness, a devotion to the life within ourselves. The Empathy Circle is a different experience every time, it is an occasion to settle with ourselves in a climate of embrace and acceptance.

Listening Circle Facilitatorís Guide
As stated on our website listening circles are a highly structured form of dialogue. In
order to use the structure that follows, you will need the following:
Listening Circles co-intelligence.org
I believe the most basic unit of co-intelligent social life is people sitting in a circle listening deeply and speaking from the heart.

Wisdom Circles wisdomcircle.org
Usually one or two people initiate a circle. Make your intentions and hopes for the group, and the fact that you will be using this format, clear to everyone invited to participate. We recommend a circle of 3-12 people, meeting monthly or more often. Length of meeting is affected by the number present (1-3 hours).