Carl Rogers and Richie



Encounter Group
================================
=====================================
May, Rogers, Satir, and Szasz at The Evolution of Psychotherapy conference, 1985



Carl Rogers on Person-Centered Therapy Trailer (Psychotherapy Video)
Carl Rogers 1/3 - Quest for Peace

Get leaders together to experience group process (empathy)

West Germany counseling and the effects

Conflict

I'm right, your wrong

I'm good, your bad.

both sides feel the same

your not a person your evil

parties need to get into relationship

Institutions lag behind the people

You're a man, not because you can kill a person, it's that you can heal a person

Role of Business -

Role of Government - Get leaders together to experience group process (empathy)

17:00 - Role of education - are very authoritarian structures - hierarchy

trained to be a conformists

training children on conflict resolution

20:00 - Role of Family - parents that have learned empathy better results

22:00 - would offer revolutionary changes in education -

23:40 - the human being is a constructive organism

counter to most religion

counter to Freud

there is a positive core in all people

destructive qualities from social tensions

why are culture use force, intimidation, etc.

role of the leader - to be fighter, aggressive

minor disputes become major with technologies

Carl Rogers 2/2 - great stories of conflict resolution.




( ) Carl Rogers - Press Conf - #1 Audio Adjusted

Healthy State - Carl Rogers - 1986
Was in South Africa and USSR

21:00 the third day of conference - Suggested they try an 'empathy experience'.

triads: Client, therapist, observer .

15 minutes the person talks and is reflected., then they discuss it.

then they switch roles..

was very moving, a safe environment and the floodgates opened.

People being the therapists didn't do a good job. people had talked about empathy but doing it was another matter.

putting active listening into practice is different than talking about it.
Carl Rogers and Paul Tillich p.1
Carl Rogers and Paul Tillich p.2
on how to use his work in education

start in first grade with choice.

why don't we do more of this?

we don't believe in democracy

we don't trust people
Carl-Rogers-person-centered-therapy
In this historic interview with Carl Rogers filmed two years before he passed away, the man named the single most influential psychotherapist of the past quarter-century, the founder of the person-centered approach, reflects on his major contributions and explores his provocative opinions on a wide range of topics including therapy, education, and social change.
Carl Rogers on Marriage: Persons as Partners
In this video discussion with John Whiteley, Carl Rogers describes conditions he has researched over the years that distinguish successful relationships between men and women from unsuccessful ones.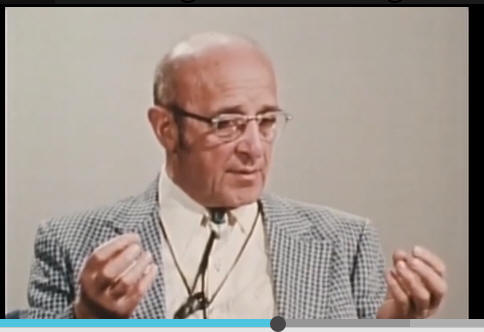 Carl Rogers speaking at UCLA 4/3/1967
He talks about empathy in education at around 33 min.