Fostering Empathy Through Museums
(View On YouTube or On Facebook)
Fostering Empathy Through Museums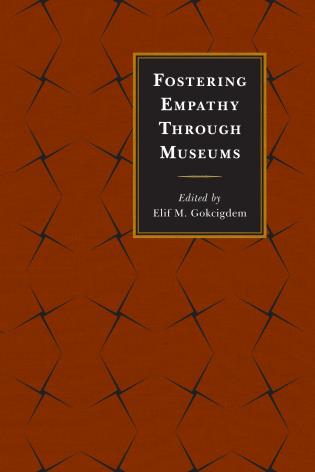 Fostering Empathy Through Museums features fifteen case studies with clear take-away ideas, and lessons learned by vividly illustrating a spectrum of approaches in the way museums are currently employing empathy, a critical skill that is relevant to personal, institutional, economical, and societal progress.
More..
Designing for Empathy: Perspectives on the Museum Experience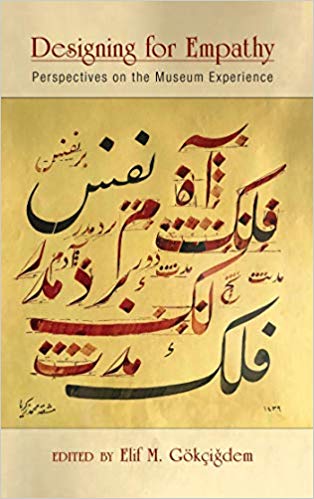 Designing for Empathy is a volume of twenty-five essays contributed by multidisciplinary thought leaders, collectively exploring the state of empathy for its design elements that might lead to positive behavior change and paradigm shift towards compassionate worldviews and action.
As museums are currently shaping their tools for fostering empathy as an intentional outcome of museum experiences, the idea of empathy-building is shaping them back as socially relevant institutions that increasingly value diversity, accessibility, and equality. This is a non-linear, multi-layered, and multi-dimensional transformation that requires multidisciplinary, cross-industries, and cross-sectors alliances for its sustainability. The potential of this collective transformation effort includes the invention of unconventional, evidence-based, and sustainable solutions that can be scaled up beyond the walls of traditional museums to all kinds of informal learning platforms to help eliminate the empathy-deficit in our world.
More...

Preface - Elif M. Gokcigdem
Introduction - Zorana Ivcevic

Part I: The Object of our Empathy:
How Do We Define and Perceive the "Other"?
Chapter 1: The Heart: The Heart's Knowledge Will Never Decay - Dario Robleto

Chapter 2: The Brain: Living Narratives: Neurobiology of Empathy - Erik Jahner

Chapter 3: Conscious Experience: Empathic Space and Shared Consciousness: Museums and the Application of the Spread Mind Theory - Riccardo Manzotti

Chapter 4: The Worldview: Empathy, Narcissism, and Visual Arts Engagement - Sara Konrath

Chapter 5: Augmented Reality: Augmenting Empathy and Decolonizing AR/VR Mediums: How Do We Reimagine Augmented and Virtual Reality Experiences? - Amir Baradaran and Isolde Brielmaier
Part II: The Alchemy of Empathy:
Fifteen design elements of empathy that make it conducive to be a state of transformation. The pitfalls and the potential of empathy.
Chapter 6: Intentionality: Discovering the Power of Art in Forging Empathic Connections - Jon Carfagno

Chapter 7: Intersectionality: Building Transformative Empathetic Experiences to Talk About RACE -
Yolanda Moses and Joanne Jones-Rizzi

Chapter 8: Curiosity: Social Inquiry Exhibits: Fostering Social Learning in Museums - Thomas Rockwell, Joshua Gutwill, Heike Winterheld, and Shawn Lani

Chapter 9: Play: Building a Culture for Kindness Through Collaborative Design - Lisa Brahms and Anne Fullenkamp

Chapter 10: Vulnerability: From I to Thou: Transformation Through Traumatic Events - Andreas Heinecke

Chapter 11: Contemplation & Nuance: Found in Translation - Mohamed Zakariya

Chapter 12: Proximity: Designing for Place and People at the Border of Freedom: Niagara Falls Underground Railroad Heritage Center - Seth Frankel

Chapter 13: Storytelling: Empathy in Environmental Communications: Why People Matter for Saving Nature - Anastasia Khoo, Jamey Anderson, and Conservation International

Chapter 14: Synchronicity: Tap Dancing Towards Empathic Communities - Andrew Nemr

Chapter 15: Awe & Wonder: Designing for Wonder: Losing Your Self at the Museum - Nicholas Bell

Chapter 16: Collective Journeying: Religious Pilgrimage and Sacred Relics as Empathy-Builders -Ari Gordon and Menachem Wecker

Chapter 17: Breaking Bread: Breaking Bread and Building Bridges: Repairing Ruptures in Our Communities - Reverend Jennifer Bailey, Lennon Flowers, Emily May, and The People's Supper

Chapter 18: Optimism & Hope: Optimism to Action: One Smithsonian, the Conservation Commons and the Earth Optimism Initiative - Catherine Christen
Part III: The Scope and the Spectrum of Empathy
Empathy as a Cross-Industrial Shared Value & Its Potential for People and the Planet
Chapter 19: Ethics & Values: Modeling Decency, Sir! - Elaine Heumann Gurian

Chapter 20: Our Planet & the Environment: The Anthropocene as Our Conscience - Emlyn Koster

Chapter 21: Education & Entrepreneurship: Educating for Empathy: Global Lessons from Schools and Social Entrepreneurs - Dana Mekler

Chapter 22: Innovation & Design: Designing Empathy into Machines: Lessons Learned from Designing Interactions for Autonomous Vehicles - Kursat Ozenc

Chapter 23: Societal Progress: Museums as Incubators of Innovation and Social Impact - Karleen Gardner
Empathy-Building Through Museums: The Alchemy of Empathy
Articles
Five Ways Museums Can Increase Empathy in the World
Museums are a safe place to explore other points of view, cultures, and histories.
BY ELIF M. GOKCIGDEM
JANUARY 9, 2017
"Empathy is our inherent ability to perceive and share the feelings and thoughts of another. It allows us to connect with others who seem different, making us more aware of our commonalities. When we tune into empathy for others, we are more likely to act with compassion and altruism to help reduce their suffering. And, when we increase our caring for the environment, we are more likely to make choices that help preserve it for future generations."


A Heart to Heart Conversation on Empathy
FEBRUARY 14, 2015
"I find this discovery extraordinary, not only because it will lead to many medical treatments, but also because it simply touches my heart. This discovery makes me feel like I have just witnessed an extraordinary moment of empathic connection between a fully formed human heart, peering into and synchronizing with its microscopic origins and potential."


"Empathy-building through museums: What's in it for teachers and students?"
Interview with Elif Gokcigdem for Ashoka's Start Empathy Initiative


"Museums as Portals to Compassionate Worldviews Through Empathy-Building."
Poster presentation for "The Emergent Universe" -Science and Nonduality (SAND) Conference in San Jose