Karleen Gardner is Director of Learning at the Minneapolis Institute of Art. She also heads up the Center for Empathy and Visual Arts.

Mia envisions taking a leading role in collaborating with museum colleagues as well as researchers, scholars, content experts, and other influencers to research and explore practices for fostering empathy and global awareness through the power of art and to share these findings with the field.

In our increasingly divisive world, polarized by issues regarding politics, racial inequities, marriage equality, global warming, income disparities, and immigration policies, it becomes clear that our failures to understand other people's feelings are exacerbating prejudice, conflict, and inequality.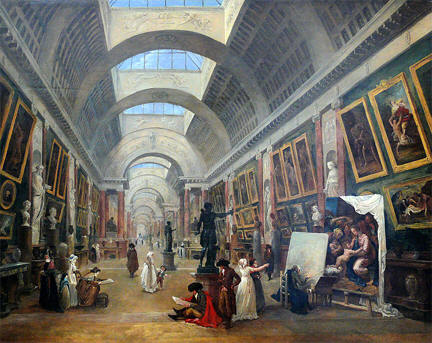 Musée du Louvre - Hubert Robert (Wikipedia)
If we wish to develop not only a more equal society but a happier and more creative one, we will need to look outside ourselves and attempt to identify with the experiences of others. This critical skill is called empathy, which "has the power to transform relationships, from the personal to the political, and create fundamental social change.