Links
YouTube: Applied Empathy: The New Language of Leadership: Michael Ventura and Edwin Rutsch
(Facebook)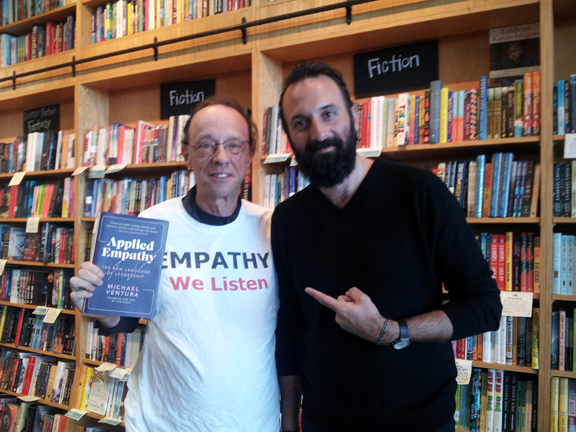 Book Reading in San Francisco Book Passage
Applied Empathy: The New Language of Leadership
by Michael Ventura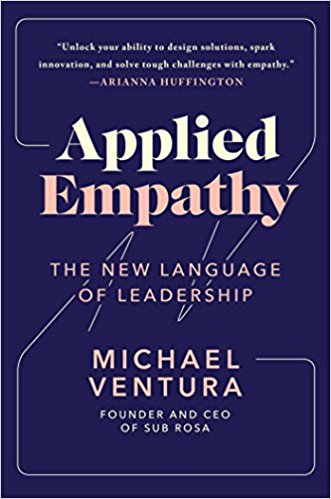 "With Applied Empathy, Michael Ventura shows us how to unlock our ability to design solutions, spark innovation, and solve tough challenges with empathy at the center."—Arianna Huffington

Michael Ventura, entrepreneur and CEO of award-winning strategy and design practice Sub Rosa, shares how empathy—the ability to see the world through someone else's eyes—could be what your business needs to innovate, connect, and grow.

Having built his career working with iconic brands and institutions such as General Electric, Google, Nike, Warby Parker, and also The United Nations and the Obama Administration, Michael Ventura offers entrepreneurs and executives a radical new business book and way forward.

Empathy is not about being nice. It's not about pity or sympathy either. It's about understanding—your consumers, your colleagues, and yourself—and it's a direct path to powerful leadership. As such, Applied Empathy presents real strategies, based on Sub Rosa's design work and the popular class Ventura and his team have taught at Princeton University, on how to make lasting connections and evolve your business internally (your employees, culture, and product/services) as well as externally (your brand, consumers, and value).

For leaders of all levels, this groundbreaking guide lays the foundation to establish a diverse, inventive, and driven team that can meet the challenges of today's ever-evolving marketplace. If you want to connect to the people you work with and for, you first have to understand them.
Sub Rosa
"Sub Rosa is an independent strategy and design practice helping organizations explore, learn and grow. We are solution-agnostic thinkers, designers and builders.

Our work is grounded in empathy. We begin by understanding the realities and ambitions of the participants in each interaction, and we design and build solutions based on this understanding."

Articles
Q&A on the Book Applied Empathy: The New Language of Leadership
"Key Takeaways
Empathy is not about being nice, sympathetic or compassionate. These are the side effects of empathy's perspective in taking power.
Applied Empathy is a series of tools and methodologies that help you practice empathy and bring it into your daily leadership style.
Empathy is a muscle you train. It takes practice and dedication.
Organizations that bring empathy into their businesses improve their internal culture, relationships with consumers, and, ultimately, their bottom line.
Practicing empathy requires the bravery to ask hard questions, take new actions, and change what must be changed in order to improve the business, and yourself."
The Power of Applying Empathy in Business with Micheal Ventura
Is empathy a crucial business skill? Micheal Ventura and I talk about when, how and why to apply empathy for success.

TEA AND EMPATHY: SUB ROSA'S MICHAEL VENTURA FEELS YOUR PAIN
By Brian Braiker.
August 30, 2018
"The founder of the New York strategy and design consultancy Sub Rosa is a multi-hyphenate. When he's not advising a portfolio of Fortune 500 clients and progressive start-ups, he is running an experiential shopping venture called Calliope with his wife, operating an art gallery and event space, publishing a newsletter called La Petite Mort—a French expression for orgasm—and running an eastern and indigenous medicine and healing practice."

With 'Applied Empathy,' Michael Ventura Spotlights Empathy As Competitive Advantage In Business
Jenny Rooney
MAY 21, 2018
Michael Ventura, founder and CEO of brand and business consultancy Sub Rosa, gets noticeably enthusiastic when talk turns to his new venture, a book called Applied Empathy: The New Language of Leadership, out May 22. Several years in the making, the book is the manifestation of his acknowledgment both that Sub Rosa needed to refine and clarify its purpose—"if we were to declare a major, what would it be?"—and also that culture—and business—were evolving. Empathy was taking center stage as a competitive advantage in so many contexts of companies and marketing and communication and leadership.

Empathy doesn't mean "be nice"
BY MICHAEL VENTURA4 MINUTE READ
Here's what empathy is: It's putting yourself in someone else's shoes, or at least sliding your feet into them and trying them on for size. It's about understanding and perspective taking. Sometimes, it can lead to a behavior shift that might make you more benevolent, but that's more a byproduct than a fundamental condition of empathizing.

APPLIED EMPATHY: WHAT TYPE OF BUSINESS EMPATH ARE YOU
BY RUBY WARRINGTON
HEALING, MAGAZINE
MAY 22, 2018
A new book, Applied Empathy, says it's time for feelings to flow into the workplace. What type of business empath are you?
""Empathy" is where we are at in the Now Age. Thanks to social media, we have more contact and communication with people of all different backgrounds, cultures, and POVs, than ever before. And never has it been so important to cultivate an understanding of ALL the different perspectives, experiences, and needs, of the people we are on this Cosmic journey with."

Michael Ventra's Applied Empathy
may 2018
by Josh Rubin
"For some 15 years, we have been fans and friends of Michael Ventura—founder and CEO of Sub Rosa, whose entire working process is based on Applied Empathy, a methodology that strengthens empathetic minds and brings together insight and action, resulting in creative problem-solving and change. The term "empathy" can be confused with simply "being nice," but Ventura has always explored into the term's true meaning (more inline with genuine understanding) as an action, and a principle. It makes sense then, that his technique has been applied in various workplaces all over the world (from Google to the United Nations) via workshops, lectures and even a Q+A card deck that's part game, part self-reflection tool. Today, after years in the making, Ventura releases his first book on the subject: "Applied Empathy: The New Language of Leadership.""
1 Real Reason You Should Make Empathy Your Mantra
Anyone can learn to be empathetic. It just takes repetition--and focus.
By Lambeth Hochwaldf
"The capacity to understand or feel what others experience AKA 'empathy' isn't usually a word that's associated with business but it should be because good bosses know that empathy is one of the best management tools they have.
But Michael Ventura, author of Applied Empathy: The New Language of Leadership (Touchstone), publishing this week, believes this word is one that can help us better connect to clients, attract the right talent, ignite a spirit of creativity and identify opportunities for growth and there are three definitive ways to up your empathy quotient."
Why Empathy Is Essential (with Michael Ventura)
by Todd Henry | The Accidental Creative
Every so often, a word becomes so common in the marketplace that it begins to lose its meaning. I believe that empathy is one of those words. On this episode, SubRosa CEO Michael Ventura shares insights into how to leverage empathy to thrill and delight your clients and customers and creative change in the world. Michael's new book is called Applied Empathy.


Applied Empathy is a monthly conversation series held at Sub Rosa's studio in Manhattan.
Each discussion features individuals who incorporate empathic behaviors into their professional and personal lives. In conjunction with a Sub Rosa moderator and audience, they discuss a unique theme pertaining to empathy and their respective careers.


Applied Empathy Podcast: Getting Really Real
"This month, Michael Ventura speaks with social justice comedian Negin Farsad and Ari Kuschnir, founder of the new wave production and entertainment company m ss ng p eces. Together, they explore the theme "Getting Really Real: The Art and Science of Communicating With Empathy.""


Applied Empathy Podcast: Getting Your Head in the Game
This month, Michael Ventura speaks with Jesse Israel, who builds community through mass meditations as founder of Medi Club. They are joined by Carolyn Manning, Director of US Brand and Community for lululemon athletica. Together, they explore the theme "Getting Your Head in the Game: Empathy for Mind and Body.


Applied Empathy Podcast: Selective Empathy
To discuss the theme "Selective Empathy: Evoking Emotion in Others," Michael broadcast live from Nevada's Black Rock Desert via Burning Man Information Radio. He was joined by artist and activist Favianna Rodriguez and human rights attorney Lightning Clearwater III. Together, they talk race, gender, and culture as related to empathic understanding in this edition of the Applied Empathy podcast.


The Applied Empathy Podcast: Empathic Leadership" with Billie Whitehouse & Dr. Robert Gore
How Empathy Can Help Your Business

Michael Ventura, entrepreneur and CEO of award-winning strategy and design practice Sub Rosa, shares how empathy—the ability to see the world through someone else's eyes—could be what your business needs to innovate, connect, and grow.