blackout curtain
Culture of Empathy Builder: Nick Walker
Nick Walker and Edwin Rutsch - How to Build a Culture of Empathy with Aikido - Autism

Nick Walker is a speaker, educator, author, and consultant on a wide range of topics. He is the founder and senior instructor of Aikido Shusekai, an aikido dojo in Berkeley, California. He holds a 6th degree black belt in aikido and has been teaching the art to adults, teens, and children for over thirty years.

He is coleading an empathy training workshop called Embodying Empathy. He says, empathy is possibly the most important social skill you possess, yet it can be very fragile.

It is common to get triggered and lose the capacity to empathize in the presence of conflict, anger, fear, or anxiety. You may attack or withdraw, or become unable to think or feel your way to a more useful response.

The solution: learn to fully embody your empathy so that it becomes a safe and reliable stance that you can return to in times of trouble. In this one-day experiential workshop, empathy expert Karla McLaren and somatic psychologist and aikido teacher Nick Walker will teach you how to access and strengthen your natural capacity for empathy.
Sub Conference: Aikido & Empathy

Nick Walker and Edwin Rutsch - How to Build a Culture of Empathy with Aikido - Autism
Transcripts
00:00 Introduction

(transcription pending)

(Video Transcriptions: If you would like to take empathic action and create a transcription of this video, check the volunteers page. The transcriptions will make it easier for other viewers to quickly see the content of this video.)
Embodying Empathy - An October Workshop In Berkeley!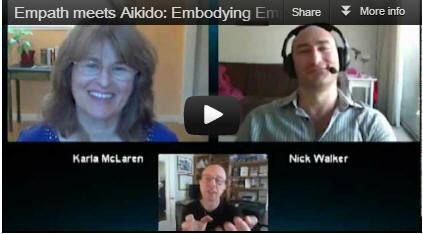 "Empathy is possibly the most important social skill you possess, yet it can be very fragile. It is common to get triggered and lose the capacity to empathize in the presence of conflict, anger, fear, or anxiety. You may attack or withdraw, or become unable to think or feel your way to a more useful response.

The solution: learn to fully embody your empathy so that it becomes a safe and reliable stance that you can return to in times of trouble.
In Embodying Empathy, somatic psychologist and aikido sensei Nick Walker and empath Karla McLaren will help you access your empathy tangibly so that you can work through your triggers and use all of your emotions as the essential resources they are.
This one-day experiential workshop will help you befriend and strengthen your natural empathic abilities and access your emotional awareness with support and ease."
Interview on:
Embodying Empathy! Workshop: Empath meets Aikido - Karla McLaren & Nick Walker

2012-10-26 - Aikido, Empathy, and Neurodiversity with Sensei Nick Walker, M.A.
A psychology podcast by David Van Nuys, Ph.D.