Culture of Empathy Builder: Tania Singer
http://j.mp/O4jpw8
Tania Singer
Tania Singer is a social neuroscientist and psychologist. Her research aims to increase our understanding of the foundations of human social behavior. Adopting an interdisciplinary approach, she and her team investigate the neuronal, hormonal, and developmental foundations of human social cognition, social and moral emotions such as empathy and compassion, envy, revenge, fairness as well as emotion regulation capacities and their role in social decision making.

Tania Singer and her team showed that a basis for empathy can be identified in the brain. Psychology and Neuroscience - University of Zurich.

Empathy expert resigns as head of Max Planck institute after report confirms bullying allegations
By Kai Kupferschmidt
Dec. 5, 2018 , 1:45 PM
"Empathy expert Tania Singer will resign as director of the Max Planck Institute for Human Cognitive and Brain Sciences in Leipzig, Germany, after a commission confirmed allegations of bullying made by several members of the institute.

"[S]ignificant failures in leadership had occurred" at the institute, the Max Planck Society said in a statement released yesterday. "In order to avoid a further escalation of the situation and to enable all parties involved to return to focused scientific work, the Max Planck Society and Ms. Singer have agreed that she will step down from her position as Director on her own initiative." The neuroscientist "will continue her work as a scientific researcher, on a smaller scale, without a management function outside the Leipzig Institute," the statement noted."

Surprise! The world's top empathy researchers might be bullies. So what about their work? (LA Times)
"On Wednesday, the journal Science broke the story that neuroscientist and lab director Tania Singer allegedly bullied and intimidated her colleagues, particularly pregnant women. Singer is one of the world's most respected empathy researchers, best known for her groundbreaking work on feeling others' pain and the impact of meditation.

Singer isn't the only academic whose alleged personal behavior is in conflict with her professional focus. In March, the Boston Globe reported that psychiatrist Bessel van der Kolk was fired from his post as medical director of the Brookline Center, where he had worked for 35 years, for allegedly bullying and denigrating employees.
His 2014 book, "The Body Keeps the Score: Brain, Mind, and Body in the Healing of Trauma," has been celebrated by experts and laypeople alike; the New York Times ran a 7,000-word profile of Van der Kolk in advance of its release.

"




Professor described as a world expert on empathy is dubbed a BULLY by eight colleagues


"

Having a baby was you letting down the team': Professor described as a world expert on empathy is dubbed a BULLY by eight colleagues who have complained about her behaviour
Tania Singer, the leading expert on empathy, is facing bullying claims from scientist

Eight employees at the Institute for Human Cognitive and Brain Sciences in Germany have made the claims

It's claimed she reduced staff to tears and discriminated against pregnant women

Her lawyers denied allegations of bullying and said she had never discriminated against pregnant women
"

She's the world's top empathy researcher. But colleagues say she bullied and intimidated them

b
y Kai Kupferschmidt
Aug. 8, 2018 ,
"World's top empathy researcher accused of bullying colleagues: 75% of her researchers have QUIT over claims she screams and intimidates
Dr Tania Singer directs the Max Planck Institute's department of social neuroscience
She is world famous for her sprawling study of the biology of empathy and meditation

But eight colleagues claim that Dr Singer threatened their job security and brow-beat them for everything from disagreeing with her to getting pregnant

Dr Singer has been on a year-long sabbatical since mediation proceedings concluded last year
She is slated to return with a 'new start' in January 2019"

How to build a caring economy By Tania Singer - Jan 24 2015
"Research in the fields of psychology and neuroscience shows beyond doubt that the assumptions about human nature that underpin mainstream economic models are simply wrong...
The difference between empathy and compassion
It is important, however, to distinguish between basic empathic and caring responses, and a more universal capacity for compassion. It is possible that universal compassion is solely a human function. Empathy alone does not necessarily prompt prosocial behaviour. If you empathize with the suffering of another, for example, you may not necessarily help this person. Empathy can also result in empathic distress that may even lead to withdrawal or aggressive behaviour."

2013-06-24 - Feeling Others' Pain: Transforming Empathy into Compassion

"Breakthroughs in cognitive neuroscience: Highlighting influential research from the past 20 years

CNS talked with Singer, who is now at the Max Planck Institute for Human Cognitive and Brain Sciences in Leipzig, Germany, about the influence of the 2004 paper, her work exploring training people for compassion, and new avenues for social neuroscience, including the merging of neuroscience, economics, and psychology.

CNS: Why do you think your empathy for pain 2004 paper was and is still so important?
Singer: At the time of its appearance, it was one of the first cognitive neuroscience papers that reported about two people within the scanner environment instead of just focusing on a single brain. We had asked couples to come to our laboratory and scanned the female while she was empathizing with the suffering of her partner who was sitting next to her by the scanner. At that time, such an experimental set-up was extremely unusual as it was trying to capture a real-life social phenomena.

"
The Neuroscience of Compassion | Tania Singer

Brain Plasticity -

Training

1. Presence - 3 months

Meditation

attention

interoceptice awareness

exercise

2. Affect

become aware of body and feelings

care/compassion/gratitude

prosocial motivation

dealing with difficult emotions

exercise

3. Perspective

meta-cognitive

perspective taking

theory of mind

exercise

Group meditation

5:00 - lots of studying and testing

Training Step 1, 2 3 -

Training Step 1, 3, 2 -

6:30 difference in empathy and compassion

psychopaths understand the intentions, beliefs, - good at manipulating the other because they know what the person needs and thinks. no empathy and compassion, they don't care.

9:50 - training different capacities - exercising metaphor.

Does time of practice matter?

Old Model for economics

we can be motivated by different forces (needs, feelings)

"Raising Compassion brings together a diverse group of neuroscientists, mental health professionals, and Buddhist monks in a remarkable exchange between science, art, and contemplative practice. In a series of informal conversations about compassion, initiated by neuroscientist Tania Singer and artist Olafur Eliasson, the protagonists discuss the public perception of compassion, talk about compassion-training programs at various research centres, relate their experiences about working with prisoners and in hospitals, and promote the practical uses of compassion-training in dealing with social and political issues." July 2011,
DLDwomen 2012: About Priming Sex and Empathy

36:00 - Empathy, Compassion and Plasticity
Social Neuroscience - a new field

38:00 difference between Empathy and Compassion

39:00 Definitions of Empathy

Emotional contagion

yawning

laughing (video)

Stress -

we are interconnect beings

Emotional contagion - this is not empathy yet

catch it like a virus

You have pain and I share your pain - Self other distinction

Difference between empathy and compassion

Empathy is a precursor and is good but if you have to much of it you can go into distress.

What we want to have is compassion

What are driving motivational factors to be prosocial. not egoistic

The roots of coming to understand the other (routes of social cognition

affective root - resonance

cognitive metalizing - theory of mind

44:40 Empathy for Pain Tests - pain matrix

47:50 Modulatory factors (what blocks empathy)

Alexthymia

don't know what you feel?

don't have access to your feeling

understanding your own feeling and empathy is very close [self-empathy]

introspective training

Perceived fairness of others

[isn't fairness like the person is not empathizing with you?]

empathizing or not with the cheater

Perceived group membership

Schdenfreude and prosocial behavior

53:45 Summary

we are wired for empathy

connects to and use our own neurons

empathy training should start with learning to read your own feelings

you can inhibit empathy

56:00 Empathy is fragile

What can we do about it. Through training

Looked for experts and did tests

59:00 Addressing compassion fatigue

has big grant in training

address burnout, stress, egocentricity >> leads to depression

1:00:00 End

Q and A?

Priming How should we change our behavior

Q 1:05 - Why should we be empathic and why should we learn it.

Q - Do you do something to increase your empathy and compassion?

exercise the steps we teach

meditation

many techniques

Attention and perspective taking training

Q Do you measure differences between cultures?

Q. do you work with the police?

will publish a book with findings and trainings.
The Neuroeconomics of Mind Reading and Empathy pdf
The phenomenon of empathy entails the ability to share the affective experiences of others. In recent years social neuroscience made considerable progress in revealing the mechanisms that enable a person to feel what another is feeling. The present review provides an in-depth and critical discussion of these findings./..

2012-05-(26-29) International Symposia for Contemplative Studies
Master Lecture Webcast: Basic Science/Neuroscience and Contemplative Practice
Tania Singer – Neuroscience, Empathy versus Compassion from Biological perspective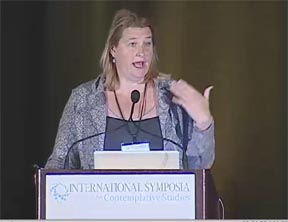 (times are off?)
Singer - empathy and compassion from a biological perspective

How first and third person perspective can meet

and can lead to something new

Our framework: Affective Sisters

From contagion via empathy to compassion

Emotional contagion (not empathy)

babies crying

yawning

laughing

stress watching stress

3:04 Empathy needs a distinction between self and other

develops after 18 months

empathy is not compassion

it's a vicarious feeling

empathy is only to get into resonance together

I share your pain

(why is everyone so hung up on pain? just over and over again)

can lead to burnout and poor health in the helping professions

Compassion has motivation to help

4:50 Theory of Mind - is a cognitive route

Metalizing

Cognitive perspective taking

to others beliefs and thoughts

Compassion

is a warm feeling rooted in love not a distressing feeling

wanting to alleviate the pain

compassion is much broader

Want to lead to Prosocial behavior
6:15 Experimental Set-up: Empathy 'In Vivo'

8:00 Can we train empathy and compassion?

8:13 Plasticity of the Social Brain

study experts compassion meditation

comparing empathy and compassion

rising warmth and concern

tested just resonating with the suffering

11:18 Contrasting Pain and Empathy V Compassion and Metta

12:15 Effects of Compassion vs Empathy Training

Compassion vs. Empathy Distress

if you are just having empathy, your picking up the distress of others,. If you get empathy training you pick up the distress better. This means you will have more stress and lead to burnout. Compassion training helps you relieve the stress.

Empathy

Compassion
Empathic Concern
Sympathy

other related emotion
positive feelings - love
good health
prosocial motivation

Empathic/Personal Distress

self -related emotion
negative feelings, burnout
withdrawal

Training compassion, empathy & memory


| | | |
| --- | --- | --- |
| memory | compassion | |
| memory | memory | |
| compassion | | |

Positive valence

14:42 changes in brain responses after compassion training

16:30 one week of empathy training?

just resonate with the suffering of the others

people were feeling distressed

17:15 then trained in compassion for a week
2011-03-08 Interview with Tania Singer @Stanford University CCARE
*Can we train people to become more empathic, and which processing level (bottom-up or top-down) should be targeted in order for such a training to be most effective and persistent? For example, is it more effective to increase sensory awareness and low level affective sharing, or should we develop emotion regulation strategies or positive compassionate feelings to reduce personal distress and withdrawal behavior? How does this interact with individual differences in trait empathy and related concepts, and at what age(s) should training take place? Apparently, the investigation of the latter questions requires large-scale longitudinal studies which could have enormous implications for education and society as a whole.