Links
Listening Well: The Art of Empathic Understanding.
(Google Books) (Amazon)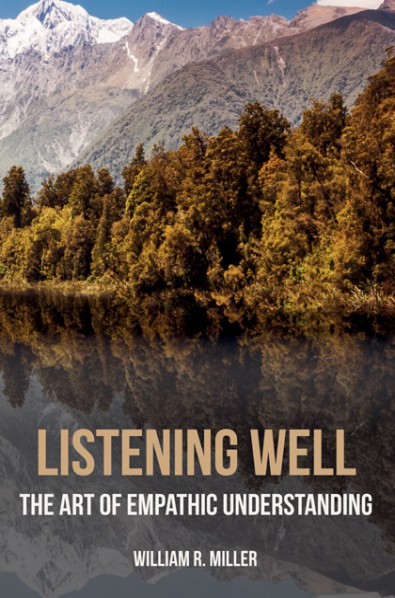 After teaching accurate empathy for 40 years I decided to write something for a general readership, including experiential exercises I've been using. Empathic understanding is also a foundational skill for those learning motivational interviewing. Bill Miller

Are you a good listener? How well do you really know the people around you? A capacity for empathic understanding is hard-wired in our brains, but its full expression involves particular listening skills that are seldom learned through ordinary experience. Through clear explanation, specific examples, and practical exercises, Dr. Miller offers a step-by-step process for developing your skillfulness in empathic listening.
With a solid basis in sixty years of scientific research, these communication skills are not limited to professionals, and can be learned and applied in your everyday life. Instead of assuming that you know the meaning of what you think you heard, empathic listening lets you develop a more accurate understanding and prevent miscommunication.

Empathic understanding can help to deepen personal relationships, alleviate conflict, communicate across differences, and promote positive change. The author also discusses skills for expressing yourself clearly, and for strengthening close relationships and friendships. Through empathic understanding you have access to life experience far beyond your own, and over time, listening well and deeply becomes a way of being, fostering a compassionate and patient acceptance of human frailties--those of others as well as your own.

Contents
Preference
1. Together
2. Accurate Empathy
3. How Accurate Empathy Works
4. The Attitude of Empathic Understanding
5. Roadblocks to Listening
6. The Picture Without the Sound
7. Asking Questions
8. Forming Reflections
9. Diving Deeper
10. Affirming
11. Expressing Yourself
12. Listening Well in Relationships
13. Empathic Understanding in close Relationships
14. Listening for Values
15. Listening Well in Conflict
16. The Promises of Empathic Listening
End notes



Is Low Therapist Empathy Toxic?
Theresa B. Moyers and William R. Miller
"One of the largest determinants of client outcomes is the counselor who provides treatment. Therapists often vary widely in effectiveness, even when delivering standardized manual-guided treatment. In particular, the therapeutic skill of accurate empathy originally described by Carl Rogers has been found to account for a meaningful proportion of variance in therapeutic alliance and in addiction treatment outcomes.

High-empathy counselors appear to have higher success rates regardless of theoretical orientation. Low-empathy and confrontational counseling, in contrast, has been associated with higher drop-out and relapse rates, weaker therapeutic alliance and less client change. The authors propose emphasis on empathic listening skills as an evidence-based practice in the hiring and training of counselors to improve outcomes and prevent harm in addiction treatment."