Culture of Empathy Builder:&nbspKaren Armstrong
Twelve Steps to a Compassionate Life (Google books preview)
Book Reviews:

Advice leans toward practical acts of kindness
Twelve Steps to a Compassionate Life is a much briefer book. Its emphasis on the practical, rather than the theoretical, side of spirituality makes it easy to dip into, but even with its brevity, the book doesn't oversimplify the many religious traditions from which it draws. Compassion in the sense in which Armstrong uses the term doesn't mean pity. It's something closer to the golden rule in one of the many variations in which nearly every religion teaches it.

Try a Little Tenderness - online.wsj.com
But each of us can pursue that elusive goal, she suggests, by learning from the religious tradition of our choice. Each tradition, she says, offers myths to teach us kindness and empathy. It doesn't matter much what myths one embraces, because, "at their best, all religious, philosophical, and ethical traditions are based on the principle of compassion."

Book Outline
Reading Guide.pdf
Insight: Ideas for Change - Karen Armstrong - Charter for Compassion
About the Charter for Compassion

Business people have the most to pick up the charter.

Q 3:00 - how to integrate it?

what compassion means?

not pity or feeling sorry

in Buddhist tradition it means to take responsibility for the pain you see in the world

Q 5:10 Yearning for non violence?

Q 6:40 media and see pain and suffering?

we all have it.

can bring us together

let people in

pain is there

if we deny our own pain will deny others pain

dialog - not much Socratic dialog - instead we have bludgeoning dialog

Q. 8:30 - The media's role?

Q. People say human nature isn't compassionate?

look into your own heart and discover the wickedness there

discover what causes you pain and refuse to inflict it on others

Q. is this hard?

Q. Capitalism and Compassion?

Q. Commonality of religions?

Q. Is this an axial age

2011-01-12 - Charlie Rose Show - Video: Karen Armstrong on her book 'The Twelve Steps to a Compassionate Life'
2011-01-12 - On the 12 steps to a compassionate life: Q&A with Karen Armstrong
"On Christmas eve, the TED Blog had a chat with Karen about the ways people around the world are embracing the Charter for Compassion — the result of her TED Prize wish –- a year from its launch, the importance of kindness in discourse, and the perennial human struggle to put others first."
2011-01-10 - Twelve Concrete Ways To Live A 'Compassionate Life' - NOR Radio
"From Confucius to Oprah, people have preached compassion for centuries. But how often is it put into practice? Karen Armstrong believes religion, which should advocate for compassionate living, is often part of the problem. In Twelve Steps To A Compassionate Life, she describes ways to add kindness to daily routines".



Others

Karen Armstrong: "I Became Anti-Religion for 13 Years" - Super Soul Sunday - Oprah Winfrey Network






k

Karen Armstrong: "The Biblical God Is a Starter Kit" - Super Soul Sunday - Oprah Winfrey Network

Karen Armstrong - How Little We Know - Empathy and Compassion in Society 2013
Action Happiness

happiness gets mixed up with emotions

illusive and just out of reach

problems - difficult brains

Me first thinking. - Self preoccupation

Dethroning yourself - put the ego in it's place

It's ego, ego, ego
2009-08-14 - Chautauqua Lectures - Karen Armstrong: Charter for Compassion

Introducing Karen Armstrong
one of the most prolific religious authors

lecturer on role of religions

TED winner

Sees yearning around the world for compassion

A world of peace through compassion
Karen Armstrong - Title of Lecture - Why compassion?
My study for 20 years - religions always come back to compassion to faith.

Why do we need compassion now?

Every major religion has this golden rule. first we know of is Confucius

Confucius - 600 BC

what is central thread of your teachings?

likening to the self

do not do to others which you would not like done to you.

look into your own heart - and don't inflict pain

Which teaching and we -golden rule

Buddha

behave as if self did not exist

self - grasping, fearful, greedy, insecure, self cause of pain, hatred.

get past this and you'll be on the road to enlightenment

India - Ahimsa - nonviolence - 8th century BC

Rabbi Hillel

Jesus

Mohammed

Have concern for everyone - no out-group

15:00 Empathy - it's that same principle of empathy, that we found in Confucius.

Compassion - 'to experience with'

Dangers of not getting rid of the self

20:00 Core of compassion demands constant hard work

The religions all say selfishness holds us back

Scientists - the brain is wired for compassion

Compassion needs practice

Global reason for compassion - We are in one world

Religious Leaders are talking about doctrine, hate, etc, not compassion

Won the TED prize

Create Charter for Compassion.

Bring compassion back to central life.

Another Arcane attractive statement?

Done online create a movement

53 partners

Golden Rule is essence of morality

point of this is Action

a call to Action

There are many initiatives

A culture of greed or compassion

Be Sensitized to hateful speech

rapid response teams to counter

need many initiatives to promote compassion

Spectacle of Suffering

Story of Kindly Nun

Q1: Influence of Texts in Religion?

Downplaying negative parts of religious texts

ie. Catholic Church suppressing sex scandals

need to examine abhorrent texts

Q2: Need for Critical Appraisal?

compassion demands critical appraisal but not in ego

someone has to break cycle of attack.

constantly put yourself in the place of other

Marshall Rosenberg - and nonviolence?

Not a new movement

bring these communities together.

Q4: Incorporating Compassion in Economics?

compassionate economics

intolerant regimes do not well

it's all a call to action

seek the good in cultures

supporting dictatorial regimes is not loving them

is society becoming more compassionate?

I don't know. one step forward one step back.

courage to listen

listening means more than just hearing the words

listening to the pain and rage underlying

Q7: Relation with Compassion and Competition?

starting a new project on this

competition can be just about ego -greed

Q8: Opportunities with Contributing?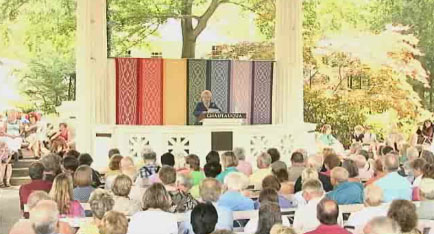 2010-02-17 - The Charter for Compassion Launch Highlights Seattle
An important day - Seattle supports the Charter of Compassion

We need to bring compassion to peoples notice

need to implement compassion in the nitty gritty of life

1:20 - Q: is compassion different in city and country

2:20 Q: Asked - How do you define Compassion?

it's not pity

we need a lot of work to educate people about the meaning

compassion is not about feelings

may feel all kinds of empathy for people,

compassion is a principled determination to put yourself in someone else's shoes

from - endure or experiencing something with somebody else.

you realize you are in it together

The Golden Rule
2010-04-30 - Karen Armstrong Interviewed by Odyssey Networks at Compassionate Seattle Event