Culture of Empathy Builder:&nbspMary Gordon
http://j.mp/LDeQli
Roots and Seeds of Empathy
Mary Gordon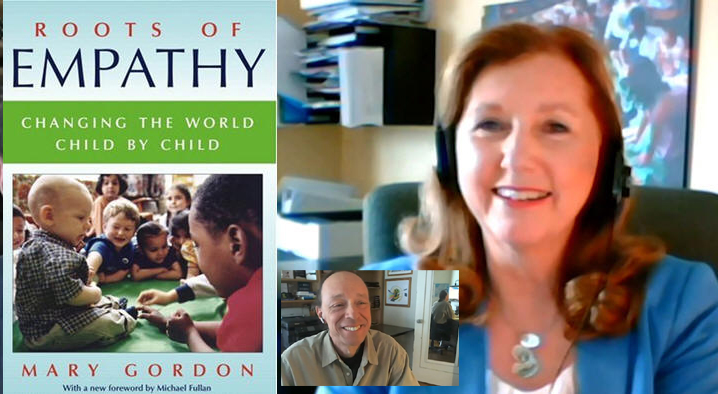 Mary Gordon is the Founder, President and the inspiration behind Roots of Empathy and Seeds of Empathy. Mary is recognized internationally as an award-winning social entrepreneur, educator, author, child advocate and parenting expert who has created programs informed by the power of empathy. In 1996 Mary outlined the initial curriculum of Roots of Empathy and began piloting the program in Toronto. In 2000 she established the national and international organization Roots of Empathy,
Mary is author of Roots of Empathy: Changing the World, Child by Child. She says, "When I talk to city officials, I speak of the fact that there is fluoride in our water supply to prevent tooth decay. I tell them we need empathy in the water supply to prevent social decay ."
Links
Mary Gordon founder of 'Roots of Empathy' talks about the Importance of Empathy
Interviewed by Edwin Rutsch
Mary Gordon Interview
Founder of Roots of Empathy

It's an organization and a program

I believe empathy can't be taught but it can be caught

experiential learning is a opportunity to see love happen

parent and child is the most exquisite empathy relationship

to be attending to the baby is what empathy is

1:40 - definition of empathy?

is understanding how another person feels

metaphor for empathy - breathing with the same lung as somebody else

Is innate, can wither on the vine - adversity

Societies responsibility is to hold the parent in the palm of their hand

if we take care of parents, they will take care of their children

2:40 - If we want to Build a Culture of Empathy in society?

We better start with our families

We better show empathy to our families

There are two key institutions for influencing this culture

First is the family

Second is Education

Education: generally raising children to be literate contribution citizens

Schools have responsibility to help children learn how to relate

3:50 this is part of the work of Roots of Empathy

social emotional learning program

children learning of emotional literacy

a key language for survival

a language of connection

started in 2000

Seeds of Empathy - program for 3-5 years old

I was a teacher

5:40 We learn through relationship

life is relationship, relationship, relationship

children learn more from the relationship with the teacher and child care worker than from the content of instruction

it's the construction of the human being not the instruction

3 to 5 year olds should be free to roam and discover

6:40 - created Seeds of Empathy - preschool - it's a peek period of plasticity

relationship

children learn heart first

society not valuing of those that deal with children

8:00 - Empathy is the core trait of human kind

it is so important that if we don't have empathy, we'll never have altruism

if we don't have empathy we can't get to the first stage of conflict resolution

if we don't have empathy we we won't realize that the neighbor, across the mountain, across the continents, are exactly like us

that we share the same feelings

8:40 - we may have differences and in the Roots of Empathy we celebrate differences

we also look for our shared humanity, which is our feelings

Cognitive aspect of empathy is Perspective taking.

if you take perspective of the other, you find connection

if you learn the language side of you emotions, you have a sure fire combination of skills with those 2 awareness's

9:15 when you work from the mind and heart - you have deep learning

that's what we're looking for.

we ask, what do you think and what do you feel?

children discuss freely and respect what fellow class mates say

they are then open to learning - maybe because of Oxytocin

we will be doing research on Oxytocin and Cortisol

you can't legislate kindness and cooperation

12:20 - What's a birds eye view of how we can build a culture of empathy?

13:10 starting with children is where you build your basement

Justice - expose judges into the genesis of criminal behavior

youth crimes, addictions, problems, people who are in prison

research show problems start in early childhood development

develop insight for the leaders

meeting out punishment is not the same as meeting out justice

justice

has to do with equitable beginnings

do we set a place at the table for everyone

does everyone have a sense of belonging

there are many things we can do in society

Universities

Corporate Power

corporate social responsibility

how do we operate to the workers with empathy

are polices reflective of greed or compassion

dignity in every job

create policies for caring

create a caring work society and caring universities

we have to create empathy in the workplace

develop empathy in the public transit, elderly, etc.

19:30 Media

Schools

the adults can treat each other empathically because the children are watching

we forget that we are the biggest models of empathy

if you are selectively empathic, you are not empathic at all.

20:20 Society in every sector could do a whole lot

I'd love to do empathy programs for the health services

understand how people feel

we treat bodies instead of people

we teach minds instead of mind-bodies

humanizing all aspects

21:40 Science has a role to play

message of relationships

we know a lot about how empathy develops

media should allow people to understand that they can change the world simply by being empathic.

it's one of those contagious things

23:30 it's not so much the violence that I don't like on tv

it's the cruelty, the dehumanizing,

where people are put forward as being base

Gong Show was disturbing

There are wonderful things we can see on media

but haven't plumbed the depths of the human heart

or capacity for real concern and caring

there are a million stories a day that I witness in the class rooms

6 year old helps friend on the ladder

26:24 we are hungry to hear good news about humankind

27:00 Edwin story of addressing the generation gap and conflict with empathy

28:00 The thing about understanding how someone's feels doesn't mean you have to agree with them

we all need to be understood but it doesn't mean we have to be the same

you don't sign up for the evangelical ways of your parents, but it doesn't preclude your enjoying their company and you loving them and excepting them even though they are different

the big thing about empathy is that we can appreciate our differences

in life, being different has been the cause of bullying, racism, other isms etc

when you have empathy you can find the strand of human connection - how the other feels

empathy allows you to leap over those differences

29:20 brings tears to my eyes to feel the alienation from people your close to and being able to connect with them is so meaningful

yes, that's something that comes to us with the years

years show on our faces but open our hearts

we make room for others to have corner of our hearts

one of the nice things about aging - the heart gets bigger like an elastic band

when we are young we hang out with the same types of people

when we get older we can expand our capacity

31:10 maybe baby-boomers are more open to empathy now?

was a study that university students of 70's were more empathic than current students

maybe technology is cause of reduced empathy,

if we spend all the time in front of the computer, friendships will suffer

clearly empathy is going to drop if we are not in relationship with people

32:45 Obama talked about empathy all the time during his campaign

Obama was crucified for mentioning empathy in Sotomayor nomination

there's a lot of misunderstanding about what empathy means

in that debate there was a complete misunderstanding between empathy and sympathy

empathy got a bad rap because it was put out as being a very weak trait

an effeminate trait,

at least your president put it on the agenda

there are a considerable group of Americans who hunger for empathy

where people care about one another

because empathy is a brake against violence and cruelty

empathy stops you from doing things that hurt other people but it's not a guarantee

if we can't show empathy in the Supreme Court - understanding - it's a deep concern

policy should be fueled by empathy, that's not weakness, that's wiseness

35:45 I think there is a growing appetite for empathy, at least in Canada, EU

if the European Union thinks empathy is a path to peace, that's a political statement

it's a political debate about what we do with our children

37:00 How far along are we on the path to create a culture of empathy?

there are different societies, independent societies are less empathic than interdependent societies

independent societies have a harder job being empathic because we don't think of ourselves collectively

within North America there are different groups

we've lost our neighborhoods

39:20 a lot of people live in isolation and loneliness

there's an ocean of lonely elderly people - that's inexcusable

the stage of the continuum... as long as were asking the question, I'm happy

I wouldn't accuse us of being an empathic society, but at least we're aware.

North America has amazingly empathy with tragedies

but what about the tragedy of the person living next door in loneliness

when you have empathy, you understand what loneliness is

empathy is at the heart for altruism

41:15 There's a pandemic of loneliness

what's the use of solving the environment and economic problems if we live in a failed society

because we are a failed society if we don't help the vulnerable

the sick, the old, the young

I think loneliness is a crime

it takes so little effort

when people are in pain, when we don't create an inclusive society, we should be in pain

When you have empathy you are driven to do something about what you feel

42:25 the importance of touch

the importance of touch

if you haven't been well loved it's hard to love well

we demonstrate love with our babies

we have undervalued the importance of touch

studies of babies in Albanian orphanages - minimal touch - starved for touch

the brain shrinks without touch

babies grow faster when they feel touch

we focus so much on the cognitive and have forgotten that we are human beings

48:20 a metaphor for the opposite of empathy?

a single bird on a wire

a Leonard Cohen song

no flock around, above and beyond the world

it's hard to enjoy anything when you don't have someone to share it with

it's hard to know who you are - generally speaking we define ourselves in relationship to others

49:16 Your quest for an empathic culture, or a Culture of Empathy as you call it, I think is a great quest. I don't think it's ever to late to develop empathy. It starts so naturally I think we should do everything that we can to cultivate empathy and we can do it at every level. So why would we not.
Podcast: Empathy: Your children learn from what they see in you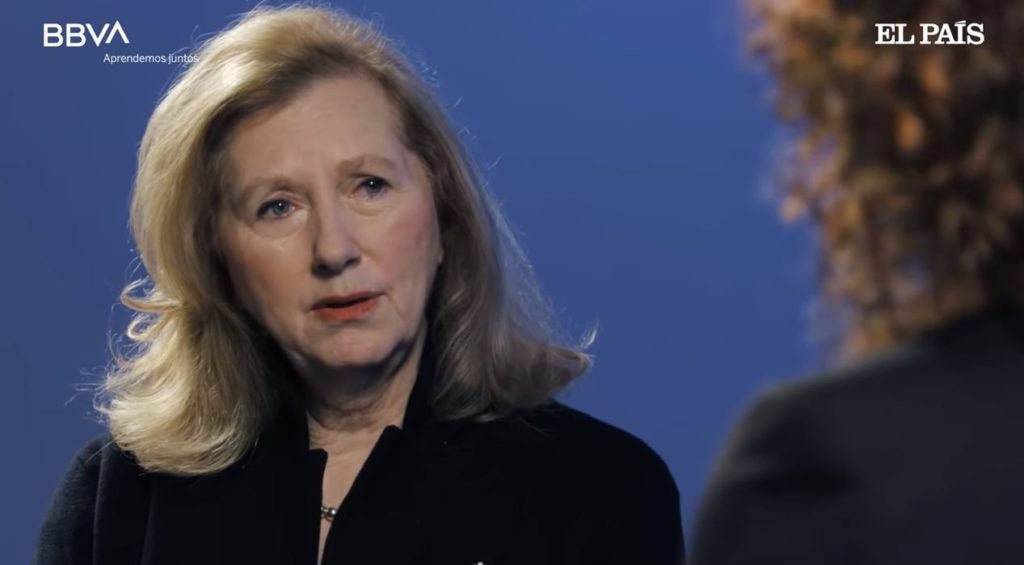 Mary Gordon is an educator and the founder of 'Roots of Empathy' and 'Seeds of Empathy', two revolutionary educational programs based on the development of empathy and in nurturing emotional literacy from early childhood. According to Mary Gordon, "many of the problems afflicting society, like violence and poverty, are rooted in a lack of empathy."

The Decade of Empathy (Mary Gordon)
Nov 7, 2016



"What we count and measure reflects our values as a society. Roots of Empathy, an evidence-based classroom programme expands children's capacity to understand and include the other. It is a pedagogy of hope which counters society's spiritual flatness and apathy. The children learn through coached observations of a visiting infant and parent how to understand the emotions of a vulnerable baby. Finding the humanity in the baby allows them to find the humanity in themselves; a bridge to finding the humanity in others."
babies communicate through their feelings

emotional literary - having the names for your feelings

talking about feelings

babies learn in context with their feelings

learning to read is good, but we need to learn to relate

9:00 in the class children can talk about their feelings

a generation the can't regulate their emotions




Roots of Empathy Research Symposia:
Roots of Empathy values the lens of research as the organization continues to provide empathy-based programming to children on three continents. The Roots of Empathy Research Symposia offer engaging and thought-provoking research presentations from world renowned international scientists.

By

Emma Brow
"

The program, called Roots of Empathy, was conceived nearly two decades ago in Toronto and has since become common across Canada. Now it has been imported to the United States, amid growing concern about classroom bullying and growing conviction that teaching certain character traits — such as persistence, self-control and self-confidence — is just as crucial for students' futures as teaching academics.

"




[KDI] Mary Gordon - Panel Discussion: Session 6 "Closing Discussion - 2010



[KDI] Mary Gordon "정감의 뿌리(Roots of Empathy)"


Love, Hate & Everything In Between: A film on empathy -- chapter 2/13
" Roots of Empathy founder Mary Gordon demonstrates how empathy can be taught through a classroom programme she developed for primary school children. Gordon feels empathy helps us connect to one another and if children don't learn to do that we will not be able to solve the huge, intractable social problems that face society today. "


Roots of Empathy: Video Introduction
Introducing Roots of Empathy, an award-winning charitable organization that brings empathy-based (and evidence-based) programming to children
What is the Roots of Empathy program?

program that leads to more caring

bring in a family and baby

see how baby reacts to the world and in turn learn about themselves

learn about temperament of baby - learn about their own traits

teaches emotional literacy - identifying feelings and giving them names

teaches problem solving - problem with the baby and with own relationships

Value of inclusion

See care happening - see how others are feeling

Caring brings in other parts of curriculum

Build community - positive connections

Encourage responsibility

Encourage caring individuals and caring civil society

The Yellow Brick Road to Empathy: Mary Gordon at TEDxGabriolaIslan

"Mary Gordon is recognized internationally as an award-winning social entrepreneur, educator, author, child advocate and parenting expert who has created programs informed by the power of empathy. In 2000 Gordon established the national and international organization Roots of Empathy, which now offers programs in every province of Canada, New Zealand, the USA, the Isle of Man, the Republic of Ireland, Northern Ireland, England, Wales, Scotland, and Germany.

Gordon's talk The Yellow Brick Road to Empathy shows the major role that empathy plays in dissolving the borders that separate us and allow us to deem one group or an individual to be less human. Empathy allows us to understand difference and recognize that our emotions are universal and connect us. This is something that children do through a tiny baby in Roots of Empathy classes. Gordon goes on to demonstrate how the 'Empathy Deficit' will be interrupted as children develop the capacity to perspective take and as they develop emotional literacy."
Story of the boy helping on the slide.

Empathy Deficit

About the Roots of Empathy program

Children's Drawings

Children feeling like they belong

Importance of emotional literacy

learn to name your feelings

see the humanity of others

Bringing Babies to the Classroom to Teach Empathy, Prevent Bullying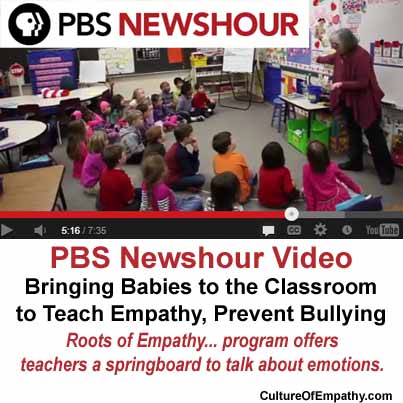 "Roots of Empathy, first started in 1996 in Toronto and introduced into U.S. schools in 2007, aims to build more peaceful and caring societies by increasing the level of empathy in children. In the last six years, the program has spread to California, New York and other parts of Washington.
Some teachers at the school, including Pearson, say they were initially nervous about the safety of the babies in classrooms full of students."
Jan 18, 2013 - Radio: Teaching Social and Emotional Learning | KQED Forum
"Oakland schools have launched programs to help students manage their emotions, establish positive relationships and resolve conflicts. One of the programs, Roots of Empathy, brings infants and their mothers into school to help students recognize emotions and experience empathy. We discuss the social and emotional learning movement, which aims to teach fundamental life skills in schools, and how it's being used in Oakland."
Roots of Empathy's Impact - Greater Good Science Center (GGSC)
"Mary Gordon discusses the research showing that Roots of Empathy reduces aggression, boosts emotional literacy, and creates more caring children."
Tiny Teachers - (GGSC)
"Mary Gordon describes how babies can foster emotional connection and emotional literacy in the classroom."

Our Common Humanity - (GGSC)
"Mary Gordon discusses how caring for a baby helps children find the humanity in themselves and others."
Emotional Literacy - (GGSC)
"Mary Gordon shares inspiring stories about children performing remarkable acts of compassion."
Meet Baby Mei - (GGSC)
"Mary Gordon shows a Roots of Empathy classroom and baby in action, explaining how together they help break cycles of intergenerational violence."
The Agenda with Steve Paikin: Mary Gordon: The Roots of Empathy

Empathy is second nature: Mary Gordon's organization aims to tackle the bullying problem by increasing empathy and reducing aggressiveness in school-aged children. She joins Steve Paikin.
2011-06-11 TEDxGoldenGateED - Mary Gordon
Speaker Series - Mary Gordon: Exploring the Roots of Empathy

For me war is the extreme example of the failure of empathy

the holocaust was probably the worlds most dramatic examples of the lack of empathy

gone to moon but haven't yet explored the depths of the heart

how do we connect to one another

had many movements

how does early childhood effect good outcomes

moral future rests in the children

a revolution of little children

3:00 not good enough to think of children as social capital in the making

children have value in the moment

are developing their capacity to care..

4:00 Seeds of Empathy for child care centers

improving how we help them

community to support the family

7:00 Seeds of Empathy

respecting the child for who they are

give them what they need not what they want

9:00 Process of program

watching the baby

children talking about the baby

loneness, pandemic of loneliness

10:50 who am I? ways of talking about it

full of pride and love

showing some drawings

20:00 research on Roots of Empathy

21:00 give children voice - just naming your feeling reduces the level of cortisol associated with the negative feeling

we are not doing social work

we are helping children to understand

without empathy there will be no altruism

without empathy you cannot get to the first stage of conflict resolution

without empathy you cannot be a good parent

22:00 in Roots of Empathy - mirror neurons do their job

drawings of children

in 80 percent of bullying situations there are onlookers and they do nothing

Roots of Empathy stand up

story of the fear and the slide

you can do something about it when there's unfairness

Seminar: Dec 03, 2010 - Seed of Compassion - Roots of Empathy (Berkeley, CA)
Greater Good Science Center - Seminar, UC Berkeley - Dacher Keltner, Mary Gordon
Day long seminar will offer strategies for cultivating compassion, empathy, and resilience in yourself and others.

CNN: Babies go to school to teach - Article and Video
The baby's visit is the heart of a program called Roots of Empathy -- a course that is proving to be an effective tool in reducing aggression in schoolchildren. "The real importance of understanding how you feel and others feel really helps children navigate every social relationship in their lives," said Mary Gordon, founder of Roots of Empathy.


Your Voice: The Importance of Teaching Kids Empathy
We talk to experts to find out how to develop this crucial trait in children.
Empathy - our ability to feel and understand other's behaviors and care about them

Some education experts say that empathy may be more important in the classroom than reading, writing and arithmetic.

It promotes good behavior, problem solving, and reduces bullying

How can we promote empathy?

Can it be learned?

Is it ever to late to learn empathy?

Guests

Mary Gordon: Roots of Empathy

Stan Baker: Educator and Restorative Practices.

(01:25) What is empathy?

Putting yourself in the shoes of others.

there's an empathy deficit and cause of many problems

(01:50) How would you describe empathy?

How different from sympathy?

(02:15) Stan I how do you see it in the school?

It is walking in the shoes

also, listening to someone, and reciprocal listening

Some examples?

a class with bullying - was negative class energy

used circles -

students stepped up to bullying

(04:10) - Are children naturally empathic?

They are born with the capacity - fostered

Sometimes it's socialized away

adversity

if aren't encouraged to think of others

if no examples of empathy to them

What is value of empathy?

it's core human trait

without empathy can't have meaningful relationships - friendship

understand the other

friends help

puts break on aggression

first stage of conflict resolution - take perspective of the other

(06:15) - Questions about empathy from parents

Parents worry when kinds do mean things?

need to help children understand the effect

from me to us centered

talk to child

find ways to fix things to make it right

(08:10) What if the schools is like that? (bullying)

story of bulling and running shoes - friend stood up and wore shoes

need to learn empathy when not stressed

(10:15) Describe Roots of Empathy

kindergarten to grade 8

witnessing attachment relationship

relationship is most powerful manifestation of empathy

witnessing and discussion

baby is a leaver - entry point

reflection, agents of change

emotional literacy - labeling emotions

sharing with classmates - there's an epidemic of loneliness.

(11:45) Tell an amazing Story?

(14:00) Restorative Practices? how does it work?

a continuum and process

how has it affected you?

conflict, taking turns to talk

non judgmental

whose been affected and in what way?

how to make it right?

(18:00) Results?

less suspensions

it's about adults too

(18:50) Parent: I don't think empathy can be taught in school, it's from parents, firm tone, loving.

what is role of parent

empathy is born at home

can not be taught but caught

you have to experience it.

we brought the home to the classroom

(20:25) What if parents are not empathic people?

Do be judgment

Breaking negative cycles

Common denominator of problems is lack of empathy

they can develop empathy by seeing it modeled

like truth and reconciliation of Tutu

(21:30) Empathy more important than 3r, how does it effect academic?

A safe learning environment

learning takes place in context of strong relationship

studies show: social and emotional understanding at grade 3 is better indicator of grade 8 mathematical success. understanding to work collaborative

Empathy is core of all prosocial behavior

(23:30) Stan:

use circle processes - turn taking in conversation

in North America conversations are competitions for air time

I'm not listening to you I'm wait for my chance to speak

need to slow it down

what do you think about this and how does it effect you and others?

(26:00) Is it ever to late?

never

a teaching opportunity -learn thought loving relationships

perspective taking

sharing your own feeling gives emotional literacy
Video of children in conflict and having empathy

take care of yourself and others

not the telling but the showing that has impact

learning empathy by osmosis - it's not taught it's caught

see it empathy

what is empathy?

need opportunities to take perspective of others

basic human trait for: relationships, friendships,

it's mood matching

do you have to much empathy?

healthy emotional development

can also enjoy the positive emotions

can put emotions into perspective

How do you develop it?

role of coach

show how your thinking

The more words you use to show how your feeling

What's importance of empathy growing up?

need empathy to effective parenting

make and keep friends

can advance in workplace

can build a team

better academic success

criminal behavior

a break against aggression

for sustainable peace


'Roots of Empathy' program helps reduce bullying K5HD
(Short news program about Roots of Empathy. Says a long term study shows the program has positive social effects over the long-term.)



2010-11-30 - Empathy initiative aims to double programmes
The classroom-based Roots of Empathy programme, founded by internationally-recognised educator Mary Gordon and involving classroom visits from a mother and her baby showing young children about caring for and nurturing infants, has been running for a year in Rotorua.

2010-06-10 - 100+ Roots of Empathy babies and their parents celebrated
"Roots of Empathy is about supporting children and nurturing kindness. Our students are privileged to take part in such a wonderful program. The Ministry of Education is proud to support an initiative that fosters emotional literacy - creating more welcoming and caring classroom environments." Nearly 3,350 children in Toronto and 18,000 in Ontario participated in the program in 2009-10 with the support of the Government of Ontario.
2010-05-24 - Maia Szalavitz - Kindness 101
When kids are able to watch an interaction that's empathic, empathy isn't just being taught; it's being demonstrated," says Dr. Daniel Siegel, a clinical professor of psychiatry at UCLA. ROE is unique, he notes, because it "combines the direct observation of babies and their mothers, weekly time devoted to talking about the internal world of mind and watching a baby grow up over time." Among the program's many big-name fans: the Dalai Lama, who has twice appeared publicly with Gordon and thinks ROE can help spur world peace.
Although human nature has historically been seen as fundamentally selfish, social neuroscience suggests otherwise. Researchers are finding that empathy is innate in most humans, as well as in some other species. Chimps, for instance, will protest unfair treatment of others, refusing to accept a treat they have rightfully earned if another chimp doing the same work fails to get the same reward.

2009-11-24- Amanda Jeffery - Planting the seeds
The Early Childhood Development Centre is helping children express their feelings at a younger age thanks to a program called Seeds of Empathy.
Like Roots of Empathy, a program already offered in several schools in the Drayton Valley area, Seeds of Empathy brings babies into the classroom to interact with the children. Through this interaction the children learn how to empathize with others.


2009-09-13 - Article - Baby steps toward a more peaceful world
http://www.thestar.com/news/insight/article/694905
Mary Gordon wants to change humanity by rewiring a child's brain — one child at a time. A noble idea, but is it possible? Whether she is speaking on a panel with the Dali Lama or to students at Harvard University's John F. Kennedy School of Government, Gordon's theme is the same: the world will be a better place if children grow up understanding the other's perspective. There will be no more genocides, no more wars, no more racism or violence, she declares. She has built what she believes is a road map to achieve a kinder, gentler humanity. But it wasn't until she came up with her Roots of Empathy program, an offshoot of her parenting and literacy work, that she began to see how a simple idea could transform the world. Her book, Roots of Empathy: Changing the World Child by Child, has just been published in the United States, following publication here four years ago. It was a Canadian bestseller, winning praise from the likes of Fraser Mustard and Michael Fullan of the Ontario Institute for Studies in Education. Since then she has won the endorsement of the Dali Lama, who has embraced her program as a way to build world peace. Gordon spoke on a panel with the Dali Lama in both Vancouver and Seattle in 2006 and 2008.


Teaching kids to care about others: Experts are divided as to whether empathy is innate, learned or both
Chris Zdeb, Edmonton Journal
The Roots of Empathy, a national and international organization whose mission is to build caring, peaceful and civil societies through development of empathy in children and adults, uses babies in classrooms to achieve its goal. A parent and baby visit once every three or four weeks through the baby's first year. Carolyn Parkes, provincial manager for Seeds of Empathy in Alberta, a program aimed at children in preschools and day cares, says the program uses babies "as a lever for discussions about social and emotional concepts."


2009-12-22 - Article - Video - Learning for Life: Teaching your child empathy towards others
Linda Filley-Bentler from the Roots of Empathy program explains how teaching your children how to feel compassion will help their emotional development.



2009-05-29 - Babies teaching empathy
The youngest teachers in Western Washington are being honored for teaching empathy by "cooing and crawling." KING 5's Mimi Jung has a look at the "Roots of Empathy" program.

2010-01-09 - Article - Roots of Empathy founder will speak in Langley
The woman who created one of the most successful programs to encourage children to understand and demonstrate empathy will be the guest speaker at Seeds of Success later this month. Mary Gorton, an internationally recognized educator, advocate for children and expert on parenting, is the founder of Roots of Empathy and Seeds of Empathy, two groundbreaking programs which help in children's development.
2010-02-18 - Mary Gordon - Empathic Civilization': Building A New World One Child At A Time
We are building our world on a social fault line where we have failed to realize the greatest minds alone will not solve social problems. We also need great hearts at the table. "The Empathic Civilization" shines light on evidence from neuroscience that shows human nature is empathic. The basis for solving all of the problems we face is empathy. If homo empathicus can get that right, we allow for the viability of our physical and social universe.
And yet our ecosystems are withering on the vine without empathic input from a globalized, interconnected, citizenry. We may be on the verge of the Age of Empathy, but we still have a long journey ahead. In fact, I would argue that we are in still in our infancy, and that we live in an emotionally illiterate North America.
Other videos to sort:

International Literacy Day at the United Nations on 8 Sept 2010 Mary Gordon
Dawson @ Roots of Empathy - Kisses for Baby Clarke
Roots of Empathy Visit # 5.MPG

SES08 - Breakthrough Social Entrepreneurs Look to the Future

At 26:45 Mary Gordon, Roots of Empathy

emotional literacy and Roots of Empathy

why does it work?

what do we learn

what can we generalize

An evidence based school program

Students watch the babies development

29:00 Mary started out as a school teacher

learned life is not fair

list of problems

common denominator of problems is the lack of empathy

universal program to observe the attachment process with baby and mother.

31:50 empathy is something your born with but withers on the vine if life is vicious

to observe loving relationship

working with many people in community

teachers, parents, governments, etc,

funding

keep score

33:40 Research and evaluation

35:00 video of Roots of Empathy

37:30 children developing a literacy of their feelings from observing the babies feelings

observation and reflecting

bridge to empathy is understand how the other feels

emotional literacy is neglected in the schools

39:00 what are the teachers learning

we don't praise - it's a positive judgment

respect and inclusion - all children speak

children find their voice

42:00 education is not big risk takers

46:30 Roots of Empathy is bringing the community into the school