Links
Interview Transcription of Listening Well: The Art of Empathic Understanding,
William R. Miller and Edwin Rutsch

0:00 Introduction
Professor Emeritus of psychology and psychiatry William R. Miller at University of New Mexico

Over 40 years experience in teaching empathic listening, focus on development testing and motivational interviewing for addiction

Author of Listening Well: Art of Empathic Understanding
1:30 How did you get started with empathic listening?
Started in second year of grad school at University of Oregon, took a yearlong course on how to talk to client, got introduced to the person-centered and empathic listening way
3:00 Motivational Interviewing/ how he started to get into this
Researched alcoholism and teaching person-centered and empathic listening

Used scale to measure how therapists used empathic listening, which could predict ⅔ of client outcome

Motivational Interviewing came during his sabbatical in Norway while teaching students, who questioned how Bill talked to his clients and what types of questions he asked them

Mindset "Let the clients make the decisions for how to change" instead of telling them what or how to change; don't push against cl resistance
7:00 Why focus on empathic listening now? Why this book now
Can't do motivational interviewing without empathic listening

First book for lay audience on empathic listening as this skill applies to all kinds of relationships, and it's not a common skill but is learnable.

Book is very accessible, about 100 pages with short chapters

Chapters are written as skills that can be built upon one another, including how to practice these steps.

Dr. Miller believes that empathic listening is not a technique but rather a learnable skill, meaning that therapists do not "have the answers."
13:00 Why hasn't empathic listening spread more?
Per Miller, it's never been needed as much as now. As we live in an individualistic culture, empathic listening is generous/ a sacrifice.

Within just one session of empathic listening, some clients made notable progress.
Carl Rogers believed that empathic listening is important but unappreciated.

The field of psychology has been more focused on the "coolest techniques" in recent years.
19:00 Empathic listening in therapy sessions
Often one-way as client is seeking services

Dr. Miller will sometimes self-disclose if he believes the client will find it helpful.
21:00 What is empathy? How do you define it?
Academics seem to disagree on what exactly empathy is so what exactly is empathic listening?
Miller's definition is a skill to be able to listen and communicate back to another person that you are there.

Empathy does not mean mirroring the other person's emotion. To be empathic, you should be separate in your feelings. Ex: Alcohol counselors who are in recovery have a hard time separating their recovery from their clients'.

Empathy is not sympathy, apathy, or objectivity.
29:00 Advice often backfires
Humans are psychologically programmed to reject advice

Therapists/ professionals should keep this in their mind and not feel like they need to control their clients.
30:00 What's the most important thing about getting the word out about this book? How can we spread the word about empathic listening?
Empathic listening is one of the most important skills Dr. Miller has learned both personally and professionally.

We often do not learn about empathic listening in schools or anywhere else.

Empathic listening is important in politics due to the current polarization. Empathy circles can help both sides hear what the other has to say and how they think. It can help people let go of the "us vs. them" mentality and realize that there are some shared values.

Edwin Rutsch has practiced empathic listening with his family, which really changed his family dynamic in a positive way.
45:00 Empathic listening can bridge the different values and cultures that people have.
"Us vs. them" is a complete illusion

Book lays out 12 different roadblocks (from Gordon) to listening, including
readily agreeing/ disagreeing with people, desire to soothe and reassure rather than listen, and asking questions without reflecting.

Empathic listening is a long-term process that requires practice.
50:00 Layout of book
Includes the 12 roadblocks to listening, how to communicate better without works, open and closed questions, forming reflections

Becoming conscious that when we're listening to people, we're really just guessing what they mean and assuming what they think they heard a person say is really what they meant. The book includes an exercise to help us better understand what others are saying.


Listening Well: The Art of Empathic Understanding.
(Google Books) (Amazon)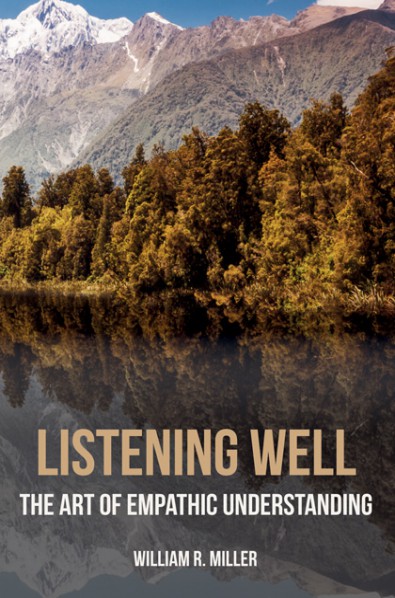 After teaching accurate empathy for 40 years I decided to write something for a general readership, including experiential exercises I've been using. Empathic understanding is also a foundational skill for those learning motivational interviewing. Bill Miller

Are you a good listener? How well do you really know the people around you? A capacity for empathic understanding is hard-wired in our brains, but its full expression involves particular listening skills that are seldom learned through ordinary experience. Through clear explanation, specific examples, and practical exercises, Dr. Miller offers a step-by-step process for developing your skillfulness in empathic listening.
With a solid basis in sixty years of scientific research, these communication skills are not limited to professionals, and can be learned and applied in your everyday life. Instead of assuming that you know the meaning of what you think you heard, empathic listening lets you develop a more accurate understanding and prevent miscommunication.

Empathic understanding can help to deepen personal relationships, alleviate conflict, communicate across differences, and promote positive change. The author also discusses skills for expressing yourself clearly, and for strengthening close relationships and friendships. Through empathic understanding you have access to life experience far beyond your own, and over time, listening well and deeply becomes a way of being, fostering a compassionate and patient acceptance of human frailties--those of others as well as your own.

Contents
Preference
1. Together
2. Accurate Empathy
3. How Accurate Empathy Works
4. The Attitude of Empathic Understanding
5. Roadblocks to Listening
6. The Picture Without the Sound
7. Asking Questions
8. Forming Reflections
9. Diving Deeper
10. Affirming
11. Expressing Yourself
12. Listening Well in Relationships
13. Empathic Understanding in close Relationships
14. Listening for Values
15. Listening Well in Conflict
16. The Promises of Empathic Listening
End notes



The Vision of A Culture of Empathy: William R Miller and Edwin Rutsch

Review: Listening Well: The Art of Empathic Understanding by William R. Miller
BY LOU AGOSTA on JUNE 2, 2018
"In case you are unaware of William Miller's background, he is the innovator behind Motivational Interviewing. Listening well – the practice, not just the title of the book – is at the heart of this approach. In turn, the practice of listening well is based on empathic understanding. Miller is explicit in invoking the work of Carl Rogers (1902 – 1987) Rogers was one of the founders of humanistic psychology, and Rogers's person-centered psychotherapy provides the foundation for this results-oriented intervention. Miller has written and concise and powerful contribution, which will benefit any reader committed to taking her or his listening up a couple of levels from where the reader is at now."
Is Low Therapist Empathy Toxic?
Theresa B. Moyers and William R. Miller
"One of the largest determinants of client outcomes is the counselor who provides treatment. Therapists often vary widely in effectiveness, even when delivering standardized manual-guided treatment. In particular, the therapeutic skill of accurate empathy originally described by Carl Rogers has been found to account for a meaningful proportion of variance in therapeutic alliance and in addiction treatment outcomes.

High-empathy counselors appear to have higher success rates regardless of theoretical orientation. Low-empathy and confrontational counseling, in contrast, has been associated with higher drop-out and relapse rates, weaker therapeutic alliance and less client change. The authors propose emphasis on empathic listening skills as an evidence-based practice in the hiring and training of counselors to improve outcomes and prevent harm in addiction treatment."