Empathy Teams
This area is for information about the formation, development and maintenance of Empathy Teams, Free Listening and Empathic Listening initiative, which are individuals and groups with the goal of going to different locations and offering presence, listening and empathy to those who need or want it. What are good approaches for setting up and maintaining these teams? Various individuals and groups are doing this in different forms. Let me know of any other efforts like this.
Bar Lowenberg, has been taking compassion to the streets of Santa Cruz with a "Free Empathy" table. For over a year, most Saturday afternoons from 2 to 4 p.m., Lowenberg has set up a table in front of The Gap on Pacific Avenue to offer empathy to anyone who needs some. "It's a lot of fun," says Lowenberg. "Some people walk by and say things like, "The world could use more of that!"
(In the 2 photos on the right, Bar offers Edwin some listening and deepening empathy).

At a recent heated demonstration in Oakland, I was part of one such team and came across several other groups there with similar intentions.
Here to Listen
This gentleman had a T-shirt that said 'Here to Listen'. He told me, 'the empathy I can engage in is just to be present, to see they're real people here, I'm just here for them. ' (Click to see the video)




Seminary of the Streets

This group from the Seminary of the Streets also had T-shirts that said, 'Here to Listen'. They told me, 'I'm here to listen.. it's clear there are no good and bad guys here...there's a system that's broken....I'm praying for everyone'


Free Listening Project Home
Free Listening Project provides listening in a place free from advice, cost, and gossip. The premise is simple we listen.

Started in January of 2009 the inspiration for Free Listening came after Mike was profoundly impacted by the power of listening.

FREE-LISTENING-Project-of-Puget-Sound
| | | |
| --- | --- | --- |
| | | We believe that everyone deserves to be heard. Being heard without judgment or advice creates a space for self-evaluation, acceptance and sometimes, self-intervention. We listen with no expectation of an outcome or personal gain. We listen so that others may feel listened to. |
BayNVC Empathy Team

I've been part of an Empathy Team located in the Berkeley, California area. Here's more information about this team. This team is initiated and supported by Bay Area Nonviolent Communication.

We're here as a team offering to give people an experience of empathic presence, and offer resources and support for anyone who wants to learn more about the quality of empathy in their own lives. We're also here to promote the practices of empathy, mutual understanding, and nonviolent communication - as a transformative force in creating the world we want for ourselves and for future generations.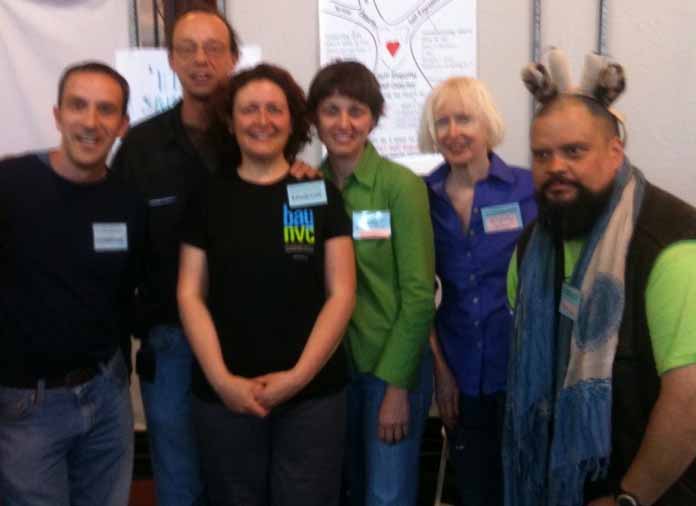 Steve, Edwin, Lea, Judith, Carol, Honey Bear at the New Living Expo - Empathy Listening Booth

Here are some different definitions of an empathy team:
Lea, Honey Bear and Judith all like: An empathy team is a group of people that deliberately spends time together providing empathic presence to one another, and to others not on the team.

Carol prefers: The Bay NVC empathy team is a group of people who have a conscious agreement to provide an empathic presence to one another, and to others not on the team, working out of the principles of nonviolent communication developed by Marshall Rosenberg


Empathy Team: Building a Culture of Empathy in a Conflicted World
Members
Carol, Edwin, Honey Bear, Judith, Lea, Steve

Vision
We envision a global culture of empathy, in a world where people experience the joy of being connected to each other and interconnected with all life.

Values
Presence, Caring, Communication, Integrity, Freedom

Mission
Give people an experience of empathic presence, and offer resources and support for anyone who wants to learn more about the quality of empathy in their own lives.

Team Links and Resources
Past Actions

2010-07-19 - Seeking Empathy at Johannes Mehserle - Oscar Grant Demonstrations in Walnut Creek
A rally was held in Walnut Creek, California to support the BART Police Officer, Johannes Mehserle who was convicted of shooting Oscar Grant. A counter rally was also held and a heated confrontation between the two sides ensued. I went to talk with participants on all sides about their views and experience of the value of empathy. See the video.
2010-07-17 - Gulf of Mexico Talk + Empathy Circle + Open House
Empathy Team Open House - 3:00-6:00 pm at a private home in Berkeley
The event will include:
Photos from the Gulf of Mexico
Small group empathy circles
A presentation on the Empathy Team's
plans and projects
A potluck
Showing of videos on empathy by Edwin


2010-07-08 - Oakland Oscar Grant/Mehserle Trial Verdict Protest
The Empathy Team and others from BayNVC just returned from downtown Oakland and everyone is OK. Edwin stayed to nearly the bitter end, filming people, asking them what empathy meant to them, while they were getting poked by police batons in their backs.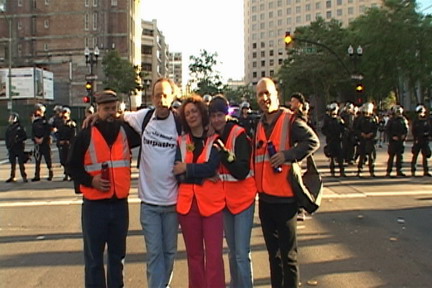 Honey Bear, Edwin, Leah, Judith, Floyd
Event Video
Articles that mention the Empathy Team

City, community groups express pride following protests (OaklandNorth)
Katz said she talked supportively with anti-riot police deployed to the protest, some of whom, besides being taunted, spit on and pelted with rocks and bottles, were soon to be laid off because of the city's budget shortfall. "They need empathy too," said Katz.


Nonviolent Conflict and Comunication — at Street Level (Tikkun Blog)
Edwin Rutsch is videotaping all kinds of people in political hotspots and asking them for their views about and experience of empathy. Today he is at a pro-Johannes Mehserle demonstration in Walnut Creek, an outlying Bay Area suburb.

Could Oakland Become a Restorative Justice City? (Tikkun Blog)
Is it possible for one city to become a model for restorative justice?
2010-07-05 - Special Empathy Team training for the Oakland Oscar Grant/Mehserle Trial
Miki Kastan facilitated a special class for people whose heart is drawn to Oakland as the verdict of the Oscar Grant/Mehserle trial nears. A group of us are preparing to offer an empathic presence in downtown Oakland after the verdict is announced.

An Article by Miki about the event on Tikkun Blog:
Approaching the Oscar Grant Verdict with Empathy

Event Videos:
Empathy Team Training for Oakland Oscar Grant-Mehserle Trial Full Version (90 min)
Empathy Team Training for Oakland Oscar Grant - Mehserle Trial Overview (10 min)

2010-06-06 - Israel in the Gardens (more photos)

On Sunday, June 6th, the Empathy Team deployed at the annual "Israel in the Gardens" festival in SF. Every year, Israel in the Gardens takes place to commemorate Israel's independence day. Every year, it draws thousands of visitors and is a magnet for protests.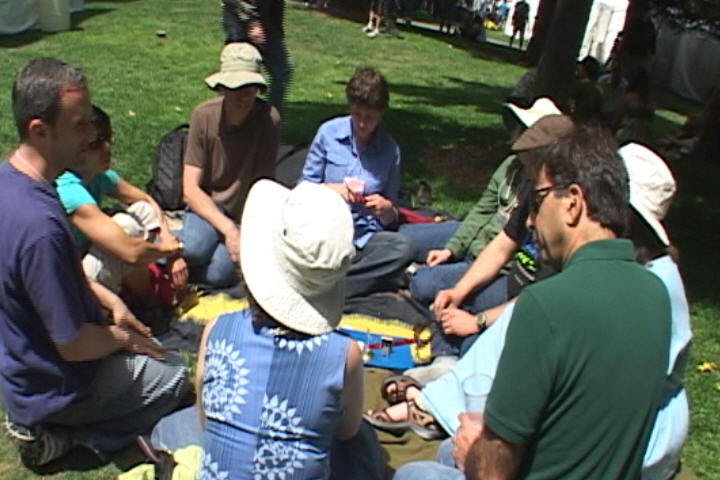 Steve, Marina, Edwin, Judith, Carol, Honey Bear, Faye, Michael, Lea
April 30 - May 2, 2010 - The New Living Expo Listening Post (more photos)
SF Examiner Article by Teresa Rose - New Living Expo and the Empathy Team



Jared, Teresa, and Edwin at the New Living Expo - Empathy Listening Booth




Photos of Empathy Team Planning Meetings