Conference - Panels - Possible Panels - Facebook Event - Education - Volunteer - [Planning]

International Online Conference on:
How Might We Build a Culture of Empathy?
Permanently Ongoing

Index: Panel #17 : How to Build a Culture of Empathy with Aikido?
Date: Nov 12, 2012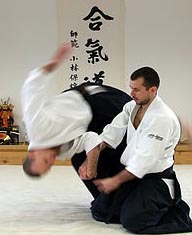 How to Build a Culture of Empathy with Aikido?


Panelists:
Jerry Green
Jerry Green is a mediator, and creator of TUNING IN to the Body, online lessons in embodied compassionate communications, which is based on his seminars in Emotional Aikido, for transforming pressure, fear & anger into centered empathy and grounded actions in the home and at work.
Nick Walker
Nick Walker is a speaker, educator, author, and consultant on a wide range of topics. He is the founder and senior instructor of Aikido Shusekai, an aikido dojo in Berkeley, California. He holds a 6th degree black belt in aikido and has been teaching the art to adults, teens, and children for over thirty years. He is coleading an empathy training workshop called Embodying Empathy. He says, empathy is possibly the most important social skill you possess, yet it can be very fragile.
David Weinstock
David Weinstock is a certified International Nonviolent Communication Trainer, a Somatic Coach, Aikido Instructor (30 yrs.) and originator of Somatic Consensus. He leads community workshops in schools, prisons, businesses, intentional communities & organizations around the world. David and his family live in an intentional community in Washington State that they helped found and where consensus has been practiced for over 20 years. To learn more you can go to his website liminalsomatics.com.
Quentin Cooke

Sensei Quentin Cooke, 7th Dan Yuishinkai International, Chair of Aikido for Daily Life, Director of Aiki Extensions.

I began to practice aikido in 1984, within the Ki Society of Great Britain, which was linked to Tohei Sensei, but was headed up in this country by Sensei Kenneth Williams. He was one of the original practitioners of aikido in this country under Abbe Sensei and widely recognised as the most senior UK practitioner of aikido. Sensei Williams eventually broke away and founded the Ki Federation of Great Britain, which I stayed with until 2000 having reached the rank of 4th dan.


In 2004 my brother and I founded Aikido for Daily Life, (ADL), which is affiliated to Yuishinkai International under the guidance and teaching of Sensei Koretoshi Maruyama, (www.aikidoyuishinkai.com), one of the founder's original students. He encourages people to celebrate what we share rather than seek to emphasise our differences, (''There are many ways up the mountain'').

Edwin Rutsch
Convener: Edwin Rutsch is founding director of the Center for Building a Culture of Empathy. See his full Bio here.
Discussion Transcript and Outline:
00:00 Introduction

(transcription pending)

(Video Transcriptions: If you would like to take empathic action and create a transcription of this video, check the volunteers page. The transcriptions will make it easier for other viewers to quickly see the content of this video.)