Conference - Panels - Possible Panels - Facebook Event - Education - Volunteer - [Planning]

International Online Conference on:
How Might We Build a Culture of Empathy and Compassion?
Permanently Ongoing
Sub Conference: Arts
How to Build a Culture of Empathy with the Arts
http://j.mp/KYoDn2

Happy the Movie - Director Roko Belic talks with Edwin Rutsch about how
Empathy is a Foundation of Happiness
(Movie Trailer)
The core of human nature, I think, is based on empathy and compassion. It's extremely rare to find someone that does not empathize in some way or form naturally. The Dalai Lama said it best, it's not a religious thing, it's not a political idea, this is the way we are born, this is in our blood.

Empathy, compassion, living by the golden rule, all of those things are so critical to, not only to your own personal happiness, but to the sustainability of our societies and of the human race. So empathy is, I think, one of the core ingredients, not only for a happy life, but of a happy world.
On Vimeo - Youtube
Sub Conference: Arts
Eva Vigran: Dialogs on How to Build a Culture of Empathy with Dance

Empathy is like water, it flows and takes any shape. The opposite of empathy is like cold hard ice. In the dance we begin with self-empathy, by feeling into ourselves, melting the stress points, finding out what is going on in our bodies. We get away from the words and can feel our breath and gravity. We can then start to feel and empathize with others. Our drop of water merges with others and we become a third body.
Sub Conference: Arts
Edwin Rutsch & Gillian Vellet: Dialogs on Building a Culture of Empathy with Art Therapy
Gillian has an interdisciplinary background in dance, art education, fine art, expressive arts therapies, shamanic studies, cultural studies, art psychotherapy, biodanza dance movement, massage therapy, cranio-sacral therapy, and visceral manipulation. Gillian's 14 years of Art Psychotherapy & counseling experience specialization...
Sub Conference: Arts
Seung Chan Lim
The Connections Between Empathy And Creativity
Realizing Empathy on Creativity, Innovation, and Transformation
Dan Roberts: Dialogs on How to Build a Culture of Empathy with Clowns

Dan Roberts is Founder and Executive Director of the Red Nose Foundation in Indonesia which is transcending boundaries through play.

Red Nose Foundation provides children with a place to learn and play together, no matter one's race, religion or economic standing. Through the structured study of physical arts (circus), the children learn that a success is celebrated as a team, and a failure is to be challenged together. Red Nose Foundation uses a three-step model to support the development of empathy in our students and to teach them skills to build and reach their dreams. The first stage is pure arts exploration. The program was one of winners of the Activating Empathy competition.
Sub Conferences: Education and Arts
Acting
================
JAMES LIPTON'S MOST VALUABLE ACTING INSIGHTS
James Lipton, creator and host of "Inside the Actors Studio", talks about which acting insights he has found most valuable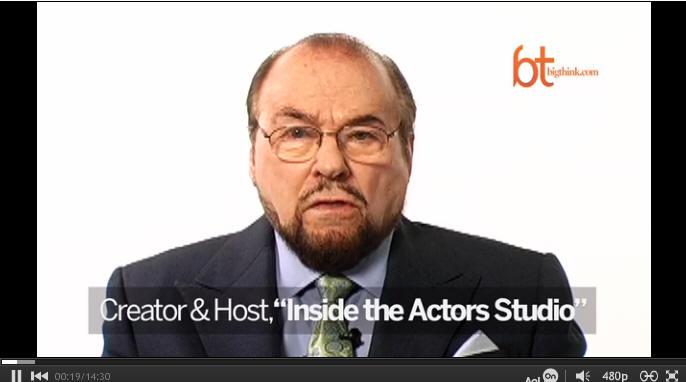 Methods for acting
1. Memories.

"Emotional memory was what Lesmenskaya taught when she remained behind from the Moscow Art Theater and Strasberg and others were very influenced by it. It is what people sometimes think of as the Stanislavski System, in which one recalls one's own experiences that are similar to, or maybe even identical to the experiences of the character and brings back from the core of one's being the experience. It isn't really what people think it is. It is more complex and more interesting than I have described it because it isn't just vanishing from the world and remembering when the dog died and then opening one's eyes with tears...
Simply remembering what was the time of day, was it night, was it day. Was it outside, was it inside. It was inside. Do you remember the room? Was the room warm? Cold? Can you see the wallpaper, or the paint, etc. Refining and defining and recalling in the most intimate detail the experience. Not necessarily aloud, but in one's own recollection. Usually under the guidance of a director and what happens is that when you reach a certain point in that exercise of affective memory, emotional memory, you begin to relive it so vividly that whatever emotions you had at the time come flooding back. " Stanislavski stopped using this method.

2. What do you want? (needs?)

"Stanislavski said for that very reason, and instead I am interested in what the character wants at any given moment. "In the given circumstances you must be rooted in the play. Do not depart from the play. Don't cut yourself off from your partner in the scene, or partners. Don't go so deep in yourself that you no longer exist for your partner and for the character and for the play, said Stanislavski, and said Stella. You must be so thoroughly immersed in the given circumstances of the play, then you decide what it is at any given moment what that the actor wants. And when you try to achieve what that actor wants, as ardently, as the character wants, I should say, when you try to achieve it, the emotions will come
3. Listening
"And then I would add to that the fact that all of these great teachers, Strasberg, Stella, Meisner, Lewis, Clurman, all of them, they emphasize listening. Now, you're listening to me, right? When you speak to me, I am listening to you. In life we listen to other people. Listen with varying degrees of concentration and attention, right?
Actors must learn to listen in a different way. Alan Alda, who really understands these things very well, I think, on our stage Inside the Actor's Studio, said, the way to understand listening, the act and art of listening is the following.
If what you hear changes you in any way, you've heard it, you listened. If it doesn't, and we all listen, we listen all the time in our lives, we're listening to television, we're listening to our mates at dinner, we're listening to the traffic in the street, we listen, but this is a different kind of listening.
This is a listening that is so acute that is so focused and concentrated that if the other person, the other actor says, I have some very bad news for you, your mother has died, it really hits."..
"I often ask our guests, we've had 250 of them in 16 years on Inside the Actor's Studio and of our school. What's the single most important thing that you would tell an actor? Listen. Listen. But it's that particular kind of listening of which an actor becomes capable in time, it doesn't happen in a day."
===========================
Meryl Streep discusses the role of Empathy in her life and acting