Conference - Panels - Possible Panels - Facebook Event - Education - Volunteer - [Planning]

International Online Conference on:
How Might We Build a Culture of Empathy?
Permanently Ongoing
Sub Conference: How to Nurture, Foster and Teach Empathy in the Education System?
http://j.mp/JNDbGl
A section of the conference is specifically about how to How to Nurture, Foster and Teach Empathy in the Education System? We invite educators to join and propose panels on this topic.

Interviews and Panels.
Best Ways to Learn, Practice and Deepen Empathy
Michele Borba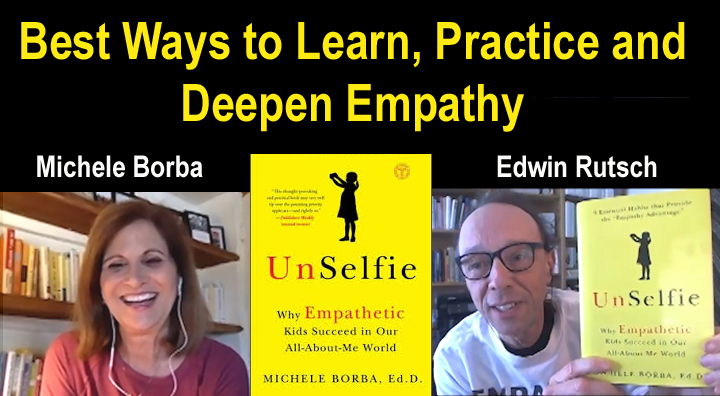 Michele Borba, is an internationally renowned educational psychologist and an expert in parenting, bullying, and character development. She is an award-winning author of twenty-two books translated into fourteen languages. One of the foremost authorities on childhood development in the country, she is a regular NBC contributor who appears regularly on Today and has been featured as an expert on Dateline, The View, Dr. Phil, NBC Nightly News, Fox & Friends, Dr. Oz, and The Early Show, among many others. She is author of, UnSelfie: Why Empathetic Kids Succeed in Our All-About-Me World.
"Empathy is the root of humanity and the foundation that helps our children become good, caring people. But the Empathy Advantage also gives them a huge edge at happiness and success."
Emotional Intelligence: Going On An Empathy Adventure
Susan Stillman and Edwin Rutsch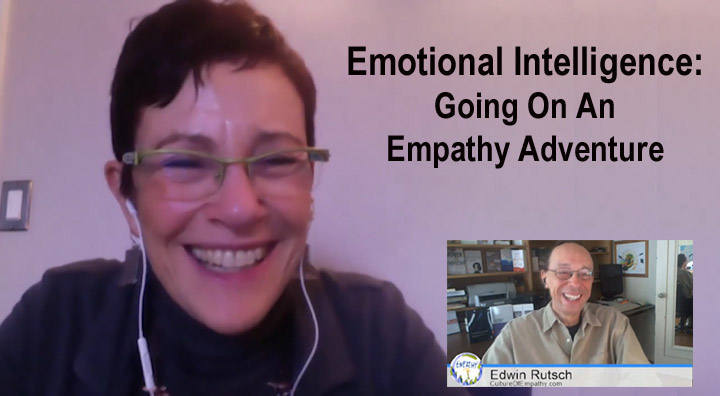 Susan Stillman is Director of Education at Six Seconds, The Emotional Intelligence Network, Institute for Social Innovation. Through the Six Seconds website, she is hosting the Empathy Adventure over a six weeks period.

Susan writes, "Empathy is one of the vital competencies of the 21st century. Empathy is related to collaboration, building trust, problem solving, health, and peaceful resolution of conflict. It is an essential component of leadership and critical to success in business and education. Empathy and compassion may even be key to the survival of the human race.
Empathy can be viewed even more broadly as compassionate action. So we're inviting you to this Empathy Adventure — where we'll come together online to discuss the many types of empathy and then perform a few simple acts of empathy that will ripple out to many others. Through personal stories of group members and empathy "experts," the group will develop a deep awareness of empathy. We'll observe what happens when we invite empathy to be more present in our lives, and document the way it affects us and our interaction with others. Over approximately six weeks, the project will follow these three stages..."
Sub Conference: Education
Thea Blair is a Waldorf teacher, and a Pediatric Massage Therapist. She operated a successful, Waldorf-inspired pre-school out of her home for fourteen years. Observing the amazing results of touch, either playful or comforting, in resolving children's emotional stress led her to seek a massage training. She now works as a parent and teacher coach, and a touch educator. Thea brings Peer Massage to schools as a consultant. She is available for talks and workshops about touch, parenting, and childhood development. In this dialogue we discussed her empathy research and insights.

Thea wrote a research paper on empathy: "The Role of Motor Development in the Development of Empathy" and holds "The Foundations of Empathy" presentations on empathy as well. She writes: "The ability to empathize develops with contributions from various biologically and environmentally based factors. These factors include genetics, child temperament, parenting factors such as warmth, parent-child synchrony, and other qualities of the parent child relationship, and physical imitation such as facial mimicry and motor imitation, using areas of the brain such as the mirror neuron system and the limbic system. In this paper I will explore how motor development supports the development of empathic awareness."

Sub Conference: Education
Eva Scherer, professional body worker and the owner of several Sports & Therapeutic massage clinics in Auckland. In 2000 with like-minded professionals, Eva established Child Connection Trust, a registered charity.

The aim of this organization is to introduce massage into the mainstream education system as a low-cost prevention for child abuse and family violence. Since then, her award winning Children Massaging Children programme has benefited children in New Zealand as well as overseas. "Our programmes teach Peace and Empathy in the purest way... Most people would react with surprise or disbelief at the concept of empathy being taught in schools; however, this idea is more than mere wishful thinking. The idea of teaching children empathy has been the subject of extensive research in New Zealand and also the focus of at least two Master's degree theses in Poland."
Hunter Gehlbach: How to Build a Culture of Empathy in Education

Hunter Gehlbach is Associate Professor of Education at Harvard Graduate School of Education. He is an educational psychologist who brings social psychological principles to bear on educational challenges. His research focuses on improving educational settings through enhancing the social interactions of teachers and students. His specific interests within social psychology focus on social perspective taking – how people discern the thoughts and feelings of others within the classroom.

Hunter says, "Education is a fundamentally social act. Almost all classroom learning (and much of the learning that occurs outside of schools) involves social interaction – even reading entails communication between author and reader. Our lab group's research strives to enhance these social interactions. Primarily through bringing social psychological principles to bear on educational problems, we aim to impact students' (and teachers') learning, motivation, behavior, and psychological well-being. Our group focuses particularly on social perspective taking – the capacity to figure out the thoughts, feelings, and motivations of others – which we view as the core aptitude that people employ to navigate their social world. By helping teachers and students improve their social perspective taking and better understand where each other are coming from, we aspire to improve the classroom experience for both students and teachers."
Gil Lavie: Global Empathy Experiment - How to Build a Culture of Empathy

Gil Lavie is a Viral Advertising Expert and started the Global Empathy Experiment (GlobalempathyExperiment.org) in one of his classes at the the Interdisciplinary Center Herzliya, Israel. He say, "I'm half art - half science. My interests are memes, humor, empathy and other fascinating notions. I had a 10-year career in hi-tech global marketing. Then I started one of the first viral ad agencies in 2002, where I created over 50 viral video commercials that organically reached out to hundreds of millions of viewers".
"Globalizing empathy is a step towards a better society, developing care and understanding that cross geographical, social and species boundaries. Can us caring lead others to care? And can this care be translated into actions? Actions like saving lives, spreading love, reaching out and giving a helping hand… We are simply students creating a platform for promoting Empathy by crowd-sourcing creativity & humor."
Sub Conferences: Education
Maryam Sakeenah: How to Build a Culture of Empathy in Pakistan

Maryam Sakeenah is a social worker, teacher, and freelance writer living in Lahore, Pakistan. She teaches Literature, Islamic Studies and Sociology.

She is leading a project for virtual education for underprivileged school children.

Maryam also authored a book documenting Islamic and Oriental responses to the Clash of Civilizations, titled Us Versus Them and Beyond: An Oriental-Islamic Rejoinder to the Clash of Civilizations Theory.

I talked with Maryam from her home in Lahore, Pakistan about her article, The Murder of Human Empathy. This was her response to the recent attacks on Christian homes in Lahore. She writes, "Empathy is curbed and limited through narrow, parochial banners of ethnicity, nationalism, race and creed so that the empathic drive does not extend to the out-group. The out-group is then 'otherised'. However, a more severe form of this is dehumanization of the other, often institutionalized by the social superstructure: state, media, education, religion."


She calls for leaders (especially religious leaders) in Pakistan to stand up and advocate for fostering empathy for all people. "Empathy humanizes and civilizes. Its suppression intensifies secondary drives like narcissism, materialism, violence and aggression. The task of religion, education and the media must be to bring out the empathic sociability stretching out to all of humanity..."
Sub Conferences: Education
Bob Kane, James D'Amanda & Edwin Rutsch: How to Build a Culture of Empathy in Education

Bob Kane is Director of the Center for Mindfulness & Empathy Education (CMEE) at The Harley School. Bob teaches Hospice at The Harley School. As an end-of-life care educator and hospice nursing assistant, he continues to mentor high school students to provide comfort care to the dying and their loved ones

James D'Amanda is a Grant Writer and Event Manager at CMEE, as well as, a freelance writer.

The

Center for Mindfulness

and

Empathy Education

at the Harley School

has the mission t

o empower Nursery-12 teachers, students, staff and parents with the requisite tools and support necessary to foster a sustained, compassionate presence through the development and nurturing of programs that demand authentic human engagement, stimulating our inborn capacity to compassionately connect to and understand others, embracing their situation as our own.

.. The center evolved in response to the increasing recognition that mindfulness and empathy play an indispensable role in humanizing our educational systems...

We don't have a School uniform. But we do require you to walk in someone else's

s

hoes.


Sub Conferences: Education
Bob Sornson: Dialogs on How to Build a Culture of Empathy in Education

Bob Sornson was a classroom teacher and school administrator for over 30 years, and is the founder of the Early Learning Foundation. He works with schools and education organizations across the country, focusing primarily on developing comprehensive programs which support early learning success,

building classroom and school culture to support the development of social and behavior skills, and offering parent training.

Bob is the author of a number of books including: Stand in My Shoes: Kids Learning About Empathy. "When Emily asks her big sister what the word empathy means, Emily has no idea that knowing the answer will change how she looks at people... Empathy is the ability to notice what other people feel. Empathy leads to the social skills and personal relationships which make our lives rich and beautiful, and it is something we can help our children learn. This book teaches young children the value of noticing how other people feel. Were hoping that many parents read it along with their children."
Sub Conferences: Education
Kathryn Lee: How to Build a Culture of Empathy with Education

Kathryn Lee is Director of Innovation, Partnerships, and Service at Prospect Sierra School in El Cerrito, California. She was an organizer of the '

TEDxGoldenGateED: Compassion and Education Conference

'

held in Richmond, California which had over 700 attendees. Prospect Sierra is an innovative school that has been at the forefront of incorporating empathy and compassion into it's curriculum including the Root's of Empathy and the StartEmpathy programs.

How can we build a culture of empathy?

Celebrate, Educate, Discover, and Uncover. I believe that empathy is not only a muscle that needs regular exercise to stay strong, but that there are stages in the development of empathy, and essential skills to be learned. For example, if you feel for other people, but your speech doesn't convey that, then you might not really be helping to create a more empathetic society.

Also, to be an effective communicator in the world, one must know how to listen for understanding, convey that in words and body language, AND have advocacy skills. We can't listen our way out of a problem. Sometimes empathy requires strong action -- compassion -- and it might not always be cum-by-ah.
Sub Conferences: Education
Susan Partnow: Dialogs on How to Build a Culture of Empathy & Compassion

Susan Partnow is an organizational development and training consultant and teaches Compassionate Listening and many other empathy and compassion building processes Contributor to the book: Practicing the Art of Compassionate Listening

How to Build a Culture of Empathy & Compassion?

1. Set the Intention (value it; talk about it; name and invite it).

2. Slow down to the speed of wisdom to make space for it.

3. From the Inside Out: Cultivate self awareness and regulation - know your triggers; do the practice with compassion & BE Compassion.

4. Build community from these principles - to embrace conflict, differences, challenges as opportunities to deepen intimacy, understanding, connection - and find creative solutions like Restorative Circles.
Sub Conferences: Education
Jan Hutton: Dialogs on How to Build a Culture of Empathy and Compassion

Jan has served as a community organizer, social worker in hospice and hospital settings, meditation teacher, group facilitator in the Quaker community and, she hopes, a 'kind' person. The guiding principle for Jan's work as a facilitator is, "How do we look at those who differ from us and see our shared humanity?"

She offers Compassionate Listening Training with the strong belief that implementing peacemaking in the public sector makes it vital that we practice, heart to heart, that very same peacemaking in our personal lives. To build a culture of empathy we each take responsibility for acknowledging the fear that our own hearts might break when empathizing with someone else's pain?
Leah Weiss: Dialogs on How to Build a Culture of Empathy & Compassion

Leah Weiss Ekstrom is a Contemplative Educator whose research and teaching focuses on the application of meditation in secular contexts.

Currently, Leah is Director of Compassion Education at Stanford's Center for Compassion and Altruism Research and Education (CCARE).

Leah directs the CCARE: Compassion Training Course (CTC) professional education program as well as other educational initiatives such as the application of compassion meditation in schools. "The Compassion Training Course is a nine-week program designed to develop the qualities of compassion, empathy, and kindness for oneself and for others. The CTC integrates traditional contemplative practices with contemporary psychology and scientific research on compassion. The program was developed at Stanford University by a team of contemplative scholars, clinical psychologists, and researchers."
Sub Conferences: Education
Erika Rosenberg: Dialogs on How to Build a Culture of Empathy with Education

Erika Rosenberg offers scientifically- and practically-based training and consultation in a wide range of areas associated with the study and/or understanding of human emotion, facial expressions of emotion, and the improvement of emotional functioning through meditation.


Erika has been practicing meditation for over 20 years. She is a senior teacher for Project Compassion at the Center for Compassion and Altruism Research and Education (CCARE) at Stanford University where she teaches the 9-week Compassion Cultivation Training (CCT). The training combines science, mindfulness and Compassionate Communications traditions.
Sub Conference: Science and Education
Laura Zax & Edwin Rutsch: Dialogs on How to Start Building a Culture of Empathy in Education

Laura Zax is Editor of the

StartEmpathy.org

website. Start Empathy, an initiative of Ashoka, is a community of individuals and institutions dedicated to building a future in which every child masters empathy.

Laura is also CEO & Co-Founder - The Nighttime Adventure Society. "I make music and mischief".

"Empathy is critical both to individual human development and to our collective ability to solve problems and build a stronger society. Cultivating empathy can start with really simple actions, like taking the time to stop, breathe, and listen when your child comes to you with a problem. It can start with a bedtime story. It can start by understanding what your strengths are as a school or as a teacher, and in honing in on ways you can embed empathy into your teaching, culture, and behavior. The bottom line: it can start today." Sub Conferences: Education
Joey Katona is the Project Manager for the Empathy Initiative (StartEmpathy.org) at the world's leading social entrepreneurship organization, Ashoka. He leads a small core team working to launch the Empathy Initiative in the US and globally. He participates in the strategic development of the start-up and works to creatively manage the day-to-day operations.

Joey develops ways to help the team stay on track toward its goals -- coordinating, sourcing, and following up on various partner and funder leads and helping manage external relationships. "Start Empathy, is a community of individuals and institutions dedicated to building a future in which every child masters empathy...

Start Empathy is not out to build a single program, curriculum, or silver-bullet fix. Rather, we're working to unleash demand for empathy as a core 21st century skill – collaborating with social entrepreneurs, educators, parents, and key players in the media, business, and academic sectors to make empathy as essential as reading and math in early education. Success will take all of us, and will require rethinking how we parent, educate, and raise our children in a world that is changing faster than ever before. "
Sub Conferences: Education
Meg Lyons: How to Build a Culture of Empathy & Compassion with Charter for Compassion Pakistan

Meg Lyons is Executive Officer of the Charter for Compassion in Pakistan. Meg talked to us via her laptop while being driven through the streets of Karachi, Pakistan at night. It really brought home the power of communications technology to bring people together.

Meg talked about her value of courage and authenticity, as well as, about her work of promoting the Charter for Compassion in Pakistan.

'The Charter of Compassion is a cooperative effort to restore not only compassionate thinking but, more importantly, compassionate action to the center of our lives. Our programs, tools, and activities allow our stakeholders and partners the opportunity to explore the value of collaboration, empathy, and compassion within their own respective entities, and institutionalize these positive changes across all sections of society. '
Sub Conferences: Education
Muna Awad & Edwin Rutsch: Building Empathy with Charter for Compassion - Jordan

Muna Awad is Programs Director at the Charter for Compassion-Jordan. She has 15 years of experience working in education as teacher, trainer and private tutor. She worked as head of department for training youth. Muna developed creative positive parenting tools: "Mother's ToolBox" to help parents creatively overcome the challenges they face raising their children and be able to inspire them to become better people. She feels education is the best way to build a culture of empathy and compassion.
Lisbeth Holter Bruda: Dialogs on How to Build a Culture of Empathy in Norway

Lisbeth Holter Brudal is a psychologist living in Oslo, Norway. She is the author of many books, including, Om bevissthet (About Consciousness) which is about psychology, mindfulness, science fiction, near-death-experiences and cosmic consciousness and the terror attack 22.juli 2011 in Oslo

Lisbeth has developed courses in Empathic Communication. One course (20 hours) for professionals who want to use Empathic Communication in their work and one course (40 hours) for trainers in the method.

The trainers give the 20-hours courses, one-day seminars introducing the method, participate in different congresses about education and also give lectures about Empathic Communication at different university colleges. The trainers also learn during the 40-hours course how to educate other trainers. Empathic Communication, as a method, has been presented on Norwegian TV.
Sub Conference: Education
Sam Chaltain: Dialogs on How to Build a Culture of Empathy in Education

Sam Chaltain is a DC-based writer and education activist. He works with schools, school districts, and public and private sector companies to help them create healthy, high-functioning learning environments. He is Author coauthors five books including, American Schools: The Art of Creating a Democratic Learning Community

. We talked about how to transform schools to create culture of empathy. For Sam it's important that all students feel hear and seen and are able to express themselves.
Sub Conferences: Education
Jim Lew is an educator, author, and diversity trainer from Chicago. Jim was the keynote speaker

at the 'Fostering Empathy in Our Schools' Symposium held at the Ashoka Center in New York. Jim shares his perspectives on how empathy, diversity, and innovation combine to take hold in a school and school system.
Daniel Bassill & Edwin Rutsch: Dialogs on How to Build a Culture of Empathy

Daniel Bassill is founder of Tutor/Mentor Connection and CEO of Tutor/Mentor Institute, LLC

Sympathy = random acts of kindness. The philanthropic systems of support for charity are built more on sympathy than empathy, thus they are not consistent streams of support that are required to solve
complex problems in many places. How to build a culture of empathy?
a) information collection. b) advertising/public awareness to increase number looking at info. c) facilitation/building understanding = like what happens in faith groups every week. d) action – people using ideas in many places, where they provide time, talent, dollars, leadership, advocacy, etc. to help kids to careers. Sub Conference: Education
Carolyn Zahn-Waxler
Empathy Expert Big Page:
Child Development
"Throughout her career Carolyn has studied the origins and development of empathy and caring behaviors beginning in the first years of life. These longitudinal studies have focused on the role of genes, temperament, family life and socialization experiences that foster or impede compassion and altruism in children. She has also conducted longitudinal studies on (a) the role of emotion in the development of psychopathology in adolescents and (b) risk and protective factors in the development of conduct problems."
Center for Investigating Healthy Minds