Conference - Panels - Possible Panels - Facebook Event - Education - Volunteer - [Planning]

International Online Conference on:
How Might We Build a Culture of Empathy and Compassion?
Permanently Ongoing
Sub Conference: Home & Family
How to foster a culture of empathy within the family and home life
Stephanie Mattei & Edwin Rutsch: How to Build a Culture of Empathy in the Family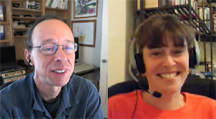 Stephanie Bachmann Mattei is a Certified Trainer with The Center for Nonviolent Communication. Parenting is Stephanie's niche. Parenting is a powerful and far-reaching tool for social transformation. Mahatma Gandhi's said, "If we are to reach real peace in the world, we shall have to begin with the children." Parenting is one of the most crucial ways to bring about social change in terms of consciousness evolution. We are moving toward a more empathic child rearing.
How to Build a Culture of Empathy? Presently the three main unempathic "Parenting Tools" are; Corporal Punishment, Guilt and Shame inducing communication (verbal and non-verbal), behavior modification through rewards carrots and sticks. Research show these approaches do not foster empathy and emotional intelligence. In order to change a habit, we need to know what to put in its place. We need an empathic parenting approach.
Sub Conference: NVC and Sub Conference: Home & Family
Kenneth Barish & Edwin Rutsch: How to Build a Culture of Empathy in the Family

Kenneth Barish

is Clinical Associate Professor of Psychology at Weill Medical College, Cornell University.

He is also on the faculty of the Westchester Center for the Study of Psychoanalysis and Psychotherapy and the William Alanson White Institute Child and Adolescent Psychotherapy Training Program. He is the author of

Pride and Joy: A Guide to Understanding Your Child's Emotions and Solving Family Problems

.


How to Build a Culture of Empathy in the Family?

1) It begins with our relationships with our children. If we put aside as little as 10 - 15 minutes a day to share in our children's interests and listen to their concerns, we strengthen their willingness to listen to others.
2) All real dialogue begins with our willingness to hear - and make a genuine effort to appreciate - another person's concerns: their interests, anxieties, and grievances.
3) Then, when our children know that their feelings are valued and important, we can teach them that so are the feelings of others.
4) We can include doing for others as a regular part of our family lives.
Sub Conference: Home & Family
Marcy Axness & Edwin Rutsch: How to Build a Culture of Empathy in the Family

Marcy Axness has a private consulting-counseling practice specializing in mind-body fertility, pregnancy psychology, adoption, and early parenting. She is author of Parenting for Peace: Raising the Next Generation of Peacemakers.

Marcy also provides training for adoption, education, and mental health professionals about the latest findings in the science of human thriving.

How to build a culture of empathy in the family?
1. By giving our children the gift of a well-built brain -- i.e., the frontal and occipital lobes have the circuitry they need to even process empathy!! This begins before most people think parenting begins - in the womb, or even earlier. It is our birthright to experience empathy, and that right is taken from us if we don't have a well-wired brain.
2. For the child to witness and experience empathy, in an everyday, all-day way.
3. Model empathy with our own cells, through how we care for ourselves.