Conference - Panels - Possible Panels - Facebook Event - Education - Volunteer - [Planning]

International Online Conference on:
How Might We Build a Culture of Empathy and Compassion?
Permanently Ongoing
Sub Conference: Empathy in Health Care
How can we transform health care system to be more empathic and compassionate?
http://j.mp/N98AoS
Helen Riess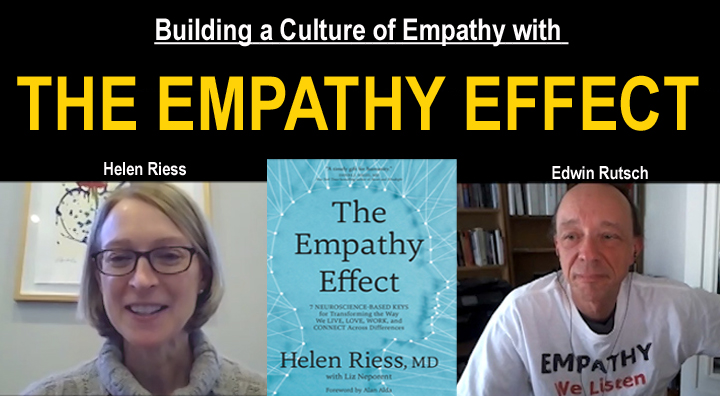 Helen Riess, M.D. is Associate Clinical Professor of Psychiatry, Harvard Medical School and Director of the Empathy and Relational Science Program at Massachusetts General Hospital.

The mission of the Program is to enhance empathy and interpersonal relationships in healthcare. She is also Chief Technology Officer of Empathetics

which offers scientifically based empathy training proven to optimize interpersonal engagement.

Helen is author of The Empathy Effect: Seven Neuroscience-Based Keys for Transforming the Way We Live, Love, Work, and Connect Across Differences


In this book, I hope to demonstrate how showing greater empathy toward your fellow human beings can enhance your own life and society as a whole. Through empathy, parents see their children for who they are, and help them realize their potential. Teachers connect with students in ways that help learners discover and expand there talents. Businesses are more likely to thrive because they invest in the people working for them. Politicians start to represent the needs of their constituencies.

The arts have always been a connector for people of all walks of life to learn more about one another, find common ground, inspire curiosity rather than judgment, and provide shared mind empathic experiences that remind us that all people are part of the fabric of humanity.
The Empathy Initiative
to change lives and improve the quality of care
Tracy Levett-Jones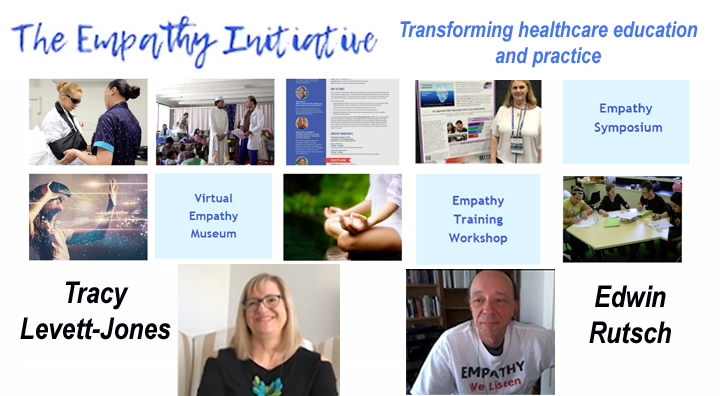 Tracy Levett-Jones is the Professor of Nursing Education and Discipline Lead at the University of Technology Sydney, Australia. Her research interests include: empathy, belongingness, clinical reasoning, interprofessional education, cultural competence, simulation and patient safety. Tracy has authored ten books, the most recent being 'Clinical Reasoning: Learning to think like a nurse' and 'Critical Conversations for Patient Safety'; as well as nearly 200 book chapters, reports and peer reviewed journal articles.

The Empathy Initiative is a group of like-minded academics and practitioners with a strong belief in the power and potential of empathy to change lives and improve the quality of care provided to patients/clients/residents.
Our group shares a commitment to undertaking collaborative empathy research that has the capacity to transform education and practice. The purpose of the Empathy Initiative is to generate high quality, rigorous empathy/compassion research that informs and influences student learning and patient care, either directly or indirectly.
Why a Culture of Empathy is Essential
Brain Goldman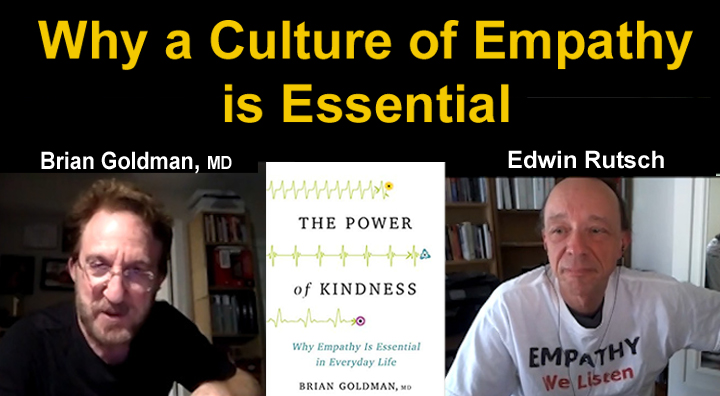 For more than thirty years, Dr. Brian Goldman has been an active participant in and keen observer of the culture of modern medicine. Since 2007, he has hosted White Coat, Black Art, a multi-award-winning show on CBC Radio that reveals what goes on behind a hospital's sliding doors. Goldman is author of: The Power of Kindness: Why Empathy Is Essential in Everyday Life.

As a veteran emergency room physician, Dr. Brian Goldman has a successful career setting broken bones, curing pneumonia, and otherwise pulling people back from the brink of medical emergency. He always believed that caring came naturally to physicians. But time, stress, errors, and heavy expectations left him wondering if he might not be the same caring doctor he thought he was at the beginning of his career. He wondered what kindness truly looks like

- in himself and in others.


How can empathy transform health care?
Empathy is the way that we establish human connections. Without it, relationships between people are just transactions and devoid of the emotional warmth and meaning that I think is inherent in the human condition. If we could put more empathy into health care, it would mean that patients are more likely to follow the instructions of physicians and to feel assured that the best is being done for them.

The Healing Power of Empathy and Mindful Listening
David Rakel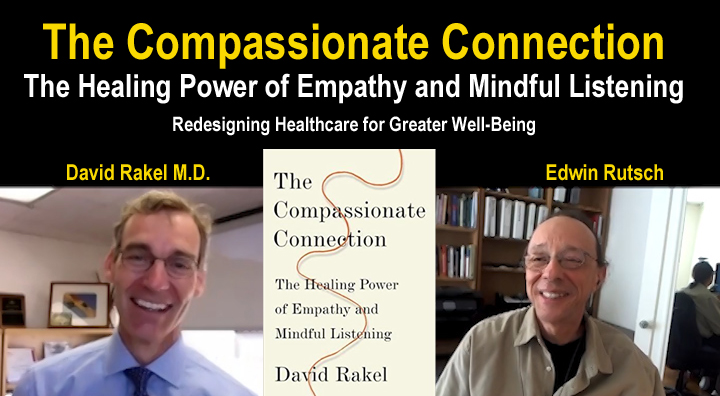 David Rakel, MD was the founder and director of the University of Wisconsin Integrative Medicine program and is now Professor and Chair of the Department of Family & Community Medicine at the University of New Mexico Medical School in Albuquerque, NM.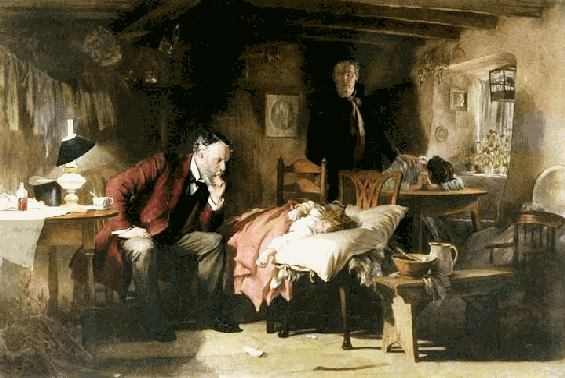 The Doctor by Luke Fildes (Wikipedia)
"I knew that creating connections is what helps me facilitate healing and also helps me to feel healthy."
Empathy Training in Healthcare and Beyond
Elizabeth Morrison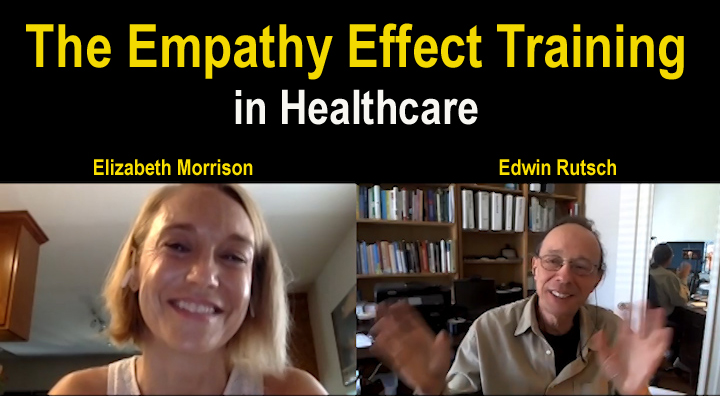 "An accomplished trainer, therapist and consultant, Elizabeth Morrison specializes in helping health care organizations enhance human connections in care provision. Her areas of expertise and passion are building effective and sustainable integrated behavioral health (IBH) services, developing patient-centered complex care programs, and providing research-based training in empathetic communication for healthcare professionals. Originally inspired by Carl Rogers'research on the primary role of empathy in healing, she uses evidence-based strategies to design trainings and consultations tailored to meet the needs of a wide range of organizations." Elizabeth developed the Empathy Effect Training and curriculum for teaching empathy skills in the healthcare field with the Institute for Healthcare Communication."

"Expressions of empathy are the "secret sauce" that ensure caregiving encounters are healing and not harmful. They are essential for building connection and trust, and especially so for interactions with people who have suffered trauma. Empathy is universally accessible, free, an effective treatment by itself in many situations - and it has no side effects!" Empathy Effect
Developing an Empathic Way of Being
in Healthcare
Jeremy Howick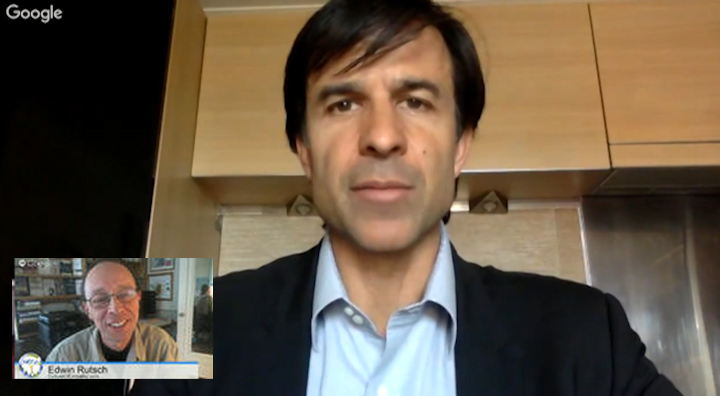 Jeremy Howick is senior researcher at the Nuffield Department of Primary Care Health Services at University of Oxford. His research lies at the crossroads of philosophy and medicine. His interest in empathetic care grew out of his interest in placebo effects. Jeremy is also founder and director of the The Oxford Empathetic Care Program.
The Oxford Empathetic Care Programme (OxCare) is an interdisciplinary research group that includes medical practitioners, philosophers, psychologists, and sociologists.
Aims:
Promote the importance of empathy in clinical practice. This includes empathetic relationships between patients (and their families) and healthcare practitioners, as well as empathetic relationships between healthcare systems and patients/practitioners.

Objectives
1. To develop and maintain a glossary of empathy (and related terms) definitions
2. To maintain a database of key measures of empathy
3. To identify and reduce contextual obstacles to empathy
4. Explore the relationship between evidence-based healthcare and empathetic healthcare
5. To develop empathy training for healthcare practitioners and healthcare managers
6. To develop a research program
7. To identify obstacles and facilitators to empathy
8. Explore the relevance of empathy to professional burnout and stress
9. To investigate whether the current model of revalidation is empathetic
10. To investigate how can empathetic care improve value-based healthcare
Helen Riess: How to Build a Culture of Empathy in Health Care

Helen Riess, M.D. is Associate Clinical Professor of Psychiatry,
Harvard Medical School and Director of the Empathy and Relational Science Program at Massachusetts General Hospital.


The mission of the Program is to enhance empathy and interpersonal relationships in healthcare. She is also Chief Technology Officer of Empathetics which offers scientifically based empathy training proven to optimize interpersonal engagement.

Helen is a coauthor of the study, Empathy Training for Resident Physicians. The study concluded; "A brief intervention grounded in the neurobiology of empathy significantly improved the physician empathy as rated by patients, suggesting that the quality of care in medicine could be improved by integrating the neuroscience of empathy into the medical education."

Empathy is like, getting underneath the skin of another person, to merge temporarily with their experience, then getting out, to reflect on the experience. Empathy can be taught, although a certain endowment may be inborn, research shows that it is a mutable trait. Our study demonstrated that empathy could be increased significantly in the training group and it decreased significantly in the control group.
Sub Conference: Health Care
Issidoros Sarinopoulos: How to Build a Culture of Empathy Without Pain

Issidoros Sarinopoulos (Sid) is Assistant Professor of Psychology at
Michigan State University where he is director of the Lab for Social and Affective Neuroscience. Sid's research interests include the psychological and neural underpinnings of emotion, judgment, decision making, and social behavior.

His work integrates the theories and methods of affective and social neuroscience on the one hand, and more traditional disciplines in the social sciences on the other.

Sid was part of a study looking at how an empathic doctor-patient relationship reduces patients pain. Listen up, doc: Empathy raises patients' pain tolerance. "A doctor-patient relationship built on trust and empathy doesn't just put patients at ease – it actually changes the brain's response to stress and increases pain tolerance, according to new findings from a Michigan State University research team."
Sub Conferences: Health Care and Science
Louise Grant: How to Build a Culture of Empathy in Social Work

Louise Grant is Senior Lecturer in Social Work at the University of Bedfordshire. Louise has been studying the role of empathy in fostering resilience in social workers in the UK.


She says, "My teaching interests are in children and families social work and in particular in developing reflective practice for effective social work and developing supervision knowledge and skills in social workers. My research focus is on reflective practice and developing emotional resilience for social work practice"

Louise is co-author of the study, 'Exploring Stress Resilience in Trainee Social Workers: The Role of Emotional and Social Competencies'. In order to inform the development of interventions to enhance the work-related well-being of early career social workers, this study examined several emotional and social competencies (i.e. emotional intelligence, reflective ability, empathy and social competence) as predictors of resilience in 240 trainees.

Overview and Introduction and more videos

We had a wonderful meeting at the first Empathy Healthcare Café on June 25th, 2009. We received so many comments like, "great Café", "what's next?" and "how can we keep this going?" Thank you to everyone that contributed time, energy, ideas, stories, video, supplies, resources, etc. to hosting the Café. Below is the video of the Café.

From Joan. "Thank you for attending and creating a special evening. As many of you mentioned to me the energy and ideas in the room were truly inspiring! The list that is attached is a compilation of the ideas everyone contributed during the action item session. There were many comments, in your reflections and after the close of the Café about "let's keep going." If you would like to get together to put your ideas into the next phase just respond to this email, and then we can pick a time, and place to work on an Empathy Grass Roots Movement." Joan Kuenz