The Center for Building a Culture of Empathy is the home of the global empathy movement. Our mission is to build a movement for creating a global worldwide culture of empathy and compassion. We do this through a variety of means. First is by community organizing. We bring people together and hold in-person and online meetings and Empathy Circles. Next is by collecting, curating and organizing all the material we find on the internet on the topics. Researching through the arts and sciences. We are putting together a series of documentaries to educate the public and much, much more.
We are also a portal for resources and information about the values of empathy and compassion. The site contains the largest collection of; articles, conferences, definitions, experts, history, interviews, organizations, videos, science and much more about empathy and compassion. To stay up to date on the latest, sign up for our Facebook: Page, Group and Cause now.
Our current project is to develop our
Empathy Circles
and Conference on, How can we Build a Culture of Empathy and Compassion? Contact us if you'd like to be involved in organizing this event. Let's help fill the empathy deficit by making people more aware of the fundamental importance of empathy and compassion in our lives. This is a collaborative project and we invite you to take part. Send an email if you'd like to get involved with the group or with creating this video, etc.
Edwin Rutsch (Face
book
- email)

Blog Roll: Join the Quest

Latest
interviews, panel discussions, etc,
We reached the 200 Empathy Circles, Panels and Interviews milestone for our conference on how to build a culture of empathy and compassion!!! There are over 200 hours of empathy and compassion experts from around the world talking about how we can build a movement to transform the world culture with empathy. This is only the beginning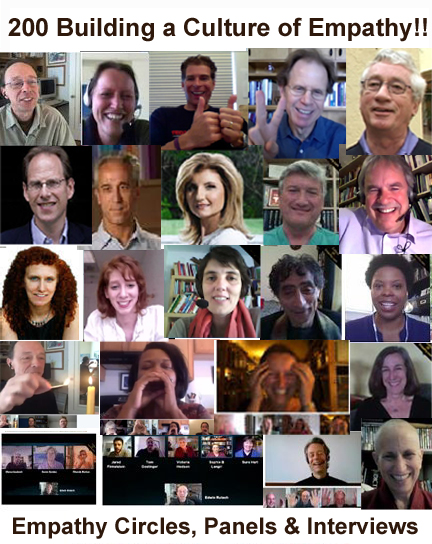 Panel 20: Empathy in Critical Care - Empathy and Healthcare Conference
Keonnis R. Taylor
Jodi Halpern
Barbara Beach
Marilyn Ababio
Edwin Rutsch
This panel with experts in the field of healthcare explored the role of empathy and compassion in providing medical care.

A few of the questions addressed were;

How do those providing objective medical care, especially around the grim subject of one's own death, provide compassionate care without absorbing the emotions surrounding imminent death?
Please describe your work and why the principle of empathy is relevant to it?
The theory of Counter-Transference in Psychology postulates that the practitioner's feelings are entangled with the patient's. Does this also happen in the medical field? etc.
Sub Conference: Health Care
Richard Levin: How to Build a Culture of Empathy in Healthcare

Richard Levin is an internationally recognized physician scientist, scholar, cardiologist and educator. He is also the President and CEO of the Arnold P. Gold Foundation. The Gold Foundation is a not-for-profit organization dedicated to fostering humanism in medicine. "It encourages the development of physicians who combine the high tech skills of cutting-edge medical science with the high touch skills of communication, empathy and compassion."

The organization says that, "As the nature of doctor-patient relationship changes, compassion and empathy are essential." The Foundation fosters the development of empathy in healthcare thought a variety of ways and initiatives, such as, lectures, conferences, physician networking, grants, fostering scientific research, award ceremonies, a website, etc.
Sub Conference: Health Care
Marc Brackett: How to Build a Culture of Empathy & Compassion

Marc Brackett is a Research Scientist in the Department of Psychology at Yale University. He also is Deputy Director of Yale's Health, Emotion and Behavior Laboratory and Head of the Emotional Intelligence Unit in the Edward Zigler Center in Child Development and Social Policy.


He is the lead developer of The RULER Approach to Social and Emotional Learning, an evidence-based social and emotional learning (SEL) program that currently is implemented in hundreds of schools throughout the United States and abroad. The acronym RULER refers to the five key emotion skills of Recognizing, Understanding, Labeling, Expressing, and Regulating emotions. Marc says authenticity is his most important value.
Alex Gabbay is a Filmmaker and Director. His documentary, 'Love Hate and Everything in Between' is about empathy and looks into the world of neuroscience, psychology, education and technology to explore the extraordinary relevance of empathy in today's increasingly interconnected world. Man's capacity for kindness and compassion is overshadowed only by his ability to be as cruel and destructive. Can empathy resolve issues of aggression and subjugation, where wars, politics and economic sanctions have failed?

Empathy – a subject increasingly tested by world events and studied by scholars – is put under the microscope in this documentary. Alex and Edwin have a wide ranging discussion about the nature of empathy and his suggestions for building a culture of empathy.
Sub Conference: Arts
Jason Marsh is editor in chief of Greater Good magazine and website at U.C. Berkeley. Jason is a graduate of the UC Berkeley Graduate School of Journalism and a co-editor of, The Compassionate Instinct.

How to Build a Culture of Empathy?

First, promote personal contact across different groups. Do this in places like the workplace, schools and so on. Second, encourage cross-group contact and perspective taking among kids and in schools. Create a curriculum of empathy within schools.

Third, inequality creates a negative spiral, it reduces empathy which creates more inequality, which reduces empathy further, which creates more inequality, etc. We need to create a positive spiral of more empathy, more equality, more empathy, more equality.
Arianna Huffington: Dialogs on How to Build a Culture of Empathy

Arianna Huffington is president and editor-in-chief of the Huffington Post Media Group. She is the author of numerous books including

, On Becoming Fearless...in Love, Work, and Life.

Here i

s a

n interview I did with Arianna via email.

How can we build a culture of empathy?

"To a physicist a critical mass is the amount of radioactive material that must be present for a nuclear reaction to become self-sustaining. For the empathy movement, a critical mass is when the empathy habit is cultivated by enough people that it can begin to spread spontaneously. I think of it as an outbreak of a positive infection. And everyone has the potential to be a carrier. So one thing we can do is to spread it as widely as possible...

I think the opposite of empathy is the projection of our own fears onto others. We've seen this over and over again throughout American history. In times of economic upheaval, when huge numbers of people are losing their jobs, losing their homes, and feeling powerless to do anything about it, it has always been the case that people look for scapegoats. Empathy is the antidote to that."
Helen Riess: How to Build a Culture of Empathy in Health Care

Helen Riess, M.D. is Associate Clinical Professor of Psychiatry,
Harvard Medical School and Director of the Empathy and Relational Science Program at Massachusetts General Hospital.


The mission of the Program is to enhance empathy and interpersonal relationships in healthcare. She is also Chief Technology Officer of Empathetics which offers scientifically based empathy training proven to optimize interpersonal engagement.

Helen is a coauthor of the study, Empathy Training for Resident Physicians. The study concluded; "A brief intervention grounded in the neurobiology of empathy significantly improved the physician empathy as rated by patients, suggesting that the quality of care in medicine could be improved by integrating the neuroscience of empathy into the medical education."

Empathy is like "getting underneath the skin of another person, to merge temporarily with their experience, then getting out, to reflect on the experience. Empathy can be taught, although a certain endowment may be inborn, research shows that it is a mutable trait. Our study demonstrated that empathy could be increased significantly in the training group and it decreased significantly in the control group.
Sub Conference: Health Care
Emma Seppala: Dialogs on How to Build a Culture of Empathy & Compassion

Emma Seppala originates from Paris, France and is Associate Director at the Center for Compassion and Altruism Research and Education (CCARE) at Stanford University. She is an Honorary Fellow at the Center for Investigating Healthy Minds in Madison, Wisconsin.

Her research areas include: Complementary & Alternative Interventions (yoga, meditation); The Science of Happiness, Health, Well-Being; Stress; Trauma; Emotion and Emotion Regulation; Compassion, Social Connectedness; Cross-Cultural Psychology.
Lidewij Niezink: Dialogs on How to Build a Culture of Empathy

Lidewij hosts the Empathy and Charter for Compassion groups on Linkedin. Her Ph.D was in empathy and altruism. She is a strategic advisor, trainer and innovator, and helps organizations, groups and individuals to implement different aspects of empathic concern into their professional as well as private lives.

How to build a culture of empathy? Stop looking for the qualities of empathy and compassion outside of ourselves. We ALL possess these qualities already (as research is showing us). Develop and make use of the methods offered to cultivate empathy and compassion within ourselves according to what speaks to our individual minds and hearts... Sub Conference: Science
Maia Szalavitz: Dialogs on How to Build a Culture of Empathy

Coauthor: Born for Love: Why Empathy Is Essential and Endangered

Empathy - fully expressed in a community of nurturing interdependent people - promotes health, creativity, intelligence, and productivity. In contrast, apathy and lack of empathy contribute to individual and societal dysfunction, inhumane ideologies, and often brutal actions.
Sub Conference: Science
Roman Krznaric: Dialogs on How to Build a Culture of Empathy

Author: The Wonderbox: Curious Histories of How to Live

I believe that empathy – the imaginative act of stepping into another person's shoes and viewing the world from their perspective – is a radical tool for social change and should be a guiding light for the art of living. As I describe in this video definition of empathy, it matters not just because it makes you good, but because it is good for you.
Kristin Neff Talks with Edwin about Empathy and Self-Compassion
Kristin Neff, author of Self-Compassion: Stop Beating Yourself Up and Leave Insecurity Behind, talks with Edwin about the nature of empathy, self-empathy self-compassion and compassion.
"Compassion is a huge value of mine. Now I like to use the term open-heartedness, because compassion tends to be specific to the context of suffering. Of course we want to have open hearts in the face of suffering, but also want to have open hearts in the face of joy and when we are at our bests and have great successes and achievements. Just keep our hearts open no matter what happens, positive, negative or even neutral. Open mind and open heart, just trying to stay open."
Sub Conference: Science
Paul Ekman talks about the Nature of Empathy and Compassion with Edwin Rutsch
How can we build a culture of empathy?
'The survival of the planet as we know it depends on global compassion...

If I was president, thank god I'm not, I would start a Manhattan Project on global empathy. It has the urgency of the Manhattan Project. It needs the bringing together of the best minds in the world to focus on this issue, because there is an urgency too it. I think Al Gore was right, that time is running out. We can't wait 20 or 40 years to figure out what to do with this problem."
Sub Conference: Science
Frans de Waal talks with Edwin about the Nature of Empathy
How can we build a culture of empathy?
I think it is important in society, especially at the moment. Now that we have come out of this period where greed was so good. I think it is important to emphasize that there are alternative ways of looking at society. A society where solidarity is important and caring about others is important.

The other things, that I'm not an expert on, is education and culture of course. A cultural and educational change that emphasizes empathy more. I would also warn that empathy is not invariably positive. People think that empathy is automatically a positive characteristic. Empathy can be used for bad purposes also.
Sub Conference: Science
Interview with Rick Hanson on Empathy
I have a special interest, a particular interest in practical methods, useful things, found at the intersection of psychology, brain science and contemplative practice... I think looking out at the world today, we have a crises of empathy in a way.
Sub Conference: Science
Let's find 1 million people who want to build a culture of empathy and compassion. We can make that world a reality. 'Like' our new Facebook page and join us on Facebook Causes.
--------
--------