The Center for Building a Culture of Empathy is the home of the global empathy movement. Our mission is to build a movement for creating a global worldwide culture of empathy and care. We do this through a variety of means. First is by community organizing and by collecting, curating and organizing all the material we find on the internet on the topic. A current focus is on forming an International Empathy Trainers Association (IETA), an academic empathy training literature review meta-study, and public Empathy Tent listening deployments.
We are also a portal for resources and information about the values of empathy and compassion. The site contains the largest collection of; articles, conferences, definitions, experts, history, interviews, organizations, videos, science and much more about empathy and compassion. To stay up to date on the latest, sign up for our Facebook: Page, Group and Causes now.

Our current project is to develop our Empathic Design Trainings and Conference on, How Might We Build a Culture of Empathy? Contact us if you'd like to be involved in organizing this event. Let's help fill the empathy deficit by making people more aware of the fundamental importance of empathy and compassion in our lives. This is a collaborative project and we invite you to take part. Send an email if you'd like to get involved with the group or with creating this video, etc.

Blog Roll: Join the Quest
Latest interviews, panel discussions, etc,
We reached the 400+ Empathy Circles, Panels and Interviews milestone!!! There are over 400 hours of experts from around the world talking about how we might build a culture of empathy.
Is Empathy Our Most Dangerous and
Self-Indulgent Emotion?
Danny Penman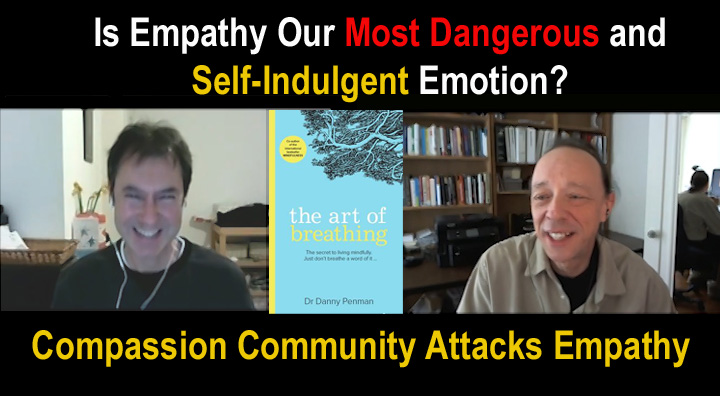 Danny Penman is a journalist and author. He has worked for the BBC and "The Independent" and is a feature and comment writer for the "London Daily Mail". He holds a PhD in biochemistry and a postgraduate diploma in newspaper journalism. He is author and coauthor of several books on Mindfulness including, "Mindfulness: An Eight-Week Plan to Finding Peace in a Frantic World" and "The Art of Breathing." He wrote an article which was critical of empathy entitled,

Empathy Our Most Dangerous and Self-Indulgent Emotion? We dialogue with Danny about his article. He writes;

Empathy is, in some ways, a necessary precursor to compassion. It provides the motivational force to actually relieve another

's distress. But it can also be a 'negative' or even a coercive emotion because it is ethically neutral...

So empathy alone can be quite dangerous (and arguably a little self-indulgent). To my mind, empathy carries with it a slight tinge of entertainment or even voyeurism...

We might learn to deal with them with intelligence and compassion, rather than risk making them worse with empathy...
The Vision of a Culture of Empathy
John Kinyon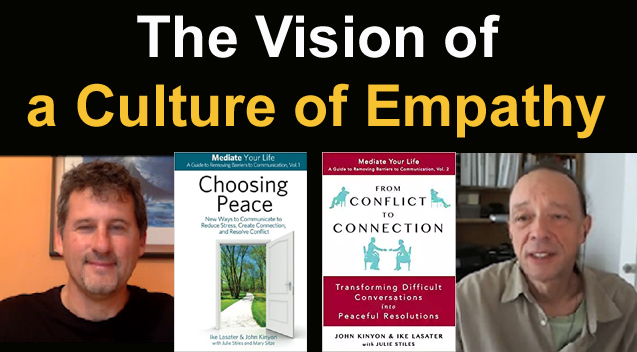 John Kinyon provides training, coaching, and facilitation/mediation around the U.S. and around the world. He is a speaker and author, and has helped people resolve conflicts peacefully and collaboratively for over two decades. John is co-developer and founder of the Mediate Your Life training program, and worked closely for over a decade with Marshall Rosenberg, founder of the international work of Nonviolent Communication.

What does that mean to have a culture of empathy?
I see it as skills, so that empathy is not just an ability to just sort of sense the emotions and that commonality with others, but to actually have the skills in communications to create that sort of empathic understanding and connection. But not just that but also to be able to use that when conflict occurs, to have difficult conversations.
"I see that there are 4 responses to fear,
they are fight, flight, freeze, or empathy."
Bridging Empathy Walls
Arlie Hochschild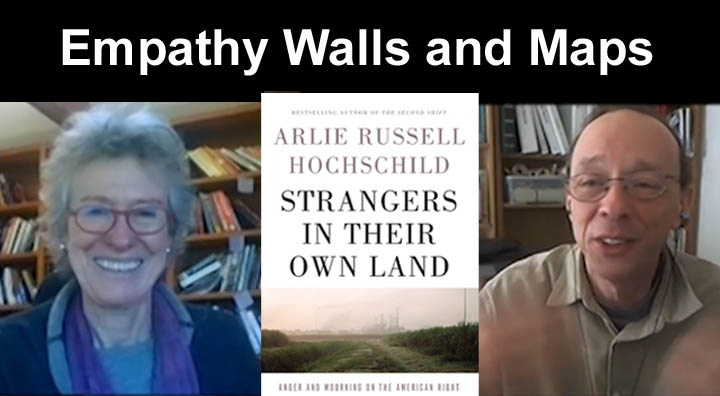 Arlie Hochschild is an American sociologist and academic. She is professor emerita of sociology at the University of California, Berkeley. Hochschild has long focused on the human emotions which underlie moral beliefs, practices, and social life generally. Arlie is author of: Strangers in Their Own Land: Anger and Mourning on the American Right.
Publisher's Weekly notes:
"After evaluating her conclusions and meeting her informants in these pages, it's hard to disagree that empathy is the best solution to stymied political and social discourse."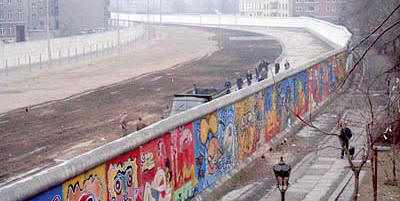 Berlin Wall, by Thierry Noir

"An empathy wall is an obstacle to deep understanding of another person, one that can make us feel indifferent or even hostile to those who hold different beliefs or whose childhood is rooted in different circumstances."

"We, on both sides, wrongly imagine that empathy with the "other" side brings an end to clearheaded analysis when, in truth, it's on the other side of that bridge that the most important analysis can begin."

"We are all the surveyors, drafters, and followers of "empathy maps" which show us whom and whom not to empathize with. Just as political maps can be drawn and redrawn, so too can empathy maps - depending on the interplay of gender, race, class, and nationality."
The Empath's Survival Guide
Judith Orloff & Edwin Rutsch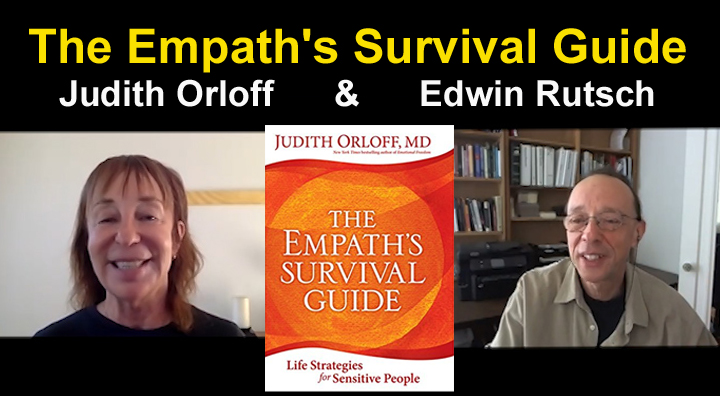 Judith Orloff, MD is an Assistant Clinical Professor of Psychiatry at UCLA, has helped patients find emotional freedom for over 20 years. She synthesizes the pearls of traditional medicine with cutting edge knowledge of intuition, energy, and spirituality to achieve physical and emotional healing. She is the author of
The Empath's Survival Guide
: Life Strategies for Sensitive People.
"Having empathy means our heart goes out
to another person in joy or pain,"
"Energy doesn't lie.
Keep sensing it, trusting it, letting it liberate you."
How Might We Build a More Empathic Culture?
Personal Theology: Unitarian Universalist Church of Berkeley
Edwin Rutsch

Edwin Rutsch is the founding director of the Center for Building a Culture of Empathy and the founder of the International Empathy Trainers Association. The center's website, CultureOfEmpathy.com, is the internet's most comprehensive portal for empathy-related material, including interviews with over 300 experts on the topic.

He is a world traveler, a "seeker," a documentary filmmaker and has worked in the computer technology field. In his travels, he has interacted with a wide variety of cultures and peoples from all walks of life and learned to see and feel the common humanity of all people on the planet.
Empathy Stories: Heart, Connection, & Inspiration
Mary Goyer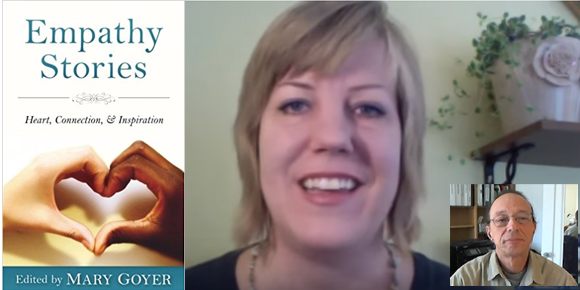 Mary Goyer is Holistic Counselor, Trauma Specialist, & Executive Coach. She supports organizations in cultivating innovative, collaborative, and productive work cultures. Individual coaching and team trainings focus on peak performance, conflict resolution, effective collaborative and feedback skills, and managing personality challenges that impede employee engagement.
She is editor of: Empathy Stories: Heart, Connection, & Inspiration. Empathy Stories is a collection of uplifting stories and anecdotes highlighting empathy-in-action in real conversations. These stories show what's possible when compassion comes first between family, co-workers, and perfect strangers in difficult - even life threatening - interactions. In Empathy Stories: Heart, Connection, & Inspiration, Mary Goyer invites over thirty communication experts to share their most teachable stories showcasing how simple and powerful true empathy is.
"What a difference it makes when a dash of empathy
is added into tense or important conversations
of every magnitude."
The Power of Empathy and Focusing
Ann Weiser Cornell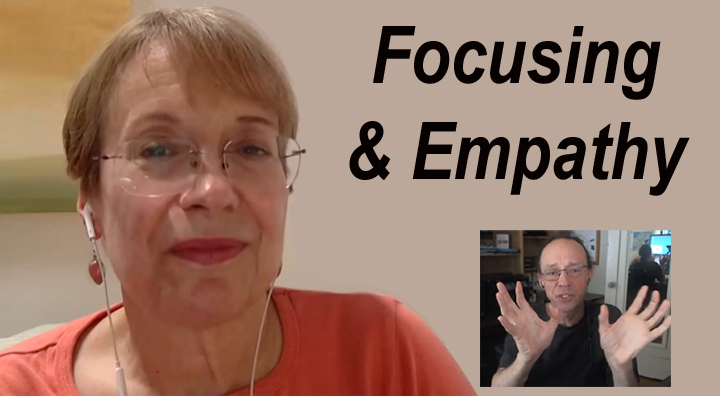 Ann Weiser Cornell is an author, educator, and worldwide authority on Focusing, the self-inquiry psychotherapeutic technique developed by Eugene Gendlin. She has written several definitive books on Focusing, including
Ann has taught Focusing around the world since 1980, and has developed a system and technique called Inner Relationship Focusing. She says,

" I want to say first of all how much I admire your work and how much I believe in what you are doing, because I believe that empathy can move mountains. Empathy can change the world. And it changes situations when we bring empathy in...



So the power of empathy to open a space where something new can happen is enormously impressive and yes, in 44 years now of working with Focusing and listening, I've seen it over and over and over again. Now that is very powerful.
So what I would say is,
empathy releases impasse.

That is true and we see it all over the place when it's possible in groups, in working groups, even people who love each other."
Empathy-Based Family Life with Hand in Hand Parenting
Craig Appel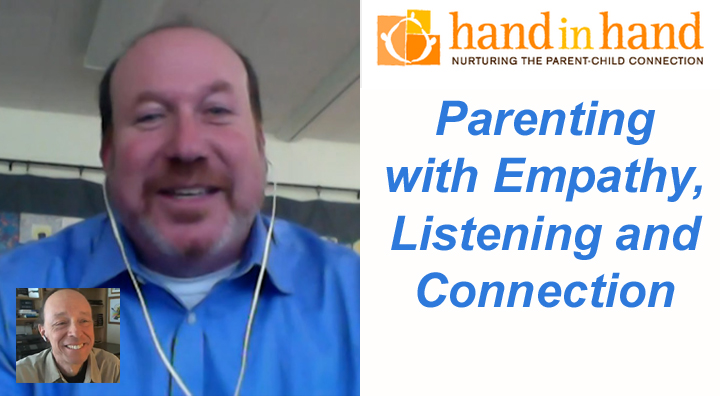 Craig Appel is the Executive Director of Parenting by Connection that uses the Hand in Hand Parenting approach. They say, "Our mission is to provide parents with insights, skills, and support they need to listen to and connect with their children in a way that allows each child to thrive. We do this through easy-to-access support, classes, and literature. We offer vital information to help parents deal with issues from children biting and kids' temper tantrums to learning issues and bullying on playgrounds and in schools."
"I started to see that helping parents and changing the dynamic in the family and how children are raised is a huge leverage point for changing the world. Raising empathic children... has huge butterfly rippling effects in terms of changing the world...

We model the behaviour of listening with empathy, and that is how we help them grow into social and emotionally intelligent children."
Philosophers Empathy Circle
For & Against Empathy
Lori Gruen, Jesse Prinz and Edwin Rutsch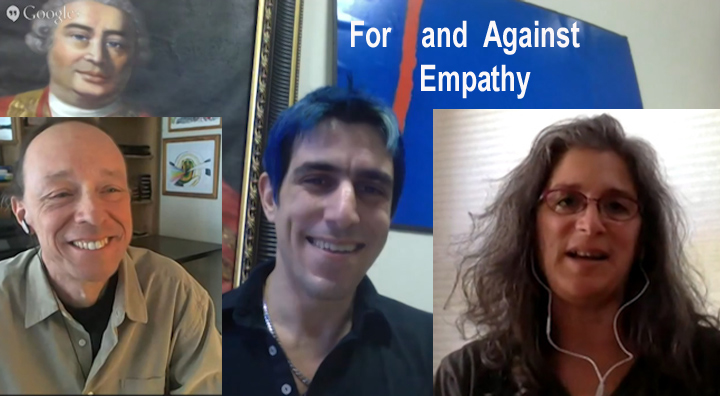 With David Hume looking over his their shoulders, Edwin Rutsch facilitates a new way for philosophers to dialog with each other about their views. Instead of a competitive debate, they try to empathize with each others feelings, needs, points of view and understandings. Edwin facilitates this Philosophers Empathy Circle with Jesse Prinz who is 'against empathy' and Lori Gruen who is 'for empathy'. Check out this fascinating process and discussion. How will it end?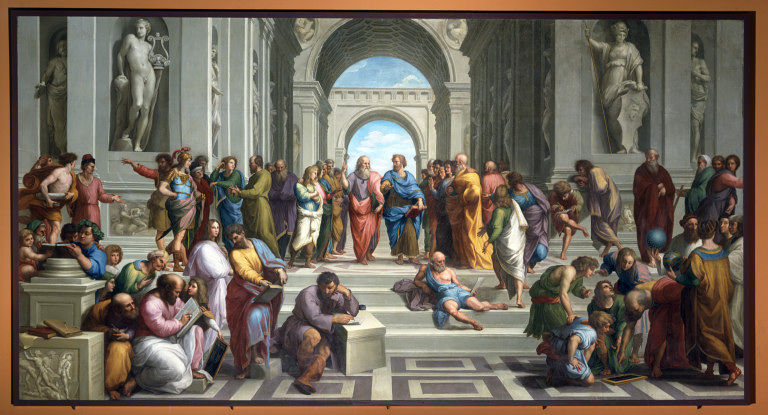 The School of Athens, by Raphael (Wikipedia)
"empathy is prone to biases that render it potentially harmful...
I argue that, instead of empathy, moral judgments involve emotions
such as anger, disgust, guilt, and admiration. These, not empathy,
provide the sentimental foundation for morality."

Lori Gruen is Professor of Philosophy at Wesleyan University and
author of 'Entangled Empathy: From an Ethics of Justice to an Ethics of Empathy'
"Empathy is also something we are taught to "get over" or grow
out of. We learn to quash our caring reactions for others, and
our busy lives and immediate preoccupations provide
excuses for not developing empathy."
"I feel we need to build a global culture of empathy.
It's the only way humanity and the planet can survive."
Nurturing Empathic Family and Parenting
Robin Grille
"Our job is to be the teachers of empathy - We are empathy farmers!"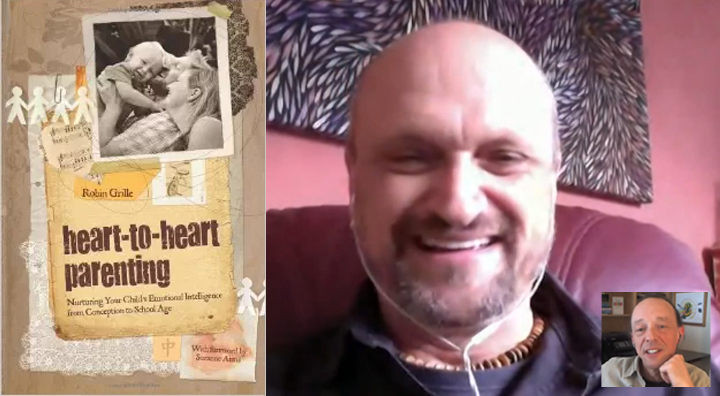 Robin Grille is an "empathy farmer", father, a psychologist in private practice with twenty years' experience, and a parenting educator. His articles on parenting and child development have been widely published in Australia and overseas. Robin's first book: 'Parenting for a Peaceful World' has received international acclaim and led to speaking engagements around Australia, USA and New Zealand. 'Heart to Heart Parenting' is Robin's second book.

A passionate speaker and social change activist, Robin's extensive research has led him to feel that improved attention to babies' and children's emotional needs is the most powerful way to move societies toward sustainability and peace.
"The human brain and heart that are met primarily with empathy
in the critical early years cannot and will not grow to
choose a violent or selfish life."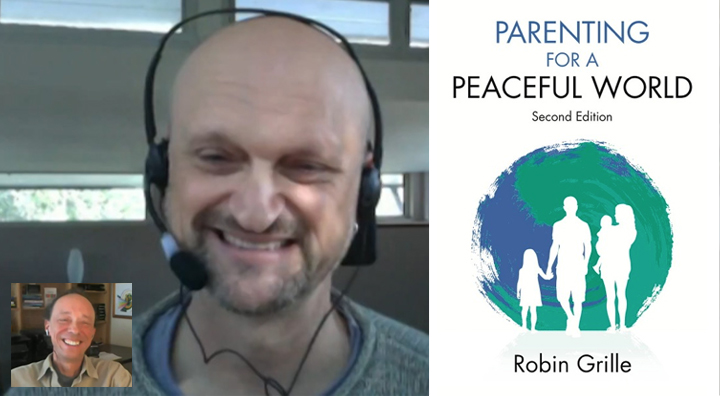 "Building of human empathy is one brick at a time and sometimes
the bricks come down in the building process."
"Nobody can escape life's struggles and traumas, but those who have experienced the empathy that helped them build a strong sense of self in childhood tend to have a strong foundation for emotional resilience and can draw on positive internal resources to help them resolve and rebound."
Entangled Empathy: From an Ethics of Justice to an Ethics of Empathy
Lori Gruen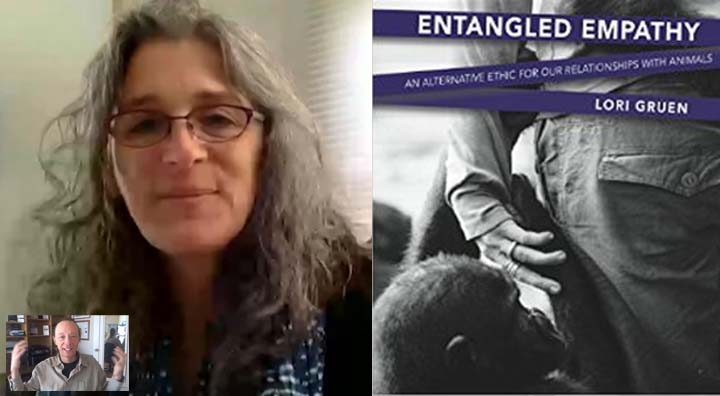 Lori Gruen is Professor of Philosophy, Feminist, Gender, and Sexuality Studies, and Environmental Studies at Wesleyan University where she also coordinates Wesleyan Animal Studies. Her work lies at the intersection of ethical theory and practice, with a particular focus on issues that impact those often overlooked in traditional ethical investigations, e.g. women, people of color, non-human animals. She has published extensively on topics in animal ethics, ecofeminism, and practical ethics more broadly. Lori is author of, Entangled Empathy, An Alternative Ethic for Our Relationships with Animals.

"Empathy is also something we are taught to "get over" or grow
out of. We learn to quash our caring reactions for others, and
our busy lives and immediate preoccupations provide
excuses for not developing empathy."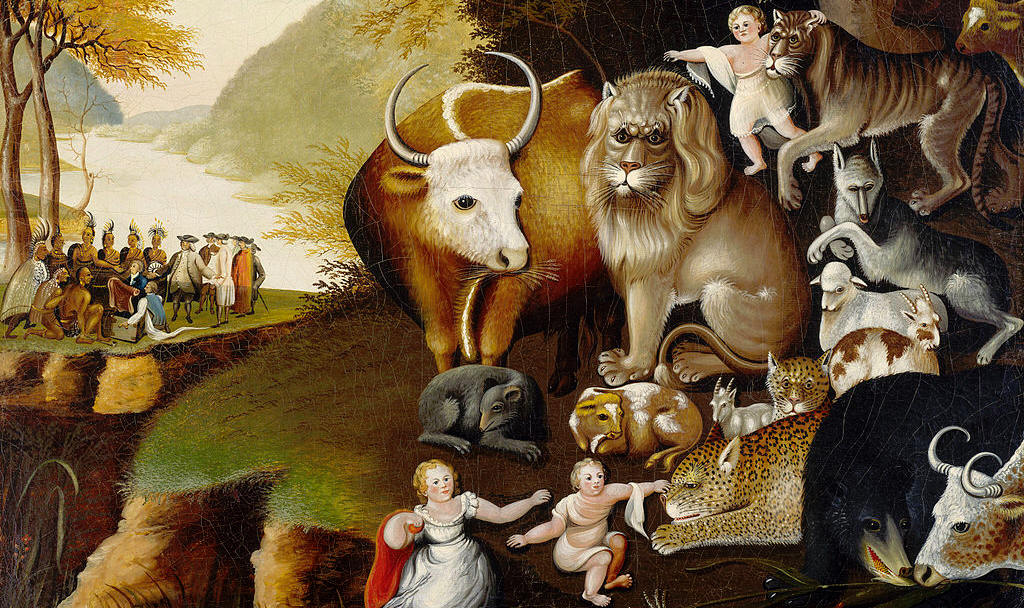 Edward Hicks - The Peaceable Kingdom (Wikipedia)

From the book description, "In Entangled Empathy, scholar and activist Lori Gruen argues that rather than focusing on animal "rights," we ought to work to make our relationships with animals right by empathetically responding to their needs, interests, desires, vulnerabilities, hopes, and unique perspectives. Pointing out that we are already entangled in complex and life-altering relationships with other animals, Gruen guides readers through a new way of thinking about - and practicing - animal ethics."

--------
Twitter Empathy Feed