The Center for Building a Culture of Empathy is the home of the global empathy movement. Our mission is to build a movement for creating a global worldwide culture of empathy and compassion. We do this through a variety of means. First is by community organizing and by collecting, curating and organizing all the material we find on the internet on the topic. A current focus is on forming an International Empathy Trainers Association (IETA), an academic empathy training literature review meta-study, and public Empathy Tent listening deployments.
We are also a portal for resources and information about the values of empathy and compassion. The site contains the largest collection of; articles, conferences, definitions, experts, history, interviews, organizations, videos, science and much more about empathy and compassion. To stay up to date on the latest, sign up for our Facebook: Page, Group and Causes now.

Our current project is to develop our Empathic Design Trainings and Conference on, How Might We Build a Culture of Empathy? Contact us if you'd like to be involved in organizing this event. Let's help fill the empathy deficit by making people more aware of the fundamental importance of empathy and compassion in our lives. This is a collaborative project and we invite you to take part. Send an email if you'd like to get involved with the group or with creating this video, etc.

Blog Roll: Join the Quest
Latest interviews, panel discussions, etc,
We reached the 400+ Empathy Circles, Panels and Interviews milestone for our conference on how to build a culture of empathy and compassion!!! There are over 400 hours of empathy and compassion experts from around the world talking about how we can build a movement to transform the world culture with empathy.
The Vision of a Culture of Empathy
John Kinyon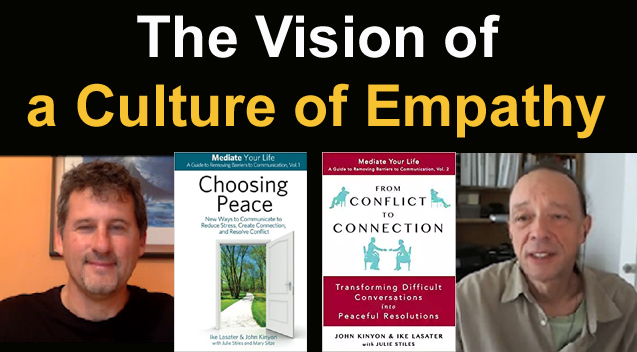 John Kinyon provides training, coaching, and facilitation/mediation around the U.S. and around the world. He is a speaker and author, and has helped people resolve conflicts peacefully and collaboratively for over two decades. John is co-developer and founder of the Mediate Your Life training program, and worked closely for over a decade with Marshall Rosenberg, founder of the international work of Nonviolent Communication.

What does that mean to have a culture of empathy?
I see it as skills, so that empathy is not just an ability to just sort of sense the emotions and that commonality with others, but to actually have the skills in communications to create that sort of empathic understanding and connection. But not just that but also to be able to use that when conflict occurs, to have difficult conversations.
"I see that there are 4 responses to fear,
they are fight, flight, freeze, or empathy."
The Power of Empathy and Focusing
Ann Weiser Cornell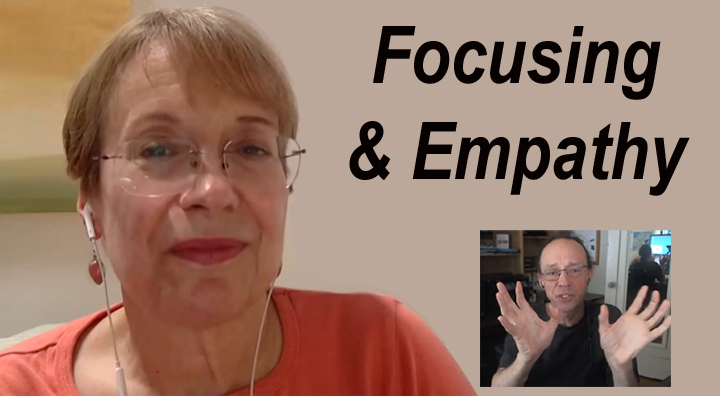 Ann Weiser Cornell is an author, educator, and worldwide authority on Focusing, the self-inquiry psychotherapeutic technique developed by Eugene Gendlin. She has written several definitive books on Focusing, including
Ann has taught Focusing around the world since 1980, and has developed a system and technique called Inner Relationship Focusing. She says,

" I want to say first of all how much I admire your work and how much I believe in what you are doing, because I believe that empathy can move mountains. Empathy can change the world. And it changes situations when we bring empathy in...



So the power of empathy to open a space where something new can happen is enormously impressive and yes, in 44 years now of working with Focusing and listening, I've seen it over and over and over again. Now that is very powerful.
So what I would say is,
empathy releases impasse.

That is true and we see it all over the place when it's possible in groups, in working groups, even people who love each other."
Empathy-Based Family Life with Hand in Hand Parenting
Craig Appel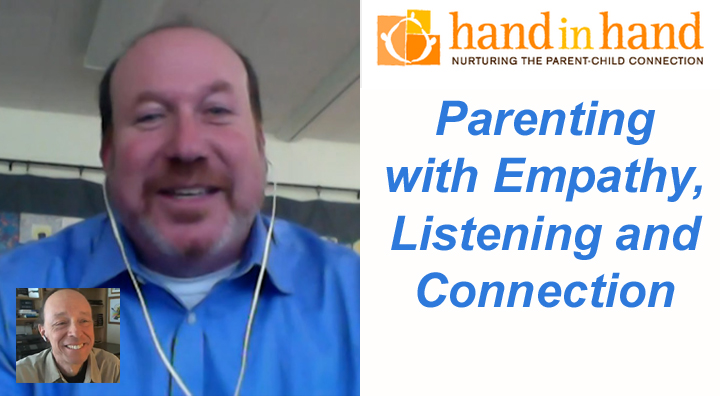 Craig Appel is the Executive Director of Parenting by Connection that uses the Hand in Hand Parenting approach. They say, "Our mission is to provide parents with insights, skills, and support they need to listen to and connect with their children in a way that allows each child to thrive. We do this through easy-to-access support, classes, and literature. We offer vital information to help parents deal with issues from children biting and kids' temper tantrums to learning issues and bullying on playgrounds and in schools."
"I started to see that helping parents and changing the dynamic in the family and how children are raised is a huge leverage point for changing the world. Raising empathic children... has huge butterfly rippling effects in terms of changing the world...

We model the behaviour of listening with empathy, and that is how we help them grow into social and emotionally intelligent children."
Philosophers Empathy Circle
For & Against Empathy
Lori Gruen, Jesse Prinz and Edwin Rutsch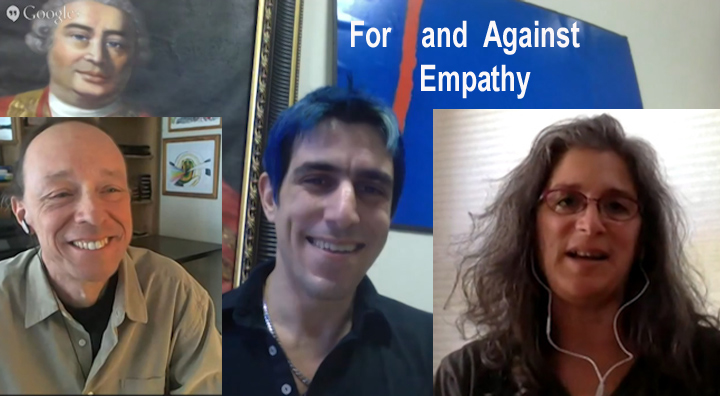 With David Hume looking over his their shoulders, Edwin Rutsch facilitates a new way for philosophers to dialog with each other about their views. Instead of a competitive debate, they try to empathize with each others feelings, needs, points of view and understandings. Edwin facilitates this Philosophers Empathy Circle with Jesse Prinz who is 'against empathy' and Lori Gruen who is 'for empathy'. Check out this fascinating process and discussion. How will it end?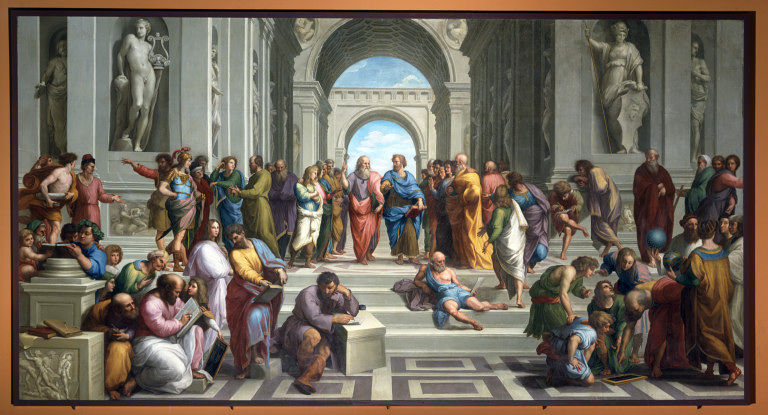 The School of Athens, by Raphael (Wikipedia)
"empathy is prone to biases that render it potentially harmful...
I argue that, instead of empathy, moral judgments involve emotions
such as anger, disgust, guilt, and admiration. These, not empathy,
provide the sentimental foundation for morality."

Lori Gruen is Professor of Philosophy at Wesleyan University and
author of 'Entangled Empathy: From an Ethics of Justice to an Ethics of Empathy'
"Empathy is also something we are taught to "get over" or grow
out of. We learn to quash our caring reactions for others, and
our busy lives and immediate preoccupations provide
excuses for not developing empathy."
"I feel we need to build a global culture of empathy.
It's the only way humanity and the planet can survive."
--------
Twitter Empathy Feed