Do You Support Building a Culture of Empathy?
The Center for Building a Culture of Empathy is a leader of the global empathy movement. Our mission is to build a movement for creating a global worldwide culture of empathy and care. We do this through a variety of means. First is by community organizing and by collecting, curating and organizing all the material we find on the internet on the topic. A current focus is on; designing a free online empathy training course, building an academic empathy training literature wiki, and holding public activist Empathy Tent Pop-ups..
Blog Roll: Join the Quest
Latest interviews, panel discussions, etc,
We reached the 400+ Empathy Circles, Panels and Interviews milestone!!! There are over 400 hours of experts from around the world talking about how we might build a culture of empathy.
Political Left and Right Empathy Circle
Topic: How Might We Bridge the Political Divides?
View On Youtube - On Facebook - October 12, 2018


Hosted by: Empathy Tent
building a culture of empathy
As part of the Empathy Tent and National Week of Conversations Project we hold a Democracy Circle (Empathy Circle) on How might we bridge the Political Divides in the USA? We invite participants from all points on the political spectrum to take part.

For National Week of Conversation Project
Mending the frayed fabric of America by bridging divides one conversation at a time. Americans of all stripes are stepping up to address the growing cultural crisis of hyper-polarization and animosity across divides. Together we can turn the tide of rising rancor and deepening division with widespread conversations.
Is Empathy Our Most Dangerous and
Self-Indulgent Emotion?
Danny Penman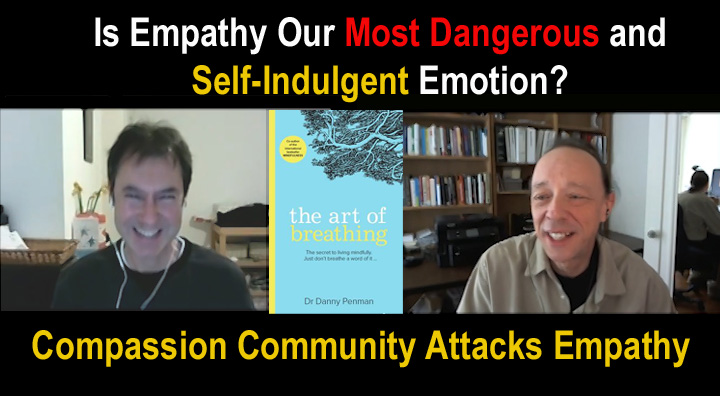 Danny Penman is a journalist and author. He has worked for the BBC and "The Independent" and is a feature and comment writer for the "London Daily Mail". He holds a PhD in biochemistry and a postgraduate diploma in newspaper journalism. He is author and coauthor of several books on Mindfulness including, "Mindfulness: An Eight-Week Plan to Finding Peace in a Frantic World" and "The Art of Breathing." He wrote an article which was critical of empathy entitled,

Empathy Our Most Dangerous and Self-Indulgent Emotion? We dialogue with Danny about his article. He writes;

Empathy is, in some ways, a necessary precursor to compassion. It provides the motivational force to actually relieve another

's distress. But it can also be a 'negative' or even a coercive emotion because it is ethically neutral...

So empathy alone can be quite dangerous (and arguably a little self-indulgent). To my mind, empathy carries with it a slight tinge of entertainment or even voyeurism...

We might learn to deal with them with intelligence and compassion, rather than risk making them worse with empathy...
--------
Twitter Empathy Feed