Do You Support Building a Culture of Empathy?
The Center for Building a Culture of Empathy is a leader of the global empathy movement. Our mission is to build a movement for creating a global worldwide culture of empathy and care. We do this through a variety of means. First is by community organizing and by collecting, curating and organizing all the material we find on the internet on the topic. A current focus is on; bridging social and political divides, designing a free online empathy training course, building an academic empathy training literature wiki, and holding public activist Empathy Tent Pop-ups..
Blog Roll: Join the Quest
Latest interviews, panel discussions, etc,
We reached the 400+ Empathy Circles, Panels and Interviews milestone!!! There are over 400 hours of experts from around the world talking about how we might build a culture of empathy.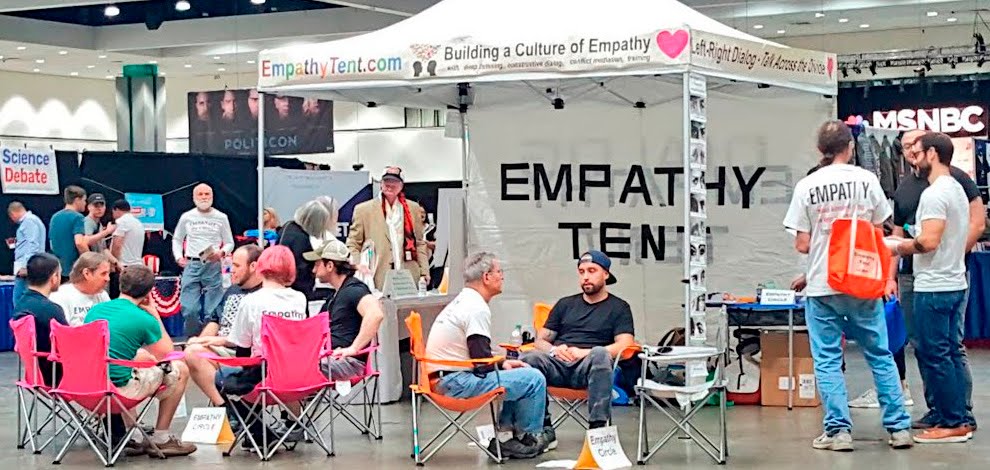 An Empathy Circle is a structured dialogue process.
The process supports meaningful and constructive dialogue. The basic process can be fairly easily learned in about 15 minutes. It increases mutual understanding and connection by ensuring that each person feels fully heard to their satisfaction.
Helen Riess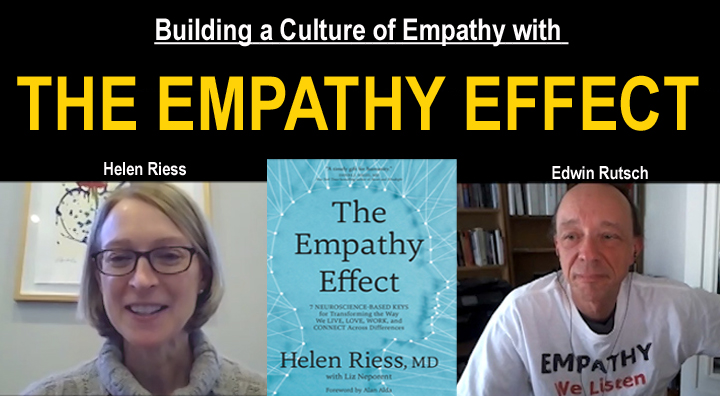 Helen Riess, M.D. is Associate Clinical Professor of Psychiatry, Harvard Medical School and Director of the Empathy and Relational Science Program at Massachusetts General Hospital.

The mission of the Program is to enhance empathy and interpersonal relationships in healthcare. She is also Chief Technology Officer of Empathetics

which offers scientifically based empathy training proven to optimize interpersonal engagement.


Helen is author of The Empathy Effect: Seven Neuroscience-Based Keys for Transforming the Way We Live, Love, Work, and Connect Across Differences. "In this book, I hope to demonstrate how showing greater empathy toward your fellow human beings can enhance your own life and society as a whole. Through empathy, parents see their children for who they are, and help them realize their potential. Teachers connect with students in ways that help learners discover and expand there talents. Businesses are more likely to thrive because they invest in the people working for them. Politicians start to represent the needs of their constituencies.


The arts have always been a connector for people of all walks of life to learn more about one another, find common ground, inspire curiosity rather than judgment, and provide shared mind empathic experiences that remind us that all people are part of the fabric of humanity.

"
Experiences with training and facilitating restorative circles and conflict resolution.
L'aura Joy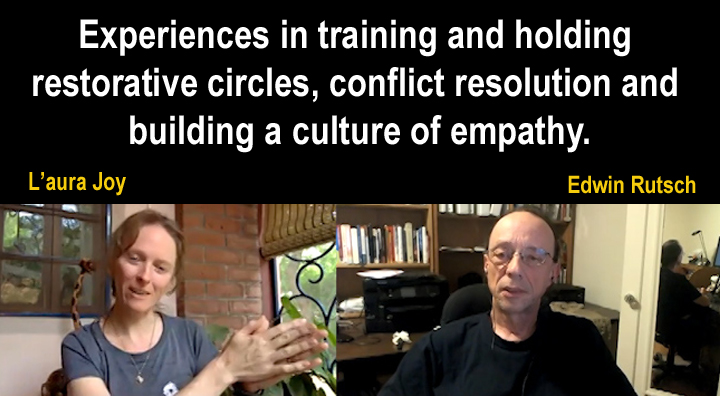 L'aura Joy is a Certified Trainer in Nonviolent Communication, and since 2007 she has been working in the fields of communication, conflict resolution, peace and justice, healing, and decision-making and leadership.

Having grown up in Auroville, an international intentional community in Tamil Nadu, India, L'aura is passionate about exploring how we can live our lives in empowered and co-creative ways. Nonviolent Communication (NVC) offers such a clear, yet deeply powerful and transformative framework within which to explore both our inner realities as well as outer relationships. L'aura is also trained in Restorative Circles and Sociocracy, and she applies these approaches to her work with justice and governance in Auroville.
Contemporary Perspectives on Empathy,
Compassion and Self-Compassion
Chad Woodruff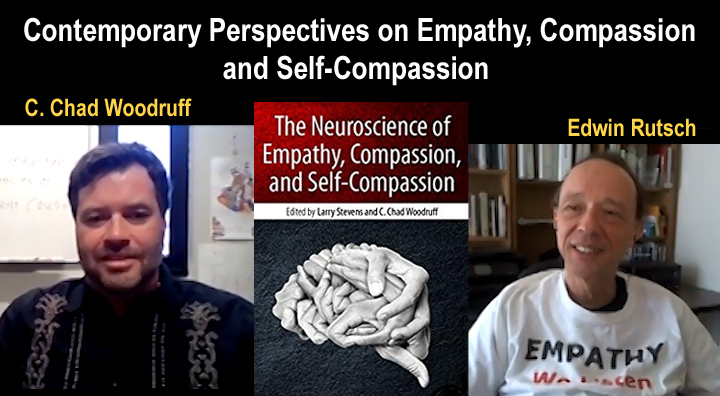 Chad Woodruff is a Cognitive Neuroscientist who uses neuroimaging techniques to investigate social and cognitive processes. Chad has had extensive experience as a graduate student, post-doctoral fellow, and an assistant professor with neuroimaging and has mentored undergraduate students in the use of these techniques for 10 years.

He is co-editor of, The Neuroscience of Empathy, Compassion, and Self-Compassion. The book provides contemporary perspectives on the three related domains of empathy, compassion and self-compassion.
It informs current research, stimulates further research endeavors, and encourages continued and creative philosophical and scientific inquiry into the critical societal constructs of empathy and compassion.
Political Left and Right Empathy Circle
Topic: How Might We Bridge the Political Divides?
View On Youtube - On Facebook - October 12, 2018


Hosted by: Empathy Tent
building a culture of empathy
As part of the Empathy Tent and National Week of Conversations Project we hold a Democracy Circle (Empathy Circle) on How might we bridge the Political Divides in the USA? We invite participants from all points on the political spectrum to take part. Take Part in Left-Right Empathy Circle.

For National Week of Conversation Project
Mending the frayed fabric of America by bridging divides one conversation at a time. Americans of all stripes are stepping up to address the growing cultural crisis of hyper-polarization and animosity across divides. Together we can turn the tide of rising rancor and deepening division with widespread conversations.
Is Empathy Our Most Dangerous and
Self-Indulgent Emotion?
Danny Penman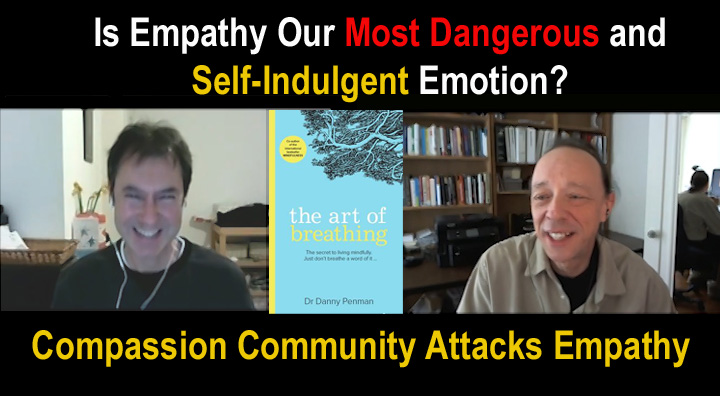 Danny Penman is a journalist and author. He has worked for the BBC and "The Independent" and is a feature and comment writer for the "London Daily Mail". He holds a PhD in biochemistry and a postgraduate diploma in newspaper journalism. He is author and coauthor of several books on Mindfulness including, "Mindfulness: An Eight-Week Plan to Finding Peace in a Frantic World" and "The Art of Breathing." He wrote an article which was critical of empathy entitled,

Empathy Our Most Dangerous and Self-Indulgent Emotion? We dialogue with Danny about his article. He writes;

Empathy is, in some ways, a necessary precursor to compassion. It provides the motivational force to actually relieve another

's distress. But it can also be a 'negative' or even a coercive emotion because it is ethically neutral...

So empathy alone can be quite dangerous (and arguably a little self-indulgent). To my mind, empathy carries with it a slight tinge of entertainment or even voyeurism...

We might learn to deal with them with intelligence and compassion, rather than risk making them worse with empathy...
--------
Twitter Empathy Feed