Do You Support Building a Culture of Empathy?
The Center for Building a Culture of Empathy is a leader of the global empathy movement. Our mission is to build a movement for creating a global worldwide culture of empathy and care. We do this through a variety of means. First is by community organizing and by collecting, curating and organizing all the material we find on the internet on the topic. A current focus is on; bridging social and political divides, designing a free online empathy training course, building an academic empathy training literature wiki, and holding public activist Empathy Tent Pop-ups.. Also learn more about Empathy Circles at EmpathyCircle.com

Blog Roll: Join the Quest
Latest interviews, panel discussions, etc,
We reached the 400+ Empathy Circles, Panels and Interviews milestone!!! There are over 400 hours of experts from around the world talking about how we might build a culture of empathy.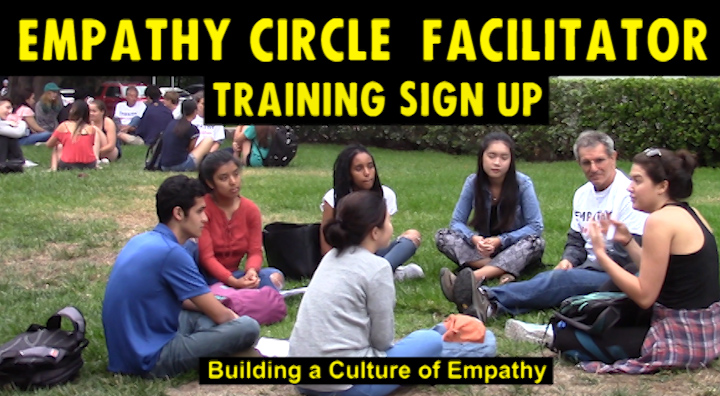 Learn to facilitate an Empathy Circle. Join this event if you would like to take part in the training. This is a multi session training, 2.5 hours per session.


We are forming multiple cohorts of

participants. There is limited space in each cohort, and all participants must check with trainers to be accepted into the training. The basics of facilitating an Empathy Circle are fairly easy, however, it is a life long learning to deepen the skills and build a more empathic way of being and culture.



The practice is the most effective gateway practice for learning, practicing and
deepening listening skills and mindset. More at EmpathyCircle.com
> What is an Empathy Circle?
> Why Participate?
> How to Empathy Circle?
> Empathy Circle Facilitator Training
The Role of Empathy in Democracy
Michael Morrell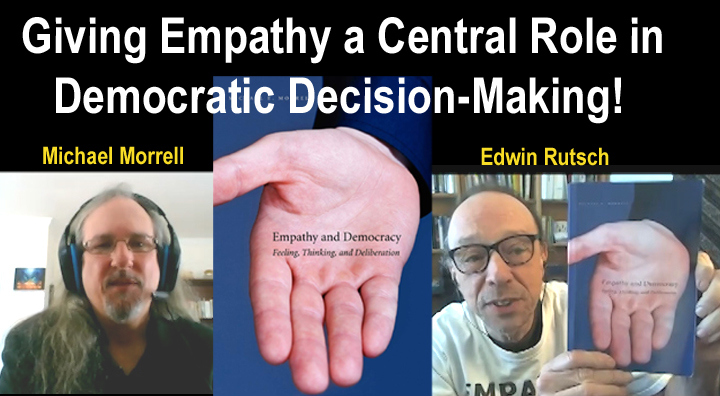 View Video On Facebook or On Youtube

Michael E. Morrell is Associate Professor, University of Connecticut. His main research interests examine the connections between empathy and democracy, the effects of direct democratic participation on citizens, and the role of political efficacy in democracy, public opinion, and political behavior.
Michael is also continuing to explore his theory of the role of empathy in democracy as it relates to topics ranging from President Barack Obama to agonistic democracy. Michael is author of Empathy and Democracy: Feeling, Thinking, and Deliberation.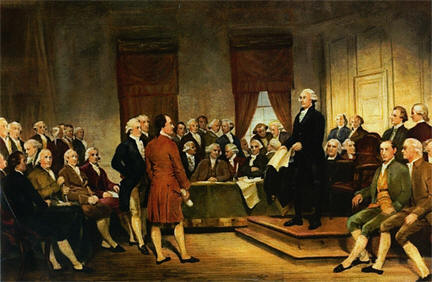 Signing of the U.S.Constitution - Junius Brutus Stearns (Wikipedia)
"Today's democracies are still struggling to fulfill
democracy's promise of equal consideration,
and the claim I will defend is that they can
do so most fully by giving empathy a
central role in democratic
decision-making. "
Bridging Racial Divides with Radical Empathy
Terri Givens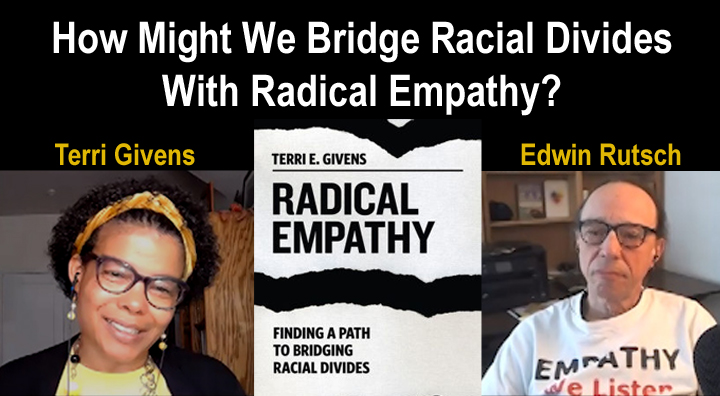 View Video On Facebook or On Youtube

Terri Givens is the CEO and Founder of Brighter Higher Ed. She is also a political scientist with more than 30 years of success in higher education, politics, international affairs, and non-profits. Terri is author of, Radical Empathy: Finding a Path to Bridging Racial Divides.


"We live in a time when practicing empathy, taking action, and creating change and building trust are more important than ever."
"Radical Empathy is the core idea that runs through this book. It requires moving beyond walking in someone else's shoes to taking action that will not only help that person but will also improve our society.
Practicing radical empathy can provide real change in peoples lives, and I empathize the word practicing - I focus on the fact that having empathy is different from practicing empathy."
Empathy is Vital for the Creative Process to Thrive
Helen Demetriou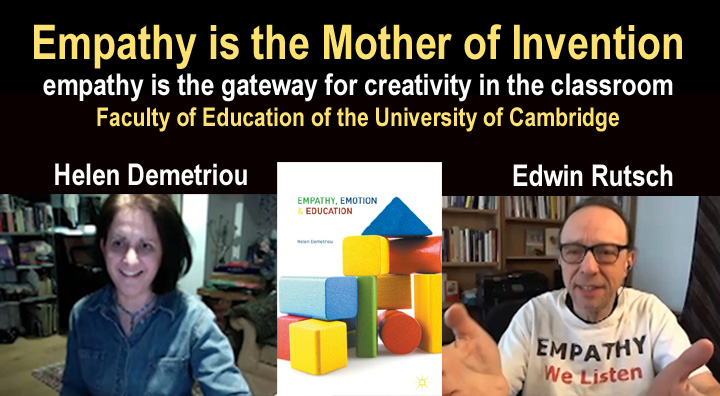 View Video ON FACEBOOK or ON YOUTUBE

Helen Demetriou obtained her PhD in developmental psychology from the Institute of Psychiatry, University of London in 1998, where she also worked at the Centre for Social, Genetic and Developmental Research. Since then, she has worked at the Faculty of Education of the University of Cambridge as Research and Teaching Associate. Helen is the author of, Empathy, Emotion and Education. She has performed many studies about empathy, creativity and education, including the recent study, Empathy is the mother of invention: emotion and cognition for creativity in the classroom.
"we argue that a very important aspect that influences invention and creativity is the empathy factor... Such exploration and immersion through perceptual openness, role-taking and flexible ego-control characteristic of empathy correlate and lead to creativity and thence to constructive evaluative reflection:
explore, create, evaluate.

Empathy and open-mindedness in the real world: all these form the vital ingredients for the creative process to thrive and for encouraging the designers of tomorrow."
Current State of the Empathy & Compassion Movements
and where do we go from here?
James Doty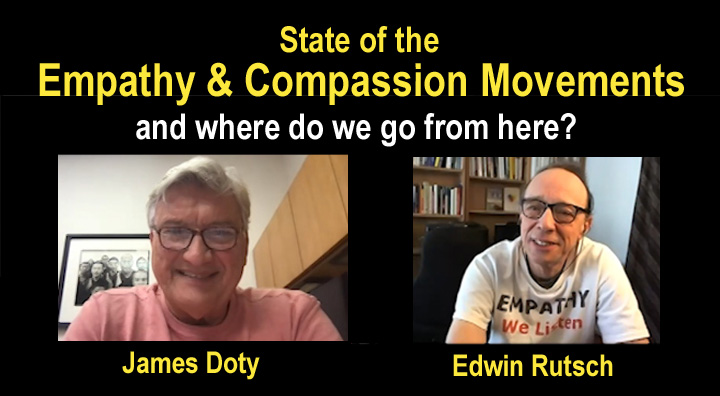 (View Video ON FACEBOOK or ON YOUTUBE)
James Doty is Stanford Clinical Professor of Neurosurgery and founding director of the Center for the Study of Compassion and Altruism Research and Education (CCARE). CCARE is striving to create a community of scholars and researchers, including neuroscientists, psychologists, educators and philosophical and contemplative thinkers around the study of compassion.

Edwin Rutsch is director of the Center for Building a Culture of Empathy. The center has many projects to help raise the level of empathy in our global society and culture.

A discussion about the current state of the empathy and compassion movements and where they might be headed. We discuss the Empathy Circle process as a way to hold constructive dialogues. CCARE becomes a cosponsor of the project to hold Empathy Circles between Congressional Representatives from the
political left, right and center.
Qualified Empathy
A key element for an empowerment professional
Eija Raatikainen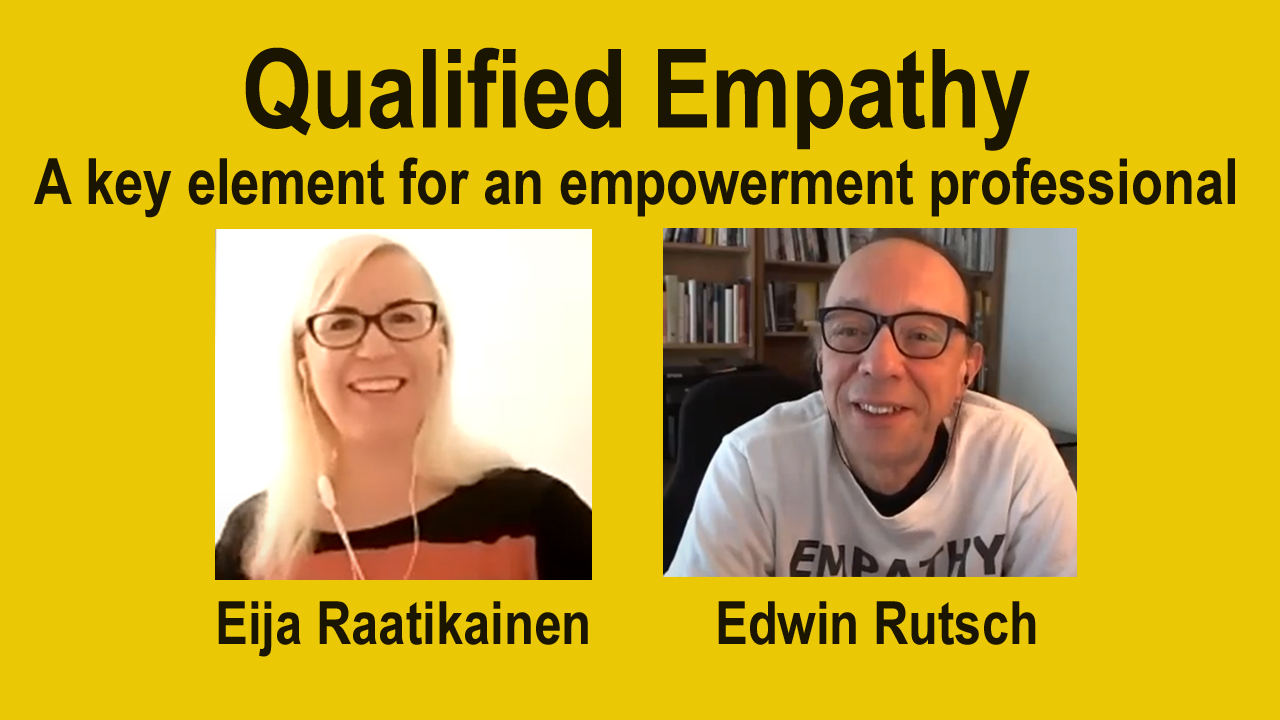 Eija Raatikainen (PhD / University of Helsinki) is a Principal lecturer in University of Applied Sciences of Metropolia in Social Service programme. Her academic focus is "Trust", as phenomena in different field, as like in social work and educational practice. Eija is coauthor of the study, Qualified Empathy: A key element for an empowerment professional.

"In this paper, we will describe how teaching and learning to use empathy has been a part of studies for Social Services students. We argue that professional empathy can be approached in multisensory
ways when studying empathy.
In our case, we have used traditional learning and teaching methods alongside creative methods such as visual arts and drama as ways to learn
and teach empathy."
Activating Social Empathy in Schools
12 week empathy program for secondary schools
Patrick Dolan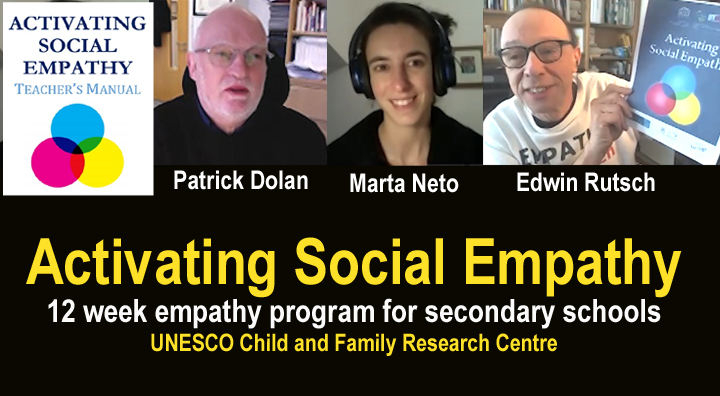 Patrick Dolan is a professor and director of the UNESCO Child and Family Research Centre at the National University of Ireland Galway. Pat is co-developing and testing the Activating Social Empathy program. Social Empathy Education aims to develop and mainstream Social Empathy Education program in schools and in teacher education.

The program is structured around 4 key learning principles:
1. UNDERSTANDING EMPATHY: Students learn what empathy is and why it is important.

2. PRACTICING EMPATHY: Students practice and strengthen their empathy skills.

3. OVERCOMING THE BARRIERS: Students discuss the barriers to empathy and identify ways they can overcome these obstacles.

4. PUTTING EMPATHY INTO ACTION: Students take part in a social action project of their own choosing.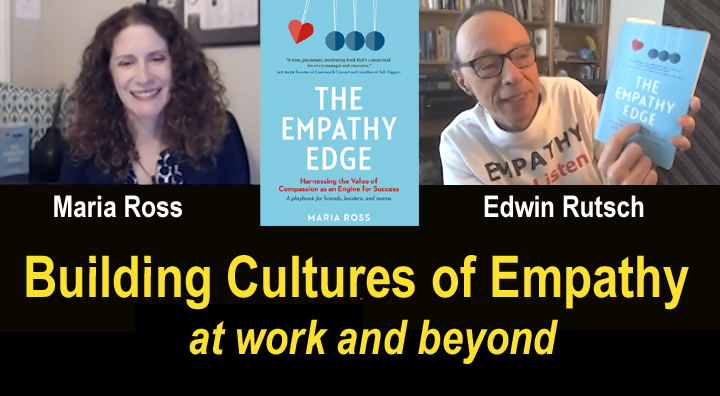 Maria Ross is the founder of Red Slice, a consultancy that advises entrepreneurs, startups, and fast-growth businesses on how to build an irresistible brand story and authentically connect with customers. She is a keynote speaker who regularly speaks to audiences on marketing and building an engaging brand story that drives growth and impact. Maria understands the power of empathy at both a brand and personal level. She is author of The Empathy Edge: Harnessing the Value of Compassion as an Engine for Success.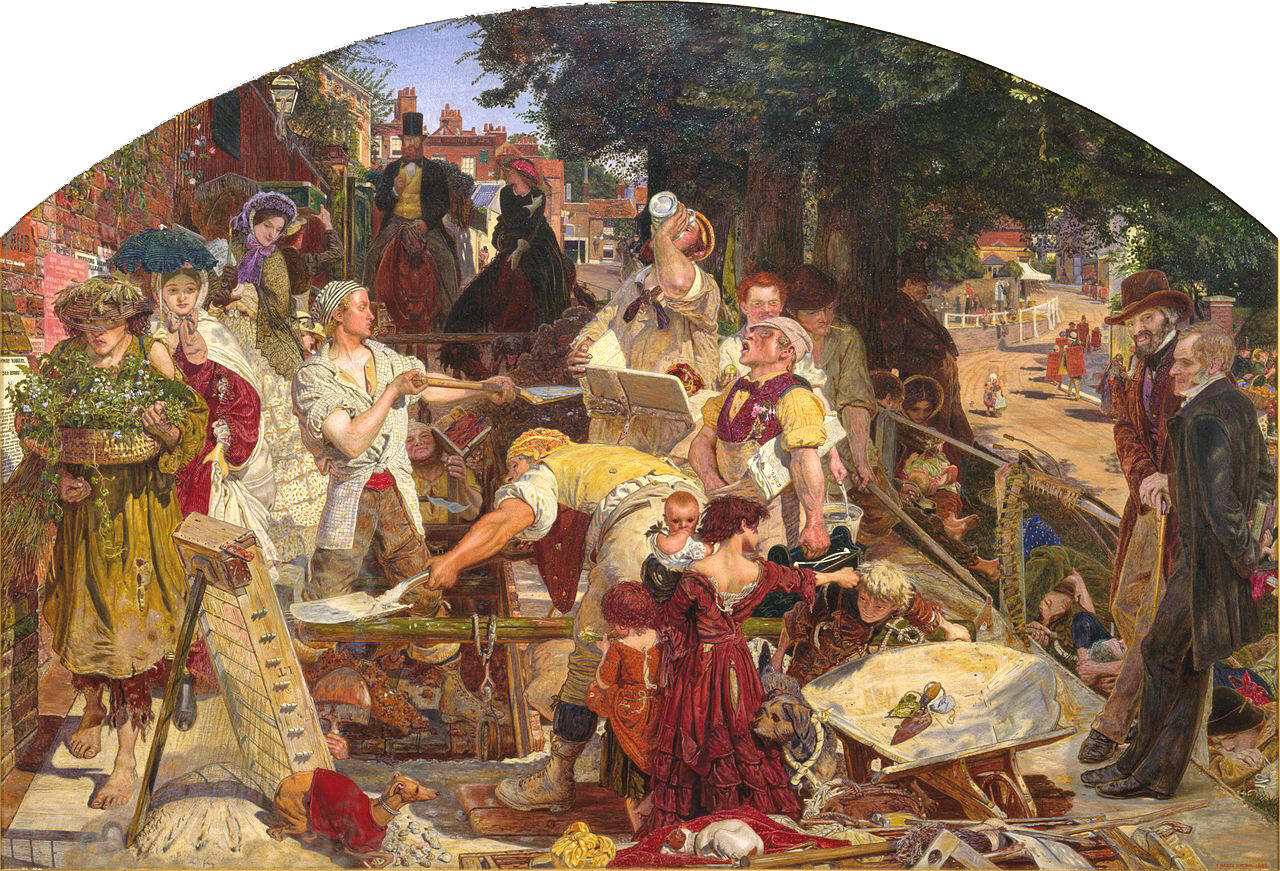 Ford Madox Brown, Work, Wikipedia

"When you encourage empathy among your workforce and parlay that mindset outward to customers, your company will thrive. Why? Because empathetic businesses better understand their customers and can anticipate their wants and needs - delivering solutions to the market that customers crave."
Regenerative Cultures and Cultures of Empathy
Daniel Christian Wahl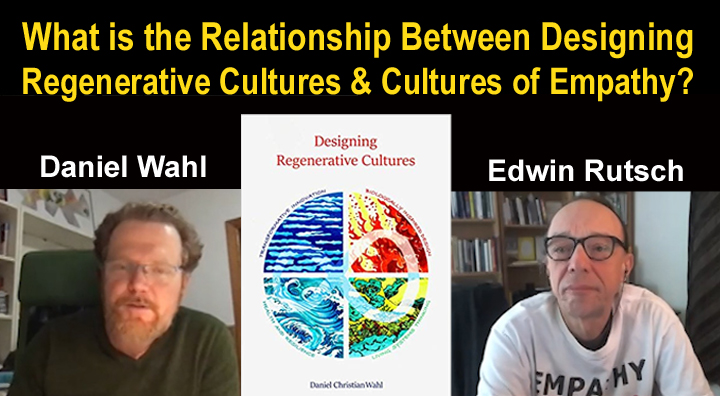 Daniel Christian Wahl is author of Designing Regenerative Cultures. In his book, Daniel explores ways of relating to the many converging crises and opportunities faced by humanity at a local, regional and global scale. He invites us to step back from our tendency to want quick-fix solutions.

In this dialogue, we talk about the relationship between designing Regenerative Cultures and Cultures of Empathy. We see how they are closely interrelated. Instead of othering and separating from each other, we need to come together with mutual empathy, presence, connection and care to heal the planet and co-design Regenerative and Empathic Cultures.
Daniel writes, "Spreading the story of why we care about life and the health of the whole and sharing the narrative of interbeing is culturally creative meta-design. By sharing the new and ancient story of interbeing we facilitate the emergence of diverse regenerative cultures scale-linked by empathy and cooperation."
Responses to
"Misuse of Empathy Is Devaluing Pain"
Matthew Delaney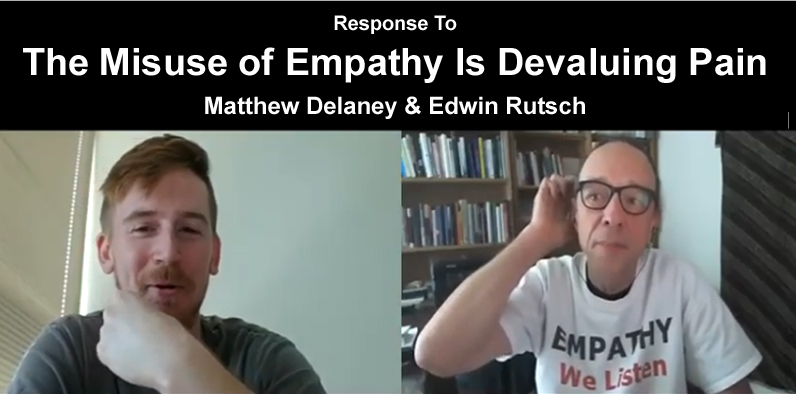 Matthew Delaney is an editor and reporter for a local newspaper in the Washington, D.C. metro area. He wrote an article in the magazine Quillette, titled The Misuse of Empathy Is Devaluing Pain. He had a wide range of criticism of empathy, saying it is; divisive, self-centered, and unhelpful. It makes people take sides in a conflict, supports cancel culture, it leads to tribalism, and temps us into immediacy. Matt feels hopeless that society will change for the better or overcome it's polarization and that it will have to hit a rock bottom before it can change.

Edwin listens to and empathizes with Matt and shows how he is misunderstanding the nature of empathy. He explains how the qualities he is criticizing are not empathy, but the blocks to empathy.
Effective Empathic Listening
Douglas E. Noll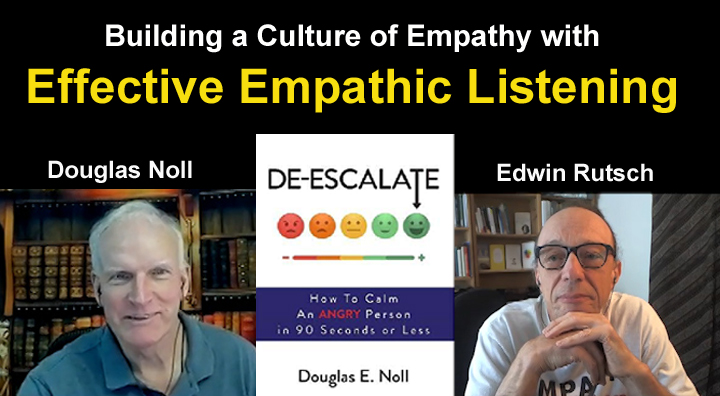 Doug Noll has been in professional practice for over 40 years. For the past 20 years, he has dedicated himself to understanding the emotional and biological origins of human conflict. With this knowledge, he has developed a set of empathic listening skills that "work the first time, every time". He is author of, De-Escalate: How to Calm an Angry Person in 90 Seconds or Less Paperback.
Doug says: "Empathic leadership development is essential for teachers, educators, administrators, and school board members. Without the ability to connect with students and parents quickly and effectively, conflict escalates. Empathic leadership is a skill comprised of three elements:
The ability to ignore the words, focus on emotions, and reflect those emotions back

The ability to problem-solve specific issues once calm is restored

The ability to create a learning environment that is emotionally safe
This skills must be learned, practiced and honed to be mastered. Research shows that learning empathic leadership skills will not come from a one-off workshop."

Conference: Lawyers for Empathy
God and Satan in Mediation
Restorative Empathy Circle

God and Satan take part in this Restorative Empathy Circle Mediation to work out their differences. For millennium God and Satan have been in conflict with each other. Edwin Rutsch invites them to take part in a Restorative Empathy Circle to use mutual empathic listening to talk out their differences. The opening issue they talk about is that Satan left heaven.

An Empathy Circle is a structured dialogue process based on mutual active listening. The process increases constructive dialogue and mutual understanding by ensuring that each person feels fully heard to their satisfaction. It can be used for conflict mediation.
Transforming Law as a Healing Profession
Pauline H. Tesler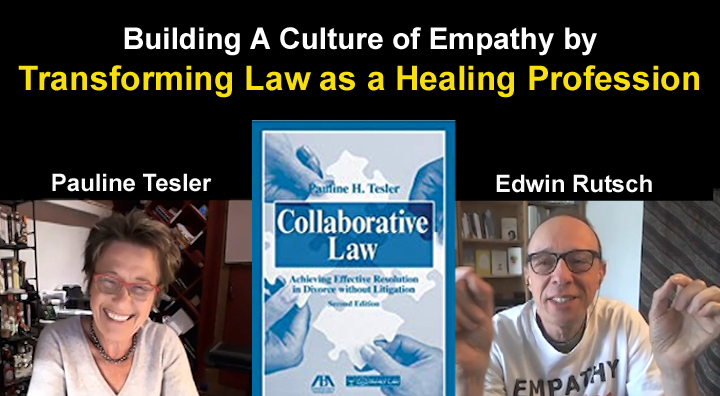 Pauline Tesler is a a pioneer in interdisciplinary collaborative legal practice. She is founding director of the Integrative Law Institute, author of Collaborative Law: Achieving Effective Resolution Without Litigation. Her workshops and writings catalyzed an international movement called "Collaborative Law" that is changing the face of family law in 28 nations. In this dialogue we talk about the role of empathy in transforming law into a healing and collaborative profession.

"We believe that law can be a healing profession, and that lawyers can be peacemakers. At the Integrative Law Institute, our mission is to bring insights and tools to lawyers so that they have what they need to return the practice of law to this original purpose: helping people reach resolution that heals the conflict."

Conference: Lawyers for Empathy
The War on Empathy
John Wood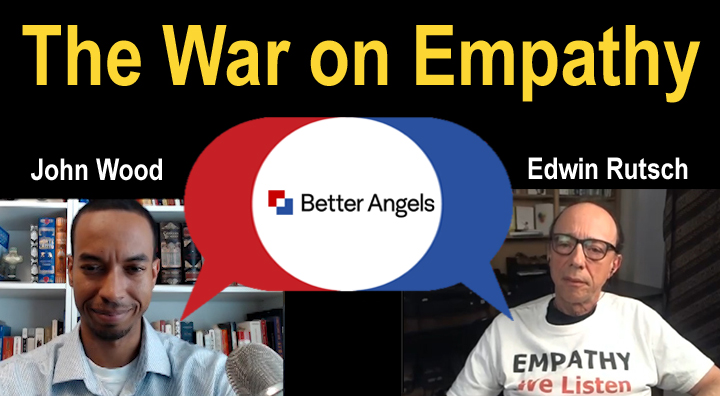 John Wood Jr. is a national leader for Better Angels, a former nominee for congress, former Vice-Chairman of the Republican Party of Los Angeles County, and author of the upcoming book Transcending Politics: Perspectives for a Divided Nation.
He is Director of Media Development and spokesman at Better Angels. Better Angels is a national, grassroots, nonprofit organization dedicated to project of creating greater understanding and collaboration in our civic culture between Democratic and Republican voters. I am responsible for the development of original written, video and audio content for Better Angels website and social channels, crafting public messaging, and public speaking.
John wrote an article called The War on Empathy. In this dialogue we discuss the article.

"There is something subversive in empathy that makes it threatening to certain social status-quos. Most political coalitions are based, to some degree, on the dehumanization of their opponents.

Some find empathy to be antithetical to the pursuit of justice. To others, empathy is the virtue of the morally irresolute. In a time when some politicians relentlessly insult their opponents on Twitter while others encourage their supporters to harass opponents in public places, empathy may not always strike everyone as a self-evident good. It is good to understand why empathy seems to frustrate, disappoint, or even offend its critics, precisely because it is a virtue worth defending."
Does Empathy have Dark Sides or is it all Light?
Fritz Breithaupt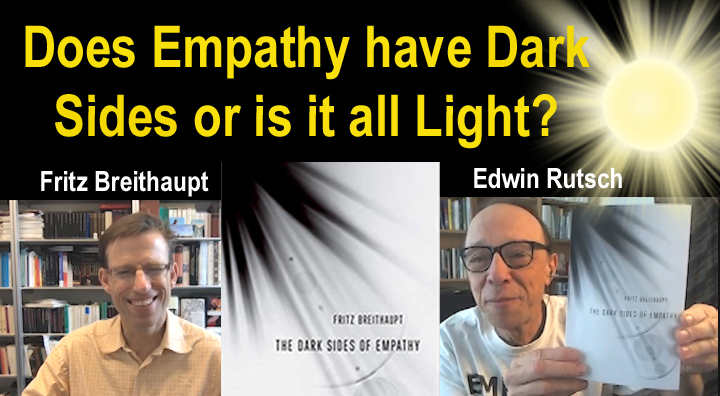 Fritz Breithaupt is Provost Professor at Indiana University Bloomington. He founded and directs the Experimental Humanities Laboratory at IU. He is author of the book, The Dark Sides of Empathy.

Fritz argues that some of the dark sides of empathy include; self-loss, side taking, identifying with the helper, sadistic empathy and vampiristic empathy. Edwin argues that empathy is light and the so-called dark sides are not empathy, but blocks to empathy.

Fritz says (and Edwin agrees) that a benefit of empathy is;
"Empathy intensifies our experiences and widens the scope of our perceptions. We feel more than we could with-out it, and it enables us to participate more fully in the lives of others, even fictional characters."
and
"Empathy is, of course, a critical factor in healthy long-term relationships, too, making it easier for us to understand our family members or romantic partners and anticipate their emotional needs and reactions. Love without empathy would be a sad thing for most people."
Building Social and Cultural Empathy
Elizabeth Segal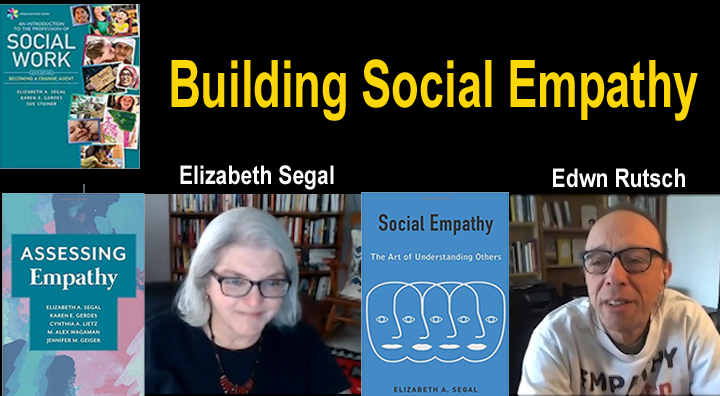 Elizabeth A. Segal is a social policy analyst with a background in professional social work. She currently holds the position of Professor in the School of Social Work at Arizona State University. Dr. Segal's current research is on social empathy, the application of empathic insights into creating better social welfare policies and programs. She has begun work on creating a compendium of methods to teach social empathy and an instrument to measure people's inclination towards social empathy.
Elizabeth is author of many books, including;
* Social Empathy: The Art of Understanding Others
* Assessing Empathy.
* An Introduction to the Profession of Social Work.
Our ability to understand others and help others understand us is essential to our individual and collective well-being. Yet there are many barriers that keep us from walking in the shoes of others: fear, skepticism, and power structures that separate us from those outside our narrow groups.
To progress in a multicultural world and ensure our common good, we need to overcome these obstacles. Our best hope can be found
in the skill of empathy.
Best Ways to Learn, Practice and Deepen Empathy
Michele Borba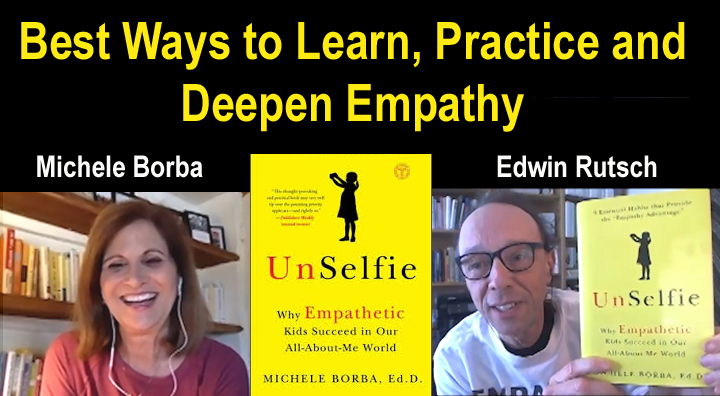 Michele Borba, is an internationally renowned educational psychologist and an expert in parenting, bullying, and character development. She is an award-winning author of twenty-two books translated into fourteen languages. One of the foremost authorities on childhood development in the country, she is a regular NBC contributor who appears regularly on Today and has been featured as an expert on Dateline, The View, Dr. Phil, NBC Nightly News, Fox & Friends, Dr. Oz, and The Early Show, among many others. She is author of, UnSelfie: Why Empathetic Kids Succeed in Our All-About-Me World.
"Empathy is the root of humanity and the foundation that helps our children become good, caring people. But the Empathy Advantage also gives them a huge edge at happiness and success."
Empathy:
Bridging The Divide Of Polarizing
Conversations with Edwin Rutsch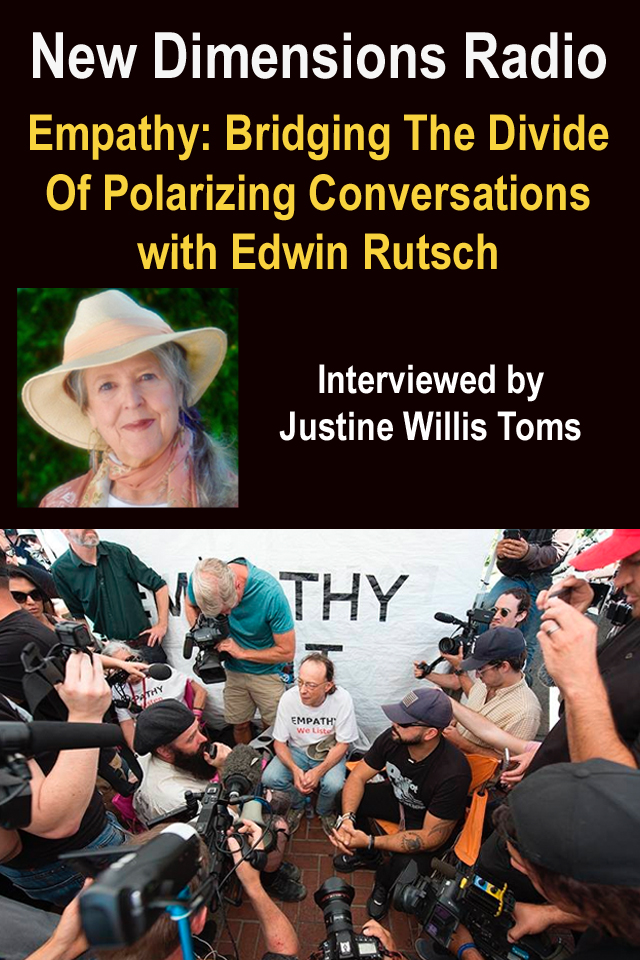 Being interviewed by Justine Willis Toms on New Dimensions Radio.
See this link for Free Listening Through May 7, 2019.

For over 4 decades New Dimensions has been gleaning experience and inspiration from some of the world's most innovative, enlightened, and trustworthy wisdom leaders as it sows the seeds of encouragement and confidence that, together, we can meet the challenges of the 21st Century.

Topics Explored in This Dialogue
What is the history of the concept of empathy

What is the difference between empathy and sympathy

What are some physical traits we can cultivate to establish empathy with another

What is an example of connecting with a neighbor of a different political persuasion

How developing empathy is a gateway practice like developing a muscle

What is the process used in the Empathy Cafes both on-line and in person

How Rutsch set up an Empathy Tent at a Berkeley political rally

Why it is important to repeat back to the person what they have said without having to agree with them...

....
--------
Twitter Empathy Feed